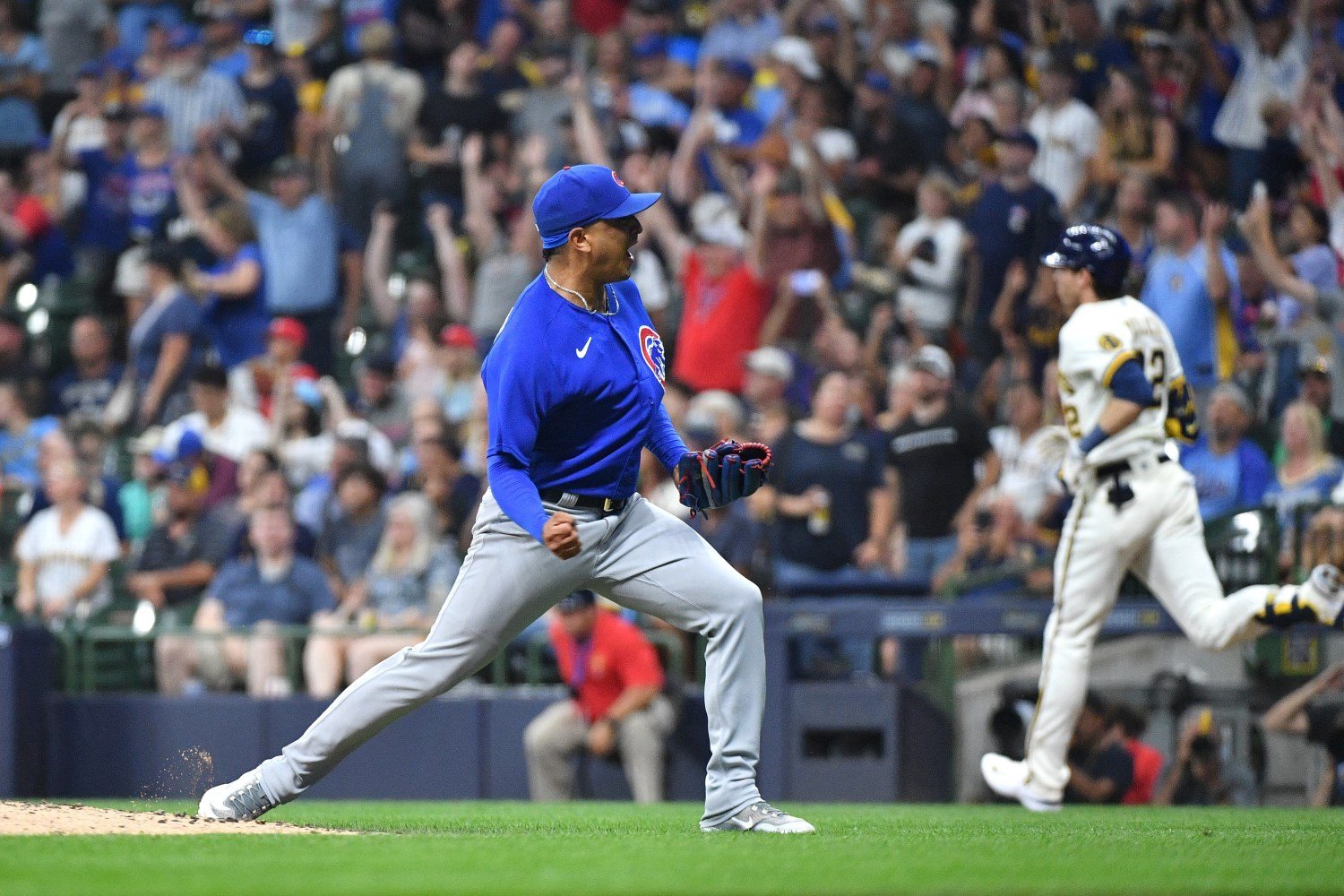 Image courtesy of © Michael McLoone-USA TODAY Sports
First of all, Wednesday night was a reminder of how narrow a margin for error Justin Steele has, using his limited repertoire. The sixth inning, in particular, demonstrated his vulnerability. He nearly escaped that frame with the Cubs down just 2-1, but a slider that found the plate and was left up a bit became an RBI single by Brian Anderson. 
Anderson often runs reverse platoon splits at the plate, so he's an unlikely culprit for a key hit against Steele. That's true on the surface, anyway. The reason for Anderson's split profile, though, is the way his swing works. He's vulnerable to stuff with good vertical movement, but handles horizontal movement--especially toward him--well. That means that, to beat him, a pitcher like Steele has to be perfect. His stuff doesn't have special vertical movement. He's all about horizontal movement, steering in on righties and away from lefties. That can be very effective, but against a swing like Anderson's, it's trouble. The ball has to be in the right spot to get him.
Obviously, precision always helps, but pitchers like Steele have to be able to succeed when they miss by six inches or so. Against most hitters, he can do so, but as Willy Adames's go-ahead home run and Anderson's cushioning hit showed, that won't always be the case. In particular, as the league gets better and longer looks at him, more hitters will punish his mistakes.
As I've written several times, Steele's cutter-slider combo really is fully about its lateral movement profile. He does achieve decent depth on the slider, and occasionally, that cutter remembers that it started as a four-seamer and takes off at the top of the zone. Mostly, though, both pitches are ordinary from a vertical perspective. That's a source of weakness for him, and it will remain so, unless or until he develops another pitch that does stretch vertically or change hitters' eye levels.
Of course, there will be nights on which he's precise enough to dominate even without that added dimension. He's a great pitcher, and it's been a joy to watch him thrive in 2023. Nonetheless, Wednesday night's start was rendered ordinary because of a legitimate shortcoming for him.
That's just one takeaway from the game, though, and obviously, it turned out not to be the most momentous one. Hopefully, Dansby Swanson's heel contusion will also turn out not to be the big story. Swanson's eagerness to play every inning of every game catches up to him sometimes, not only in the form of offensive funks, but in little injuries like these. On a night that saw him hit into two double plays, Swanson seemed to stretch and reach a little extra with his final few strides on the second, which might have led to the bruised heel.
Extra hustle--a scintilla of desperation, even--is to be expected on a frustrating night for a player who demands so much of himself. Things like a heel bruise are more likely to happen when one pushes past the limit, especially to a player who doesn't take even the occasional days off that are customary in the modern game. If it only costs him a game and a half, this is no big deal. The Cubs just need to hope the heel settles down, rather than getting increasingly stiff or sore over the next few days. This lineup already has too little firepower. They can't afford to be long without their slugging shortstop.
Even without Swanson, the Cubs came back. They beat the game's least beatable closer, with a parade of flares and tough at-bats. The legend of Mike Tauchman continues to grow. He'll never hit for much power, but his approach--and his ability to pay off tough at-bats with more than the consolation prize of having made the pitcher work--has been exactly what the Cubs needed. As we said when he was called up, Tauchman wasn't designed to be a temporary rotation piece. They kept him in Triple A while they could, to avoid losing him to the vagaries of an early roster crunch. The plan, given the way things have gone, has to be that Tauchman is a permanent part of the team's outfield and DH plans, even if not quite a full-time one. 
Then, it was Adbert Alzolay's turn. Wednesday night was a huge test for him. He'd been ok, but not quite good enough, Sunday against the Guardians, and the story was the same Tuesday night against Milwaukee. The Cubs badly needed to hold a one-run lead, and Alzolay had to overcome two straight uneven outings. That he not only did so, but dispatched the Brewers in 10 pitches, might have been the most encouraging of the several good things that happened for the Cubs in that contest. On top of shaking off the bad juju of the last two games, Alzolay showed his best stuff in a while. His fastball topped 97 miles per hour for the first time since late April.
Now, the Cubs have a chance to earn the series win they needed to keep themselves in the race when they arrived in Milwaukee. They just need to cap it off with a victory behind Marcus Stroman. Getaway days have been unfriendly to this team throughout David Ross's tenure, but they have to break the pattern. Stroman looked alright for most of his first outing after leaving his previous start with the beginnings of a blister, but things got away from him in the sixth inning. The Brewers are dissimilar from the Guardians, who keep the pressure on by putting the ball in play relentlessly. Milwaukee strikes out at one of the highest rates in MLB. Stroman just needs to be able to miss bats at the key moments, to avoid letting a rally spiral on him the way one did against Cleveland.
One series can't turn around the Cubs' season. This team is still well below .500. With two thrilling wins under their belts and their ace taking the mound, though, they have a chance to stay afloat through the All-Star break. That's the gift that the Tauchman-led comeback Wednesday night gave. Now, they just need to make the most of it.