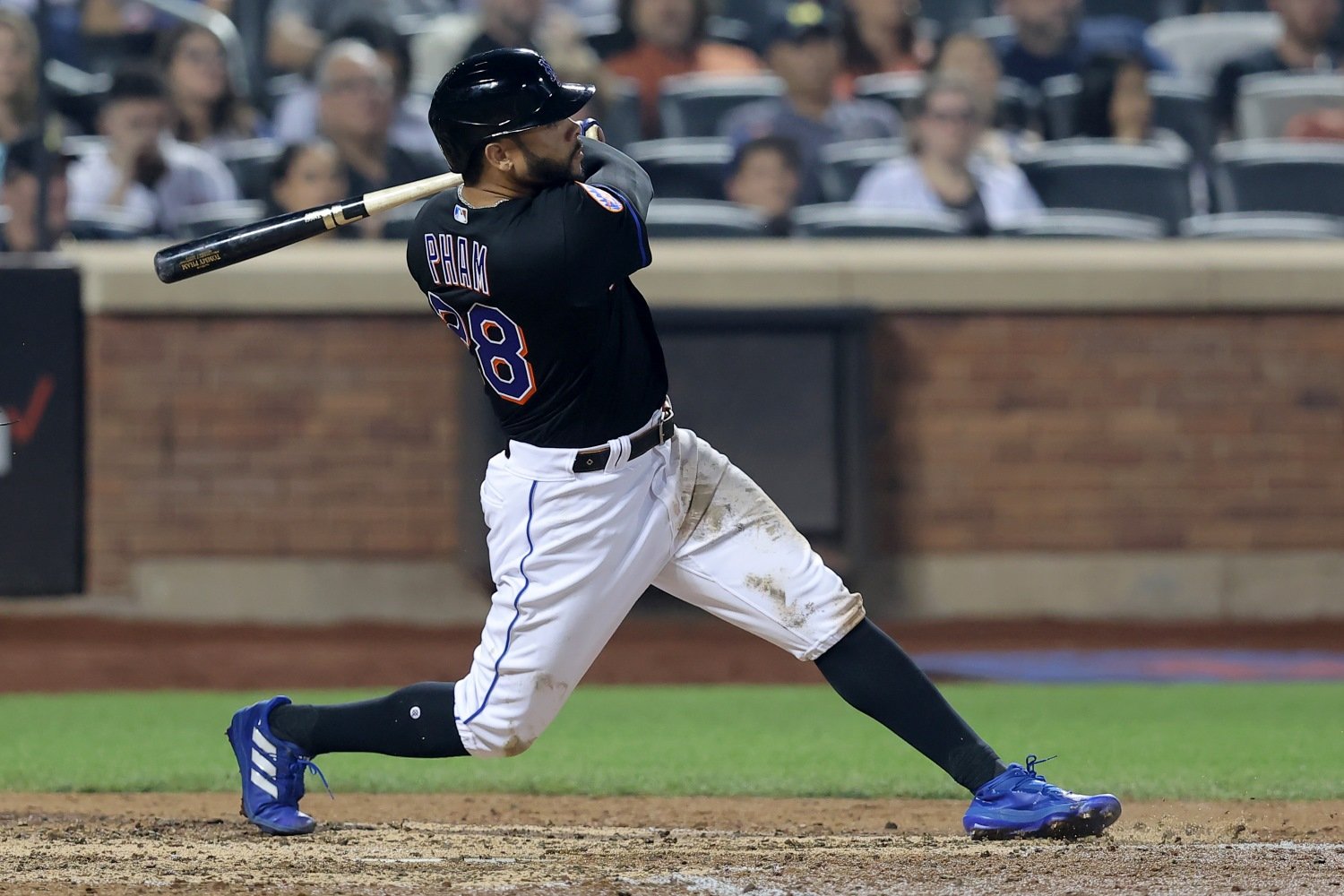 Image courtesy of © Brad Penner-USA TODAY Sports
Over a long career, Tommy Pham has showed an extremely consistent ability to hit the ball hard, and he's demonstrated consistently excellent plate discipline. Everything else about his game--his defense, his ability to get the ball in the air where all that exit speed can do real damage, his health, and even his relationships with teammates and management--has been less consistent, but as he ages, even those things seem to be tightening up.
Pham, 35, signed a one-year deal with the Mets this winter for $6 million, plus incentives based on playing time. He's been so good (and the Mets offense, alas, otherwise so bad) that he's going to earn many of those incentives, whether he's traded or not. Even so, he'll cost less than $8 million in total, a very manageable number. Given that, his .271/.347/.476 batting line will make him a very attractive trade target over the next two weeks.
Everything in his batted-ball data suggests he can keep up this pace, at least for the balance of this season. Pham is running a career-high pull rate and career-low ground ball and pop-up rates. He's lifting the ball consistently, still generating excellent exit velocities, and not slicing underneath it in the process. With his trademark patience at the plate, he's getting on base at a good clip even as he adds a bit of power.
Pham has lost a step, and modulated his formerly hyperaggressive approach on the bases, but he's still fast for his age and has used his newfound savvy to steal 10 bases in 11 tries. He's almost unplayable even in left field, but could fit there as the short side of a platoon with Ian Happ if Happ (.238/.365/.313, 0 HR) continues to show such ineptitude against southpaws. Otherwise, he'd have to be the designated hitter, but he'd be an awfully good one to add to the mix.
In exchange for Pham, it's a safe bet that the Cubs would have to give up one useful prospect, but not anything that they would miss terribly. Kevin Made is still quite young for High A, but he's only posted a .651 OPS there this year, and with the additions of Matt Shaw and Josh Rivera to an already crowded medium-term middle infield picture, the Cubs could look to alleviate that jam by shopping Made this month. If he were involved in this kind of deal, Chicago would also have to throw in an intriguing arm, but one with some warts on his profile, too. Alternatively, if the Mets want a player with plenty of risk but some chance to profile a bit like Pham for the longer term, the Cubs could offer Nelson Velazquez. Since he returned to Iowa last in mid-May, Velazquez is hitting just .245/.321.,426 there, with a hefty strikeout rate. Still, we've seen his combination of power and speed look good at times over the last year and change.
The last question is about whether and how Pham could fit into the bigger picture of the Cubs roster. They'd need to feel like they could entrust Christopher Morel with more playing time at third base, or else like they couldn't trust Morel to play much at all, in order for this to work. Patrick Wisdom would be shunted off the roster, and Trey Mancini would either face the same fate in short order or need to start playing more first base again. In that way, the fit is imperfect. As an addition to what is already the league-leading offense in pitches seen per plate appearance, though, Pham makes a ton of sense, and he has the right-handed jolt that has been missing from the lineup for most of the season. As relatively low-cost bats go, he's an appealing one.