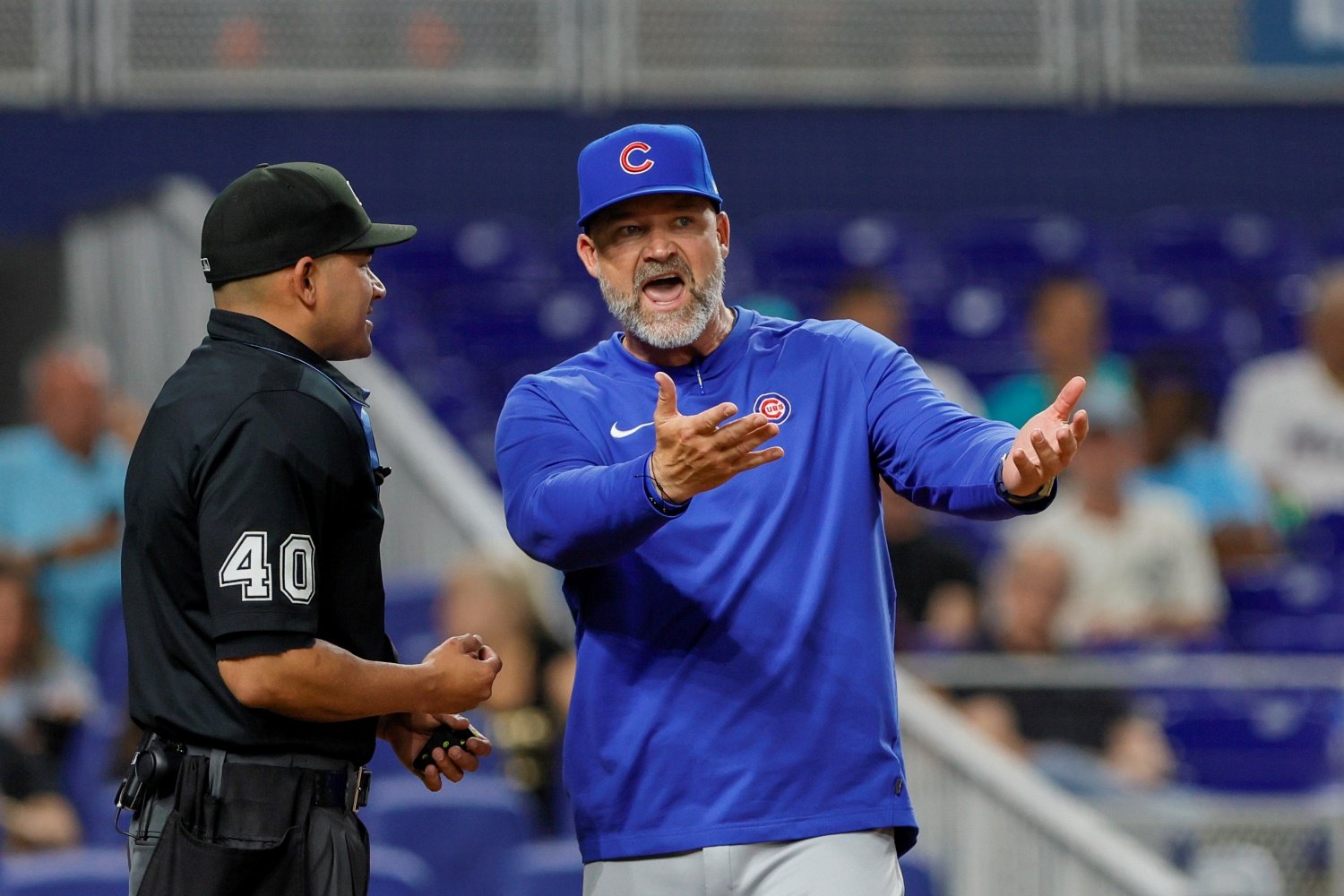 Image courtesy of © Sam Navarro-USA TODAY Sports
It's true that the Cubs only scored two runs Friday night, and grounded into three double plays. In the first inning alone, both Dansby Swanson and Ian Happ hit long fly balls that died harmlessly in the glove of Marlins center fielder Jazz Chisholm. Some nights just aren't your night. It's easy to dismiss the loss a bit on that basis.
On the other hand, entering this season, everyone around the Cubs acknowledged that they would need to win some 2-1 games in order to compete this year. When Eric Hosmer snuck a grounder through the right side of the Miami infield in the top of the seventh, the Cubs had a 2-1 lead. Letting the game slip away from there is the kind of thing the team can't afford, if they want to convert their solid start into a serious push for a playoff berth.
Marcus Stroman was good, but the excellent command of his sinker that defined his first several starts of the year was a bit looser, and the Marlins made some hard contact against him early. Sending him out for the bottom of the seventh was the right call on the part of David Ross, and Stroman got a little unlucky in that frame. Still, he allowed the Marlins to tie things again. In his last two starts, he's found trouble the third time through the opponent's order.
One of Stroman's strategies–especially over the last three starts–has been to introduce and expand the use of his four-seamer as he gets into the lineup for the second and third time. He experimented a lot with the four-seamer early last year, but went away from it during his stellar second half. That he's bringing it back this year is a sign of how good he's feeling. He's trying to use the whole strike zone, and change the eye levels of hitters. He might need to start doing it a bit earlier in games, though, when his velocity and movement are at their best. He's been beaten on the four-seamer near the end of each of the last two appearances, and seeing that pitch doesn't seem to be keeping hitters off his sinker, either.
Again, Ross did nothing wrong by trying to get Stroman through seven innings. Normally, it would have been a good time to proactively lift him, but this was not a normal night. With Caleb Kilian making the spot start on Saturday, the team needed whatever length it could get out of its ace. Nor was Ross wrong, exactly, in any of the relievers he elected to use once Stroman departed. Presumably, Keegan Thompson was down, since he'd pitched on Sunday, Tuesday, and Thursday, and has yet to pitch on back-to-back days in 2023. Mark Leiter, Jr. was the right man to get the team out of the jam in the seventh inning.
That Ross then called on Michael Fulmer and Michael Rucker in the eighth and ninth, however, does highlight the fact that this team still lacks clarity in their bullpen hierarchy. They'll need some reinforcements, in order to stay in contention. They'll need some guys who are more comfortable than Rucker appears to be when pitching in high-leverage situations. They'll need someone who can work on consecutive days. 
Unlikely though it might seem that they will stay in the thick of it throughout the season, the Marlins are currently in position to fight for the same Wild Card berths in the NL that the Cubs might pursue. A series-opening loss to them, in such a tight game, was an uncomfortable reminder that the front office has intentionally constructed the Cubs to be a team with a thin margin for error. Having to win 2-1 with any regularity is a hard way to contend; that's why preseason playoff odds reports had them as such longshots.
The offense has been better than expected so far, of course. That could change the equation, and make losses like this one much more palatable. If Cody Bellinger can sustain this resurgence; if Nico Hoerner can get on base at close to a .400 clip all season; and if Christopher Morel and Matt Mervis add depth and power to the lineup, then this team can start overwhelming opponents and leave themselves more ways to win. Right now, though, the jury is out on the validity of that strong start, and Friday's loss remains a tough one to accept.