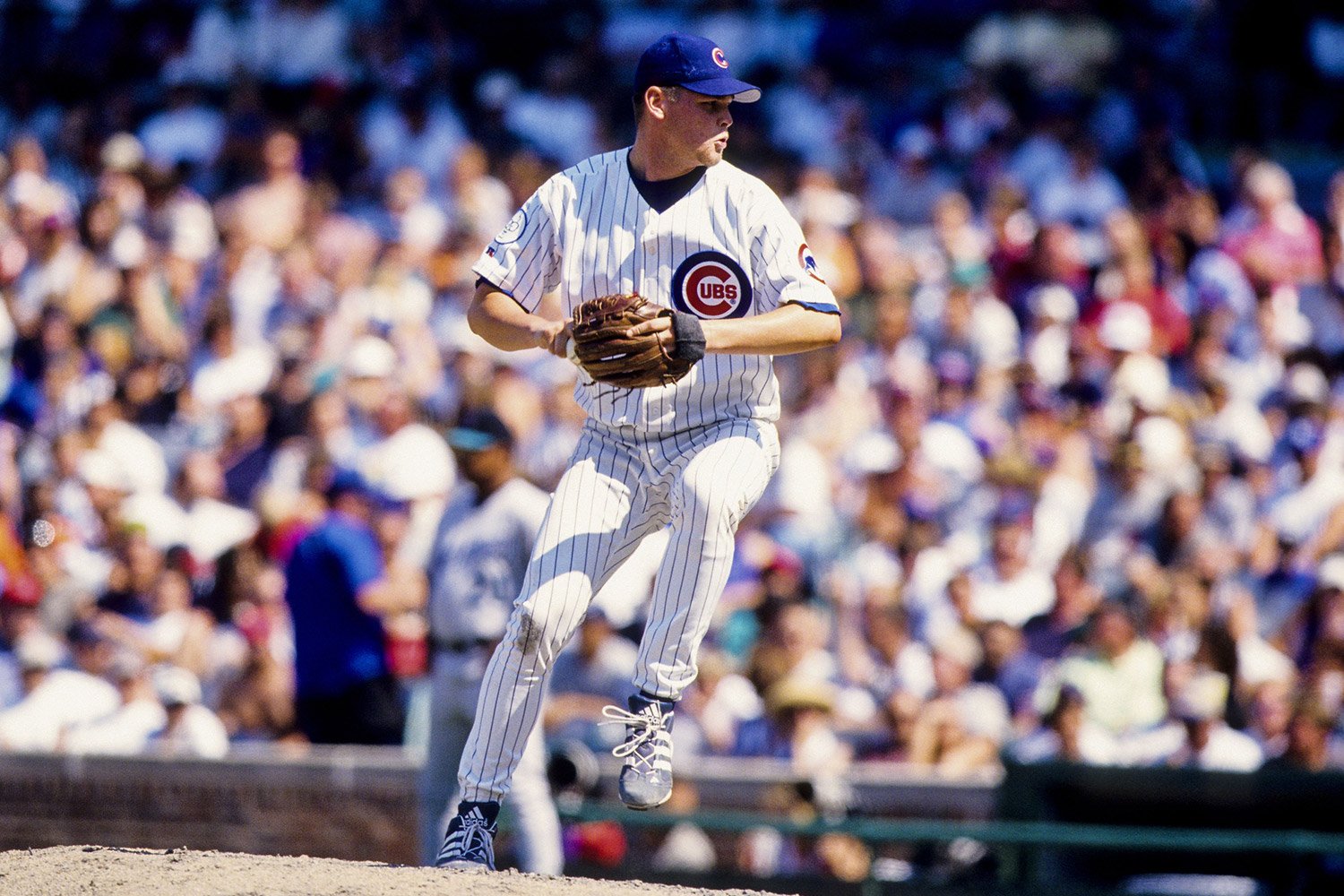 Image courtesy of © RVR Photos-USA TODAY Sports
Throughout spring and the first weeks of the season, the open question around the Cubs was when Kerry Wood would be brought up from the minors. After being drafted 4th overall in the 1995 amateur draft and ranked as the number four prospect going into 1998 by Baseball America (behind Ben Grieve, Paul Konerko, and Adrian Beltre and just ahead of future Cub Aramis Ramirez), players and executives around the Cubs were quick to praise the young Fireballer. "I can't think of anybody in my years here who came with his talents and build-up," noted Mark Grace. Added former CY Young Award winner and current broadcaster Steve Stone, "He has the best stuff coming out of the organization that I've ever seen." His future catcher Scott Servais added, "Talent like his only comes along every so often."
Even rival players were impressed. Anaheim Angel Tim Salmon praised Wood after he struck out Cecil Fielder, Salmon, and Jim Edmonds in a spring training start, "He's as good as there is. He has pure velocity." Wood, who received comparisons to fellow Texans Nolan Ryan and Roger Clemens for his high 90's fastball and strikeout numbers, had an interesting 1997 in Double-A and Triple-A. While the strikeouts were plentiful (186 in just 151.2 IP), so were the walks, as he handed out 131 free passes. However, Wood was deemed ready for the big club in 1998 after one scoreless Triple-A start. He made his MLB debut in Montreal on April 12, Easter Sunday, in front of a small crowd of just 18,000.
His debut could be categorized as fine, as the 20-year-old right-hander was saddled with the loss after giving up four earned runs (two scored after he left the game) in 4.2 innings with seven strikeouts, four hits allowed, and three walks. The main issue was the pitch count. Even in an era less concerned about pitcher safety, 102 pitches were deemed enough.
Wood's next start against the Dodgers went much better. The Cubs tagged Dodgers' starter Hideo Nomo for eight runs, including Wood's first MLB hit and RBI. With little pressure to win the game, Wood let it fly for five shutout innings, striking out seven, walking three, and being removed again after 102 pitches. Two strikeouts were notable, one versus Todd Zeile in the third, where he had the Dodger third baseman wave through two breaking balls and take a fastball right down the middle:
Later in the fifth, he got Mike Piazza looking:
Wood's next start was not quite as good. This time the Dodgers patiently waited out Wood, who was not getting the benefit of the doubt as he walked in two runs before allowing a grand slam to Piazza on a get-me-over fastball. After the seven-run performance in less than two innings, Wood's ERA stood at 8.74 in just three starts. Wood was much better in his last start of April, going seven strong innings against the Cardinals, allowing only a single run and striking out nine (including a strikeout of Mark McGwire. More encouraging, he walked only two. After Wood's uneven first four starts of the year, it may been hard to imagine what would be coming soon. The Cubs finished April with an almost even 14-13 record after struggling against the Dodgers and Padres.
Around the league:
Expected to contend in 1998 with superstars Ken Griffey Jr., Randy Johnson, Alex Rodriguez, and Edgard Martinez, the Mariners can't survive early in 1998 with their very leaky bullpen. Of note was a game on April 10 where Johnson went eight strong innings, striking out 15 and leaving the game with a 7-2 lead. Four Mariner relievers combine to allow seven runs in the ninth without retiring a hitter, culminating with a Mo Vaughn walk-off grand slam.

Curt Schilling of the Phillies out duels Greg Maddux and the Braves in back-to-back starts, combining for two complete games, one run allowed, and 25 strikeouts

The Expos, off to a dreadful start, may have been helped to their first win of 1998 on April 9, when Milwaukee Brewers starting pitcher Jose Mercedes forgot when the game started. He arrived too late at the ballpark to make his start but came into the game in the fifth to allow four runs.

Mike Piazza received boos from the Dodger faithful going into his walk year before free agency. He responded in April by powering eight homers, including three grand slams.

Mark McGwire finishes April a bit ahead of 62 homer pace with 11 round-trippers. Sammy Sosa finishes the month with six.