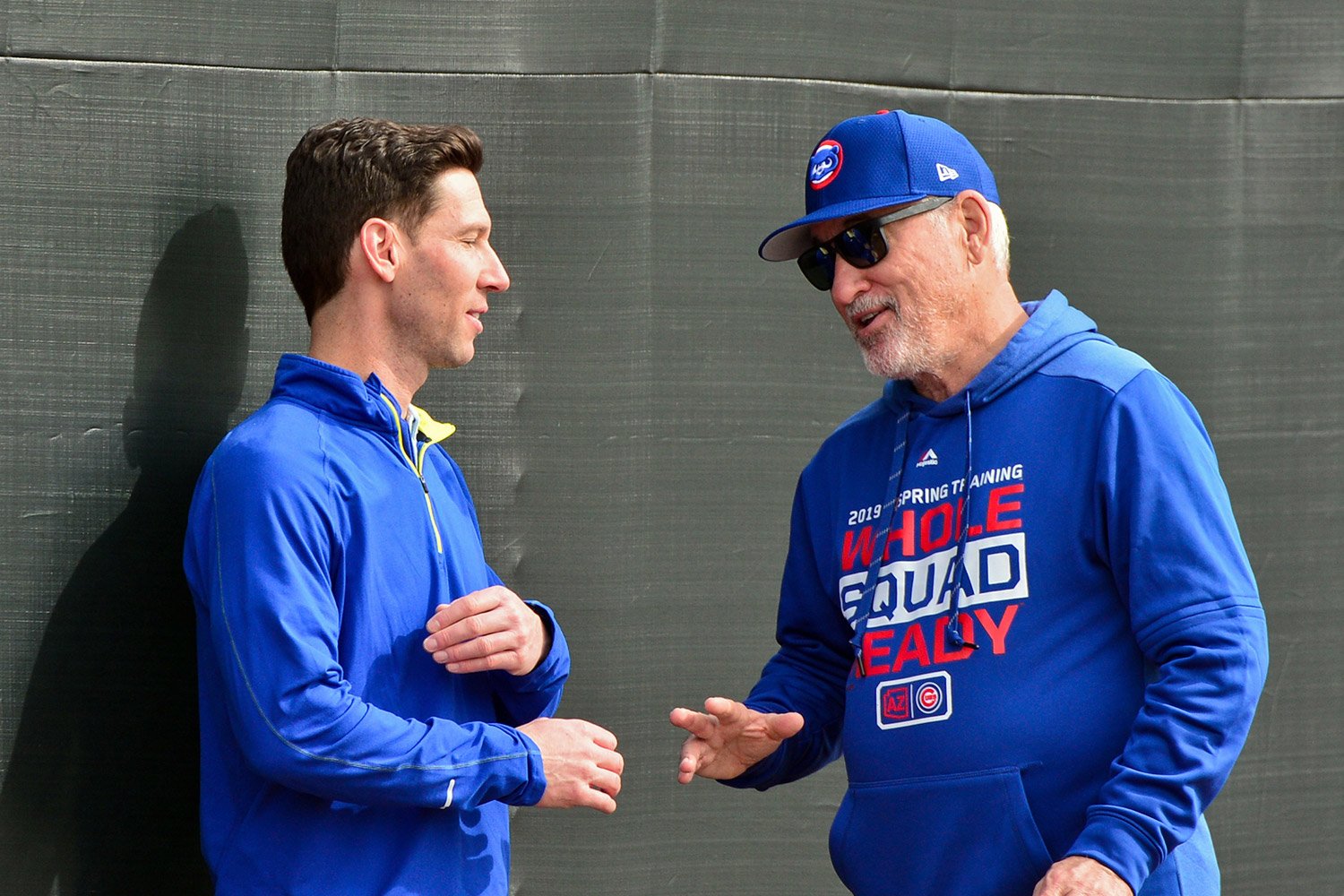 Image courtesy of © Matt Kartozian-USA TODAY Sports
When a team achieves a major success, they can count on being raided by other teams for the smart people who built the roster and got the most out of them. The Cubs lost plenty of front office personnel in the wake of their 2016 World Series title, and coaches Brandon Hyde and Dave Martinez got managerial gigs elsewhere. After a few deep October runs, you can stomach that kind of attrition. Sometimes, though, that same process begins much sooner--maybe even soon enough to disrupt a dynasty before it can begin.
Breslow's departure will put pressure on the Cubs. They've finally built a pitching development infrastructure that works, after being unable to do so during the decade-long regime of Theo Epstein and Jed Hoyer. Breslow was its chief architect. He's never been the only person involved, and the team long ago made implementation of their system the responsibility of several people, but this is a material loss. 
The bleeding might not stop with Breslow, though. Andy Green is interviewing for the open managerial job in Cleveland. If he doesn't get it, he might interview in other places, too. Mike Napoli could also draw interest, including from the Angels. One of the dangers of a rebuild is that the other 29 teams don't stop and wait to see how your project progresses. They continue to behave opportunistically. While the Cubs try to spend this winter shoring up the weak spots on their roster, they now face the added perils and time crunch of vultures from elsewhere in the league trying to swoop in and pull away some of their most valuable off-field resources.
That Tommy Hottovy remains as the pitching coach softens the blow of Breslow skipping town. That the team has both Hoyer and Carter Hawkins to run the front office from the top and Dan Kantrovitz directing their scouting efforts can inspire some confidence that the team will keep going in the right direction. Still, these little dents can eventually misshape an entire operation. The Cubs have to work hard, now, not only to replace the departing players, coaches and executives, but to continuously upgrade. 
If they're lucky, Breslow will be the only major loss from the Cubs front office this offseason. Even if that's true, though, they need to make an acquisition on a similar scale. Lots of dust is left to settle, in the coming fortnight. Many jobs still need to be filled, throughout the league. That might mean that the Cubs can get ahold of some talent they didn't expect to find available. It won't win them games as directly or as obviously as adding players, which they certainly need to do, but having a well-staffed front office redounds to the team's benefit, too. 
It will be interesting to see how this biggest move changes the Cubs' pitching philosophy. Breslow specialized in giving pitchers without elite stuff the ability to thrive despite that shortcoming, The Cubs have found creative ways to change movement characteristics and shift pitch mixes to improve pitchers' performance. Their next step is to integrate those subtle aspects of the science of pitching with an increased focus on finding and landing pitchers with good raw stuff--especially velocity. 
Of course, that integration isn't the sole (or even primary) demesne of a pitching director. It's not Hottovy's job, and wasn't Breslow's. Much of it comes down to the jobs of Kantrovitz, Hoyer, and Hawkins--using scarce resources to acquire more talented pitchers in the first place. Whoever populates the lower levels of the front office, the team needs to populate its pitching staff with more durable and powerful arms.