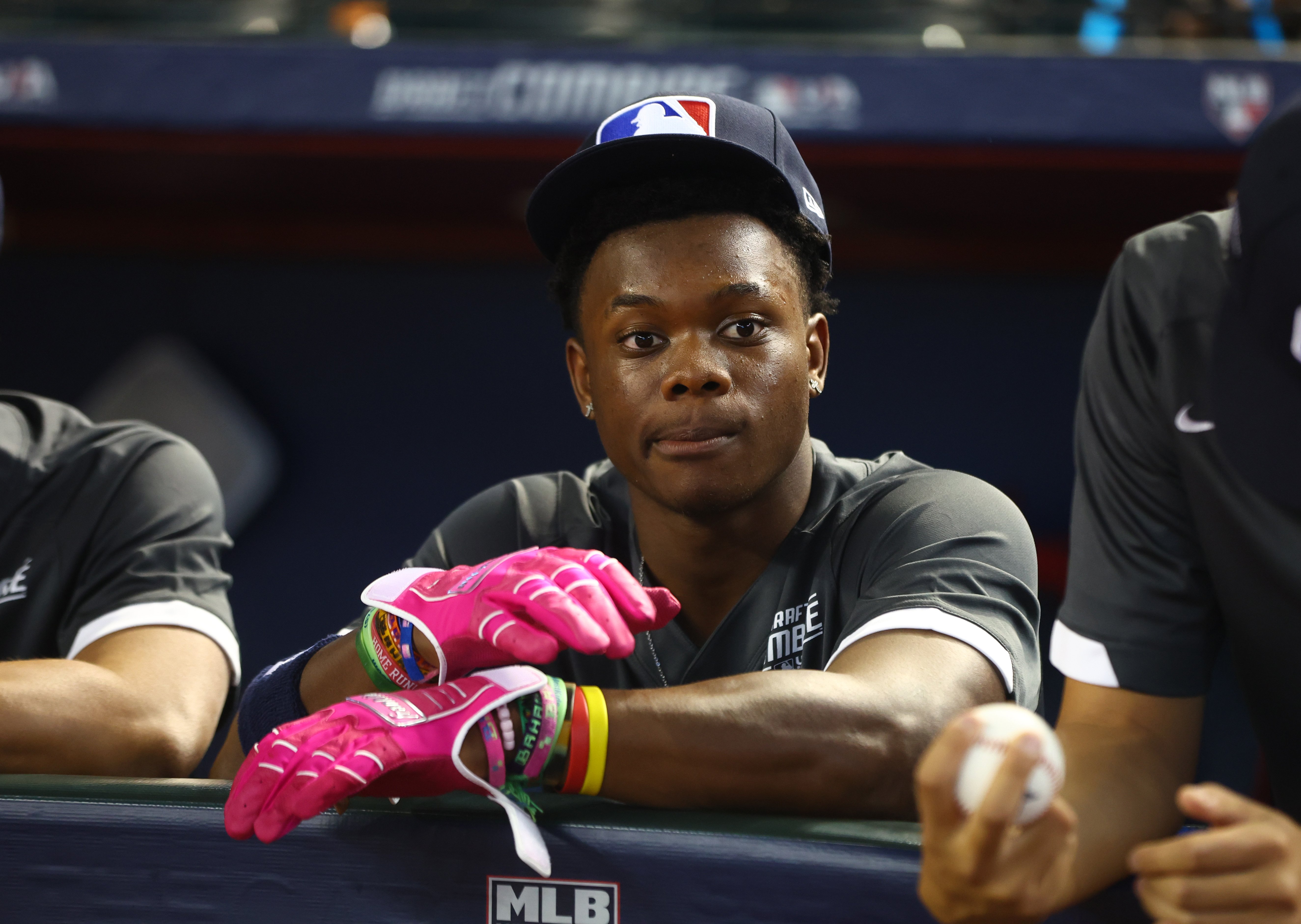 Image courtesy of Mark J. Rebilas-USA TODAY Sports (photo of Zyhir Hope at the MLB Draft Combine)
BEST PICKS:
The expectation is that everyone in this group will sign. There may have been some doubt about Hope - and maybe still could be - but if mama says her son is signing, he's probably signing. In the event that he doesn't, the Cubs will not lose any bonus pool money.
Matt Shaw, SS, Maryland (1)
Maybe that's the easy answer given he was the club's first pick, but Matt Shaw was overlooked as a hitter due to there being two absolute college studs and a glut of infielders. He was my favorite of all the college infielders, even if he doesn't stick at shortstop. He has the bat and athleticism to play anywhere, though the arm may prevent him from playing shortstop, third base, or right field. I look for Shaw to adjust quickly in pro ball and sneak into a preseason national Top 100 or two.
Michael Carico, C, Davidson (5)
As prep guys were flying off the board on Day Two, Carico was one of the best college players available and fell into the Cubs laps. He will need time to adjust to better pitching - you aren't seeing it at Davidson - but if he shows an ability to hit at all he's a backup catcher. He missed a lot of the season with a hand injury. Someone to watch the next few years.
Zyhir Hope, OF, Colonial Forge HS (11)
The Cubs must have worked that calculator on Monday night and realized they had money to spend on Hope, who is rumored to be forgoing a UNC commitment. The road to Wrigley will be long for Hope, but he's a plus athlete. It will be on the developmental team to turn him into a baseball player. There's plenty of risk here as well, but the "take a prep with the first pick on day three" is a strategy of which I'm a fan.
RISK/REWARD PICKS:
The players in this group could go either way. If they were a top-10-round pick, they are almost assuredly going to sign. Outside of that, it becomes a bigger question. In most cases, the player could bet on himself to be a higher draft pick next year (or later) or could take the money now and start developing as a pro.
Jaxon Wiggins, RHP, Arkansas (2C)
It's easy to dream on an arm like this. At a minimum, you'd think someone who can touch 100 mph and has a slider could be a valuable bullpen arm. Add anything to that and you've got a starter. But Wiggins has been injured and struggles to throw it over the plate. An intriguing arm if you could coax him to sign underslot, but he's got enough ability that he could go back to school and try to improve his draft stock. 
Will Sanders, RHP, South Carolina (4)
A little bit different than the Wiggins pick, because the floor is higher. He's going to need to figure it out mechanically and make adjustments to his fastball. If he does, you could get a durable, mid-rotation starter. If he doesn't, there's still enough to like as a reliever profile. 
Alfonsin Rosario, OF, P27 Academy (6)
Heavy lean toward the risk category here. Too much swing-and-miss. If he comes in under slot, I'll not like this pick less.
Yahil Melendez, SS, B You Academy (7)
Melendez has already reportedly agreed to an above-slot deal. And I'm a fan of these picks. A young shortstop for Puerto Rico who has limited exposure, but enough tools to believe in. This pick is akin to an international signing. There is plenty of time to develop a 17-year-old. 
Luis Martinez-Gomez, RHP, Tempe College (10)
An electric arm out of the JUCO ranks. You'd hope pro coaching can help him level up. A fun way to end Day Two.
Sam Armstrong, RHP, Old Dominion (13)
A solid small-school pitcher who didn't put up big strike-out numbers and walked more than you'd like to see. Probably profiles as a reliever. Guessing the two starts he made in the Cape (10 innings, 13 Ks, 3 walks, 0 ER) helped get his name called. The new and relatively unknown thing here is that a bigger college could slide in and try to get him to transfer. Two years ago, he's a slam-dunk sign. Now there is another option.
Ty Johnson, RHP, Ball State (15)
A tall, righty who made his best start of the season (7.0 IP, 10 Ks) in late February. Got lit up on a number of occasions (gave up 10 earned runs on 15 hits and four walks in his last eight innings), but the Cubs must see something they can do to get more production of out him. Hard to call anything at this point in the draft a risk though. 
Daniel Brown, LHP, Campbell (16)
Probably the most "fun" pick of the draft. Brown's game log from this season (and his career) is almost laughable. This year he made four appearances and got three outs. Nothing too crazy... right? In his first game, he walked four on 22 pitches. They all scored. In his second game, he struck out the side on 15 pitches. In this third game, he walked three, two of them scored. In his last game, he walked two. That's right, four games, three outs, nine walks, six earned runs. In 2022, he faced six batters. He walked four and hit two. But he throws the ever-living snot out of the ball and not just anyone can do that.
SAFE/DEPTH PICKS:
These players should sign. Returning to school - if that's even an option - probably isn't going to help them make a bunch more money.
Josh Rivera, SS, Florida (3)
A senior - so you can expect some savings - with a high floor. You're probably not banking on a first-division regular, but if you can get a utility player with a little bit of pop while stretching the bonus pool a little bit, that's a win.
Brett Bateman, OF, Minnesota (8)
It's 2023 and speed is en vogue again. Bateman will give you that and good defense in center field.
Jonathan Long, 1B, Long Beach State (9)
Probably isn't to the bottom of the defensive spectrum yet, but you're buying the power. Going to give a minor-league team a valuable bat in the lineup for the next couple of years with a chance to be more. 
Carter Trice, 2B, NC State (12)
Trice struggled at NC State after transferring from Old Dominion. At a minimum, he'll be a solid player through A-ball and give the organization depth. He's a three-year Cape player, so he's got plenty of wood-bat experience. But is a career .238/.343/..409 player in that league. He's still only 20, so there's still time to develop into more.
Brian Kalmer, 3B, Gonzaga (18)
Showed power (15 home runs) in his lone year at Gonzaga after rarely playing at Arizona State for two years before going JUCO. 
Nick Dean, RHP, Marlyand (19)
A good value/depth pick this late in the draft. Started every one of the 43 games he appeared in for Maryland in four years. Struck out 77 in 74 2/3 innings this year.
WILL HE SIGN?:
If I were in this group, I'd have more reason to go back to school than turn pro.
Grayson Moore, RHP, Vanderbilt (14)
Pitched out of Vandy's bullpen and struck out 36 in 26 1/3 innings. If the Cubs can get him signed, I'd consider it one of their better-value picks. Throw him into an A-ball bullpen and see how he does. But he could return to Vandy, compete for a starting role, and look to be one of the better seniors in next year's draft. He might get $150k this year and he likely wouldn't get that next year, so you wouldn't blame him either way.
Ethan Flanagan, LHP, UCLA (17)
A draft-eligible sophomore, Flanagan really doesn't have any reason to sign. He was better in 2022 than 2023 and can have another shot to improve his draft stock while still having some financial leverage.
Drew Bowser, 3B, Stanford (20)
Another one of those cases where his signing bonus isn't going to get bigger by going back to school for another year, but he can improve his draft stock by going back to Stanford and cutting down on his swing-and-miss. Big-time power (32 home runs in the last two years), but that gets overshadowed by the holes (158 Ks in 483 at-bats and only 46 walks).
---
What do you think? Who were you favorites? Or least-favorites?