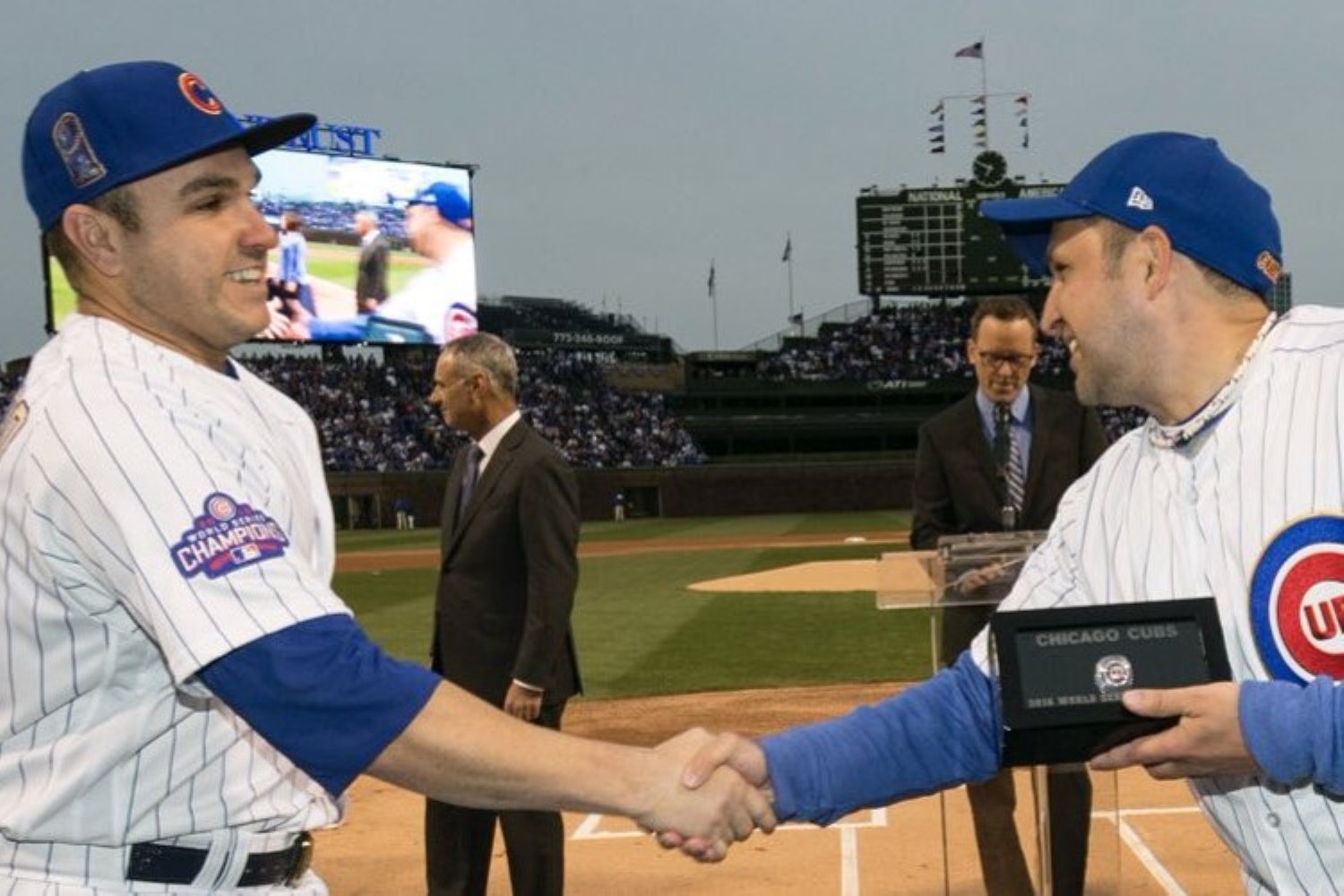 Image courtesy of Paul Dzien
I have loved the Chicago Cubs for a very long time. I don't remember the exact moment that I fell in love with the game, but I remember how it happened. The magic. The pageantry. The attention my grandmother gave to every word and pitch. Thanks to all of that, I'm at roughly 30 years of complete baseball consumption. 
In those years, I have consumed so many different Cub-related things. Sammy Sosa Softball video games. Podcasts. Books. Blogs. I remember reading Crawly''s Cub Kingdom on MLB Blogs years ago. Today, I met Paul "Crawly" Dzien.
If you have followed the Cubs as passionately as I have (which is highly likely, given that you're reading this on a Cubs website), you have heard Crawly's name before. His blog had a large following. He has re-emerged on the social scene via Instagram and Twitter. Currently, he co-hosts a podcast with Dustin Rhoades sponsored by 670 the Score called "Fly The W."
The start of our video call was a treat, being immediately transported to his work-in-progress Cubs cave. I recognized the Fly the Wood Designs Angry Cub bear lit up in the background, as it is the same piece featured in my own cave. 
I try to start these conversations with simple pleasantries and an introduction of who I am and what I am looking to accomplish. The transition to Cubs talk was quick and seamless, as passionate fans like Crawly are drawn to the subject like a moth to a flame. I can strongly relate. 
Cub Fan Origin Story
Crawly shared that his early Cubs exposure came from his father and his great-uncle. His great-uncle had played D-league ball for the Kenosha Cubs in the 1940s. His father grew up on Irving Park and Paulina in Chicago. His father would walk to Wrigley beneath the Red Line. At that time, tickets for games were cheap. If you stayed after games to help clean up, you would get rewarded with free tickets for the next day. 
Crawly remembered generationally stereotypical scenes in his childhood: the women of his family would gather in the kitchen while the men would be holding scotch and discussing baseball. In his family, it was exclusively Cubs baseball. As he told it, Crawly really caught "the bug" in 1984, when his father let him and his brother stay up to watch the NL East clincher. Having been born in 1946, this was Crawly's father's first taste of a winner for the boys in blue. 
I was entranced with our conversation on his thought of rolling it back out in 1985 and winning. He didn't know at the time that it would take until 1998 to have something even close to being as meaningful. In that period, Crawly fell in love with the names we all know and adore: Ryne Sandberg, Andre Dawson, Greg Maddux, Shawon Dunston, Mark Grace, Sammy Sosa, and many more. I could feel the passion of his fandom in his stories, along with the commonality of long losing experience Cub fans prior to 2016 had felt. 
Crawly's fandom snowballed into something "bigger than himself." His blog and opportunities presented themselves to him based on pure desire. "I would rather get struck out at the plate than sit on the bench," Crawly said. 
Crawly also reminisced on some of the more painful Cubs fan moments, having seen so many celebrations of other teams on Wrigley's turf. He credited Joe Maddon's philosophy for helping him shift his fandom perspective--specifically, the following quote:
"Never permit the pressure to exceed the pleasure of the moment."
Crawly was right. His lifelong friendships, family connection, and opportunities clearly outweighed any of the tougher times. He has been a season-ticket holder since 2000, and has a streak of 24 straight Opening Days. Thinking he isn't counting 2020? False. Crawly managed to get on a rooftop to watch the game from afar. 
Top Cubs/Baseball Memory
For the 2017 season, the Cubs were preparing to celebrate "it" happening the whole season with promotions, giveaways, and call backs. Why not? We'd waited 108 years. 
Crawly remembered asking Crane Kenney at Cubs Convention that year specifically about replica rings. I laughed, remembering that being the first thing on my mind after the Cubs won. For context, on Opening Day in 2006, the White Sox gave away replica World Series rings to their fans to celebrate the 2005 team. Forever envious of my White Sox friends, I hoped to one day to see the same giveaway from the Cubs. 
To Crawly's surprise, Kenney revealed a far different plan. The Cubs held a contest to find the top Cub fans to present the World Series rings to the players. The contest required you to submit a one-minute video stating your case. 
Crawly went right to work, initially trying to capture his family's history in the short video, using Imagine Dragons' "Believer" as the background. If you do not recall, that was one of the songs to which the team took the field for home games in 2016. He noticed right before submission there was a strict "no licensed music" rule. He pivoted and found unlicensed Google music and resubmitted. 
To Crawly's surprise, he was selected.
The day of the ceremony (as he described it to me) sounded like a movie script. He got extra tickets from the Cubs and friends. Paired with his season tickets, he was able to bring his mom, dad, wife, and two kids. He remembered being the first at the meeting spot on Sheffield. He found out each person's video helped the Cubs select the player to whom they would present a ring. Crawly had been given Miguel Montero, NLCS hero and catcher. Crawly described the feeling of being on the field in front of 40,000 emotional fans. That is a feeling he says he will never forget. 
Origin of Crawly's Cub Cave/Favorite Pieces
Crawly had shared with me scenes from his borderline museum. His collection is one that is hard to rival. The theme is 1945-2016, highlighting his family's Cubs story and the best players from that time. The collection is robust and meticulously curated. The walls are layered with authenticated photos with every represented player's autograph. His bathroom even features a picture of the troughs, and a wall of the Cubs' more undesirable moments. I'm looking for a stronger word than 'jealous'. I'll have to get back to you. 
Crawly easily identified his signed double jersey from his ring bearer game as a favorite piece. It features the ticket, Miggy's game-worn jersey, and his own jersey. 
In addition to that item, he highlighted a Cubs guitar that happened to be a giveaway in 2007. 
Dream Cave Item
Even as a man who seems to have everything, Crawly expressed frustration to some missing pieces from his collection. For his coming 2016 World Series wall, Crawly has collected every rostered player, coach, Tom Ricketts, and Theo Epstein's autograph for his photos--except for one. Apparently, tracking down John Lackey for an autograph has been especially difficult. For our friend Crawly, please be on the look out for Lackey. He just needs 10 minutes of his time. 
Want to hear more from Crawly? He can be found weekly on his podcast. In addition, he can be found on Instagram and on Twitter as @crawlyscubs. 
Do you have a Cubs story you want to share? Do you have a Cubs cave you would like to be featured? Reach out to me at candidcubs@gmail.com to apply to be our next feature!