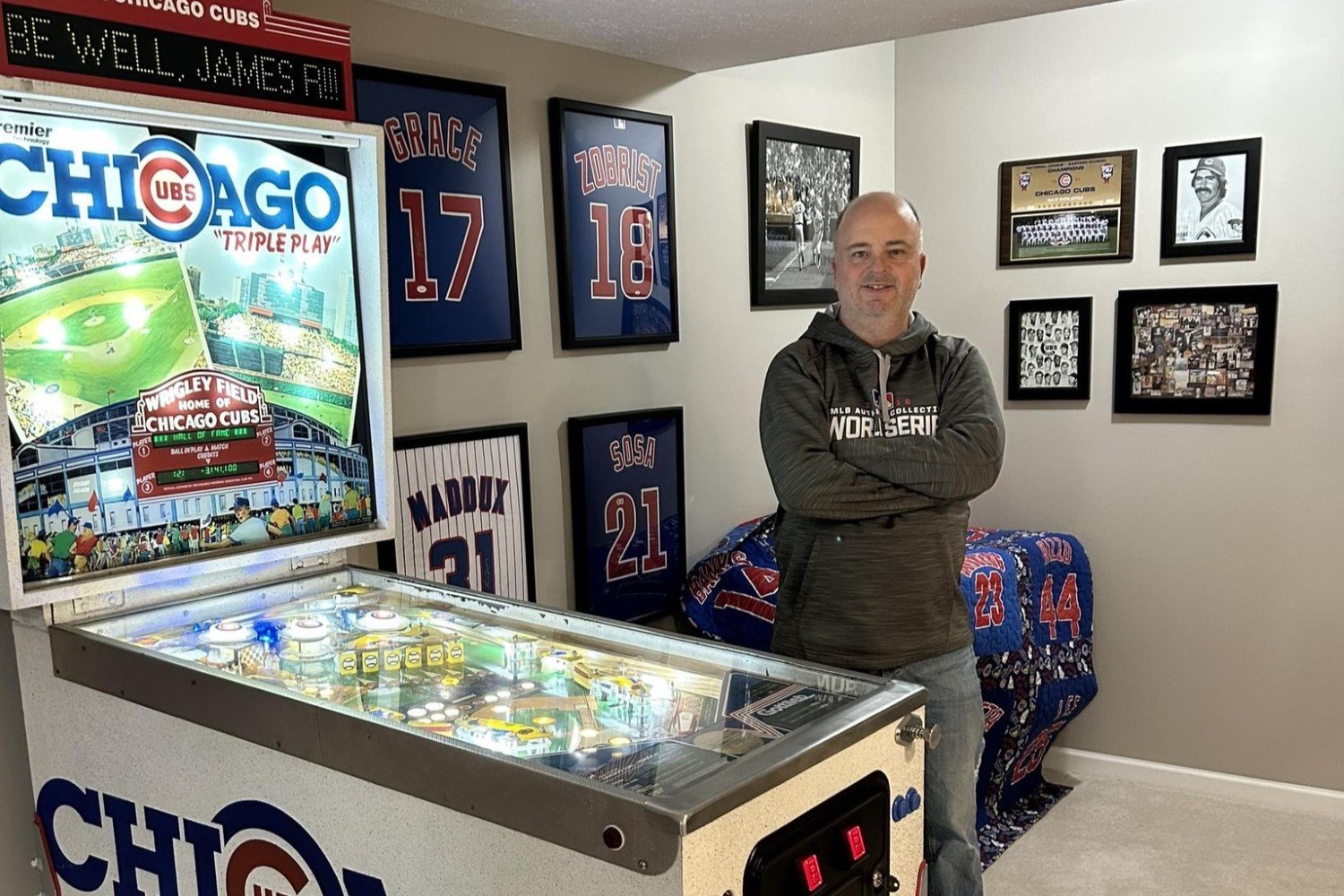 Image courtesy of Jay Herrman
I love connecting with other Cubs fans. Every one I have met has such an incredible story to tell about their fandom. There are common links that make these interactions feel familiar, with special experiences that elevate their fandom to an unusual level. 
I joined a group of Cub fans on Facebook called Cubs Man Caves CMC, as I have spent the better part of the last year creating my own "Cub Cave." In an effort to learn more about the members and their fandom and collections, I reached out to the group to find interest in sharing their spaces and stories. 
Enter Jay Herrman. 
I had the privilege to speak with Jay on a video call this week after he answered my request to share his story. Jay is from Normal, Illinois and works in data analytics. In addition, he is a part-time teacher at Illinois State University. He is happily married, and recently became an "empty nester," with his kids moving out of the house. 
Cub Fan Origin Story
Jay credited his fandom to his father, who was a small-town high-school baseball star. HIs father was a Yankees fan growing up. However, as the Yankees crashed back to Earth in the mid-1960s from the zenith of their dynastic years, Jay's father began following the Cubs. It is easy to imagine falling in love with teams featuring Ron Santo, Billy Williams, and Ernie Banks. 
First Cubs Game: In St. Louis vs the Cardinals in 1977
First Trip to Wrigley:  1983, when the team was beginning to become competitive prior to the halcyon and heartbreak of 1984. 
Top Cubs Memories
Jay and I shared some stories about our favorite Cub moments. The following are his top memories so far:
In 2016, Jay's wife and parents chipped in together to get him a single ticket for Game 3 of the World Series. Even though the game didn't have the result one would like, Jay appreciated being able to be at the first World Series game played at Wrigley Field since 1945. 

In January of 2020, Jay traveled to a well-known baseball card shop near Normal called Bricks and Ivy Sports. They were known for hosting signings for players and coaches. That month, Ben Zobrist was scheduled. Jay traveled that day to meet Zobrist with his dad. Zobrist was kind and took a ton of time with each fan, staying long past the end of his scheduled visit to ensure everyone got to meet him. This ended up being Jay's final road trip with his dad, as he passed away in June.
Jay's Cub Cave
Jay lit up when we moved on to discuss his Cub Cave. When he and his wife moved into their current home seven years ago, he knew exactly what he wanted to do with the finished basement. Like many of us fanatics, Jay had always imagined having a space to celebrate his fandom. Being an empty-nester also helped create additional disposable income to curate the ideal collection. 
Jay's collection has a main theme: Family and Friend memories. The pieces featured are those of meaning to the people with whom he shares his life and his fandom. Unlike my own cave, Jay was particular in the collection, not seeing a need to cover every square inch of space. I should probably take on his advice. 
Jay highlighted two items that are his favorite of his collection:
Chicago Cubs Pinball Machine
I am going to be honest: I am very envious of this piece. The lights and decorations highlight visuals from the 80's, which features some of my favorite Cubs branding and imagery. When Jay's dad passed away in 2020, his family divided up the assets. Jay's brothers wanted to retain their father's hunting items, so Jay received financial compensation instead. He wanted to use the money on a meaningful item that reminded him of his dad. Jay told me of the fond memories he had playing pinball at bars and pubs with his dad growing up. He started to search to see if there was a Cubs pinball machine worth owning. It turned out there was one. Around 1,600 of these were made by a company based in Chicago. It is the only team-licensed pinball machine ever produced. Jay scoured pinball machine websites and social groups. Finally, he found a guy in Portland, Oregon who had purchased this machine from a club in Anchorage, Alaska. Jay has had to refurbish it some since he got it. You can find him in the cave playing on the machine 2-3 times a week. 
2016 Shuffleboard TableAbove the shuffleboard table is a framed photo of Jay's memories from his World Series game. It features his scorecard, ticket, and memories with his loved ones. It is hard not to feel romantic about baseball. 
2024 Expectations
Jay and I are very much aligned on our checklist for this offseason. We both feel it is time for the "big market" behavior to come back. He sees bullpen depth and a top-of-the-rotation arm as the team's biggest needs. Like many of us, he hopes Cody Bellinger comes back in 2024. 
Want to see more pictures of Jay's collection? Looking to ask him any questions? You can find him on Facebook as a participant in Cubs chats and groups. 
Interested in your fandom/Cub Cave getting featured? Send me an email at candidcubs@gmail.com to apply! 
1