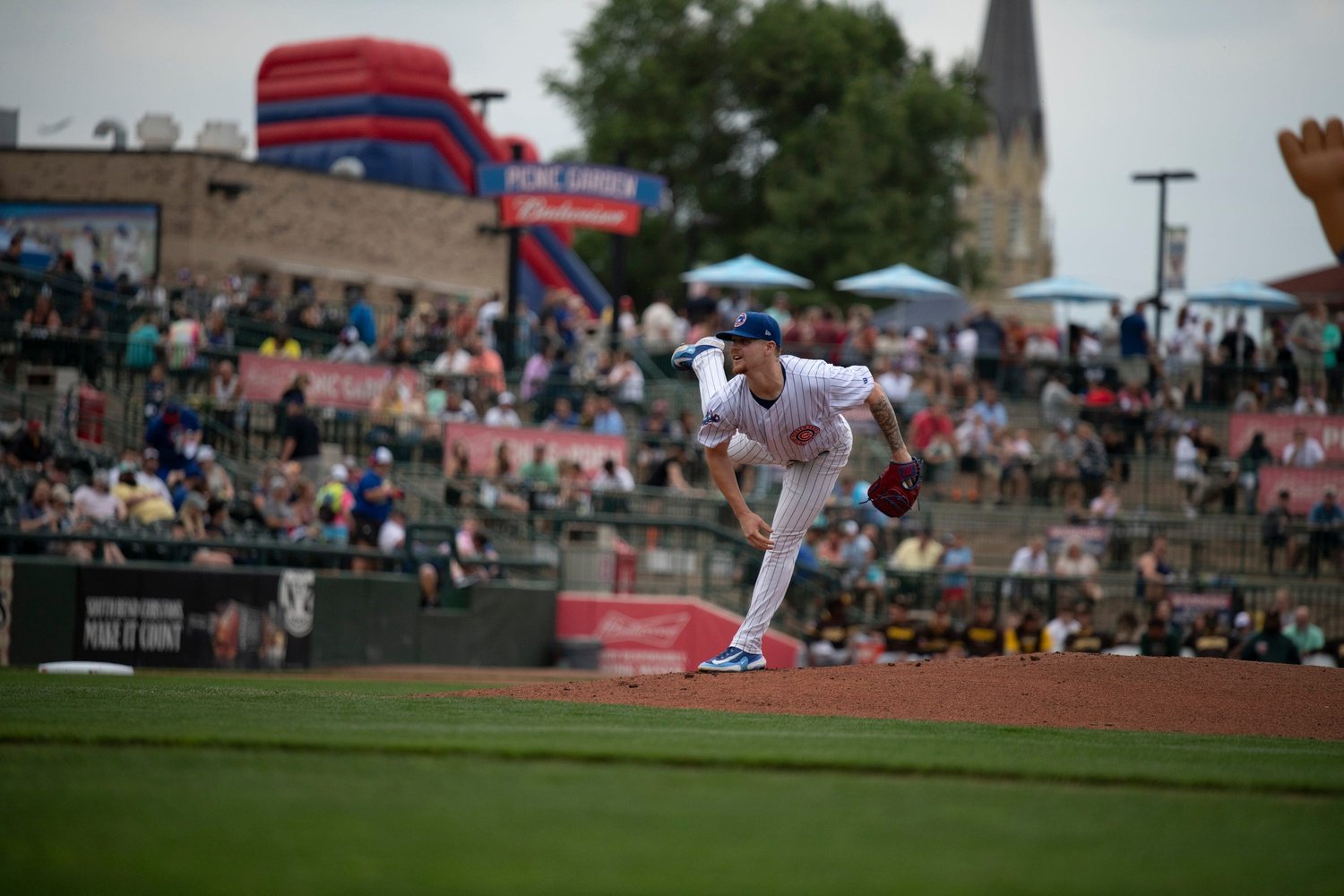 Image courtesy of © MATTIE NERETIN / USA TODAY NETWORK
Iowa Cubs, AAA (3-3) 
Sadly, two did become one, with Iowa missing out on the AAA playoffs, ending their 2023 season. The week started strong, winning three more games, until they hit a speed bump and dropped the final three. It's hard to blame Iowa for the late-season struggles, as injuries to Ben Brown and call-ups of Pete Crow-Armstrong, Alexander Canario, Luke Little, and Jordan Wicks left the team pretty shorthanded. That said, it's a good problem, and I hope this will be a recurring problem.
Matt Mervis: 143 wRC+, 21.7% K%, 21.7 BB%, 2 HR, 1 2B: Mervis finished the season on a high note in Iowa. After his demotion, all Mervis did was hit, putting up a 131 wRC+ over the final three-plus months of the season. Mervis has clearly shown that he's too good for AAA and deserves to be on an MLB roster to show if he can stick at that level or if he's a "AAAA" player. Whether or not that MLB chance will come with Chicago in 2024 has yet to be determined. For his sake, I hope he can take his AAA success and find MLB success.
Ben Brown: 1.2 IP, 3 K, 4 BB, 5 R, 5 ER: Yeesh. Control issues abound for Ben Brown, who has not looked comfortable since returning from a lat injury. Rust? Residual pain/discomfort from the injury? Just a bad few games? Hard to tell. A good offseason, rest, some tweaking, and hopefully, Ben Brown returns next season in form. A healthy Ben Brown, and one who was controlling his pitches, would have been a nice BP addition to the Cubs in 2023, but hopefully, he can make an impact in 2024. Just remember that a few poor outings at the end of the season don't erase all of the good.
Brennen Davis: 34 wRC+, 11.8% K%, 5.9% BB%: Early season Brennen Davis returned this week, making a lot of contact, almost all of it being weak. Is this better than K-happy Davis? I can't tell because it's just a different side of the same coin: that of an unproductive hitter. That's two lost seasons in a row for Davis. He's not completely gone as a prospect, but this offseason will be very important for him, and he must put in some heavy work. There must be a middle ground between Brennen Davis, the K-machine who displays plus power, and Brennen Davis, the contact machine with zero ability to hit the ball hard, right?
Caleb Kilian: 5.1 IP, 8 K, 1 BB, 6 R, 5 ER: I'm just at a loss with Kilian right now. The K's are really good, and it's been nice to see the velocity back to what it was at the start of 2022, but despite the strikeouts, he gave up a lot of contact. This is the third time in his last six outings that he got hammered when he came into the zone. Is a permanent switch to the bullpen in the cards? I've never been a big believer in his pitch mix in the BP, but this season has been pretty poor, up and down, for Kilian. I still think some value can be had out of him, but I don't know what it is.
---
Tennessee Smokies, AA - Moving on to the Championship
In stark contrast to the Iowa Cubs, the Tennessee Smokies have only received helpful reinforcements, and the results show. Tennessee was able to dispatch the Chattanooga lookouts in their best-of-three series and is now just a single win away from being crowned league champions. However, they'll have to do so on the road, playing Pensacola on Tuesday and Wednesday.
Game 1 vs. Chattanooga: Win, 3-1: Surprise, surprise, but Cade Horton took the mound for the Smokies in their most important game of the season, and it should be no surprise that Horton was dominant. Horton went five, striking out seven and giving up nary a run. The Smokies got on the board in the third inning with three runs, provided by a BJ Murray single, an Owen Caissie double, and a Hayden McGeary fielder's choice, and they never looked back. The only blemish was a 6th inning from Zac Leigh (though the blame should be placed on the feet of Porter Hodge, who only got one out, hitting a batter and giving up two other singles). Leigh battled, struck out the next hitter, and finished with a popout to strand the bases loaded. Riley Martin and Hunter Bigge closed the affair, and Tennessee took game 1.
Game 2 vs Chattanooga: Win, 5-1: Walker Powell took the mound and, much like Cade Horton the night before, was given an early multiple-run-lead, this time, from a three-run shot off of Kevin Alcantara (his only hit of the night). Powell gave up a run in the bottom of the second but ended the night with six strikeouts. The bullpen took over, with Frankie Scalzo Jr., Riley Martin, and Hunter Bigge finishing the job. With the win, the Smokies moved onto the Championship series against Pensacola with relative ease. 
Game 1 vs. Pensacola: Win, 8-4: Today was more about the bats than the previous wins, but much like the first two playoff games, the Smokies got off to a smoldering start. By the end of the third, the Smokies were up 7-1 behind RBI knocks from BJ Murray, Hayden McGeary, Ezequiel Pagan, and Kevin Alcantara. Pablo Aliendo also took a bases-loaded hit by pitch, and the Smokies never looked back. Brandon Birdsell threw five strong, striking out five and surrendering only one. The usual suspects of Porter Hodge, Frankie Scalzo Jr., Riley Martin, and Hunter Bigge closed out the game, though they did give up a few runs on an HR given up by Bigge. One more win and the Smokies wrap up their seasons as Champions of the Southern League.