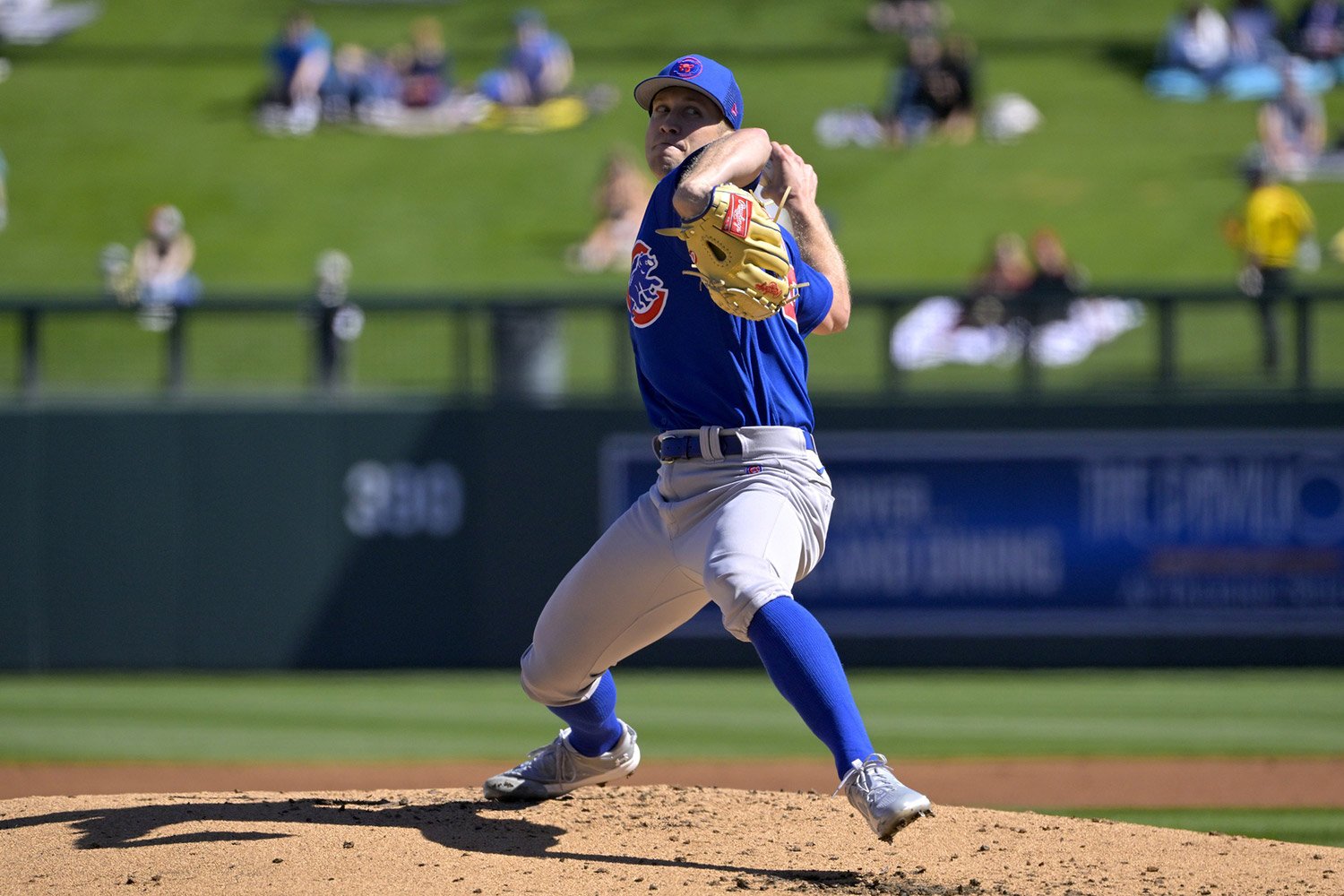 Image courtesy of © Jayne Kamin-Oncea-USA TODAY Sports - Caleb Kilian Pictured
Contrary to popular belief, neither Yonathan Perlaza nor Luke Little turned into dust when they weren't selected for big-league promotions on Sept. 1. There might yet be transactions ahead that affect the parent club. Still, there are also prospects with plenty at stake down the stretch.
Iowa Cubs, AAA (2-4)
Despite the Iowa Cubs' talent, they just cannot get anything going, as they dropped another series, this time to the Toledo Mud Hens. The Cubs enter this week against bottom dwellers, the Omaha Storm Chasers, with first place still in striking distance. A big week could secure Iowa their second straight first-place finish.
🔥Ben Brown: 1 IP, 2 K, 0 BB, 0 R, 0 ER: Ben Brown earns a "hot" for simply being on the field and looking healthy after the injury scare he faced a month ago. Lat injuries can linger (it was a lat that cost Adbert Alzolay all of his 2019 season), so seeing a healthy and energized Brown was great. It's also big because he could, in theory, help the playoff push and win a bullpen role with the parent club.
🔥Brennen Davis: 139 wRC+, 39% K%, 0 BB%, 2 HR, 2 2B: Glad to see the power come back for Brennen Davis. There were a bunch of strikeouts and no walks, which is not ideal. We didn't see Davis hit for any authority early this season. With some hope, Davis will find the mid-ground between contact quantity and contact quality. There's still a player there, I think.
🥶Pete Crow-Armstrong: 51 wRC+, 41.4% K%, 6.9% BB%, 1 2B: Maybe I was a little premature with Pete Crow-Armstrong, claiming he'd make it to Chicago this season. Iowa seems to be attacking his aggressive nature right now (which isn't developmentally bad). It may be that Crow-Armstrong just finishes up in Triple-A instead of sitting on an MLB bench, but I still think we might see his speed and defense before the year's over. 
🥶Caleb Kilian: 4.1 IP, 4 K, 1 BB, 7 R, 7 ER: Fresh off of being my MiLB pitcher of the month, Caleb Kilian laid an egg in Iowa. Kilian gave up four home runs. While the walks remained in check, getting lit up like that won't ingratiate him with the front office as they try to patch the bullpen in Chicago. 
---
Tennessee Smokies, AA (0-6)
That is not an ideal week for the Tennessee Smokies, who went winless at home against the Biloxi Shuckers. Despite the awful week, Tennessee remains in first place. I suspect reinforcements from the Cubs High-A affiliate, South Bend, will be arriving soon, as South Bend's season will not be extending into the playoffs. A 6 game set on the road against the Mississippi Braves looms and should be a good pallet cleanser for the team. Mississippi has the second-worst record in the league.
🔥Matt Shaw: 137 wRC+, 21.7 K%, 4.3 BB%, 1 2B, 1 3B: Surface numbers for Matt Shaw since getting to AA Tennessee have been good, and he's continuing to hit everything he makes contact with. Shaw has seen a slight uptick in strikeouts since getting to Tennessee, which might not be bad. Shaw does need to learn how to curtain his aggressive nature. With that said, Shaw hit his fourth professional triple Sunday night and displayed a much-protracted leg kick (which he does with two strikes)
🔥Cade Horton: 5 IP, 7 K, 1 BB, 3 R, 2 ER: Cade Horton continues to carve up the minor leagues. This probably wasn't his "best" start, but if these are his "weak" starts, then I think that says everything you need to know about how good he is. Horton struggled for a moment early but seemed to get his feet back under himself and closed out strong. He and Matt Shaw (the last two first-round picks) should make their debuts in 2024.
🔥Owen Caissie: 193 wRC+, 8% K%, 28% BB%, 2 2B: It's pretty hard to put up a near 200 wRC+ line in a week without hitting a single home run, but Owen Caissie managed to do it. While he had a good month of August, it wasn't a great month, but this is more like it for Mr. Caissie.  The strikeouts were non-existent, and he walked a ton. End the season strong, and it will make for an incredibly exciting start for Owen Caissie in Iowa for 2024.
🥶Kohl Franklin: 2 IP, 2 K, 0 BB, 5 R, 5 ER: Kohl Franklin's line this week was pretty similar to Caleb Kilian's line: he didn't walk a lot, but the home run ball killed him. Franklin hasn't had a very strong run of late, and while I still believe in him down the road, he might make a switch to the bullpen at some point in the near future in his career (mirroring players like Luke Little, Daniel Palencia, and Porter Hodge). Big stuff remains here, but I'm not sure it'll happen for him in the rotation.
🥶B.J. Murray: -41 wRC+, 33.3 K%, 0 BB%, 1 2B: Not a good showing for many this week in Tennessee, as I guess that's what happens when you go winless, and BJ Murray was no exception. Thankfully for Murray, his entire season has been so good it's easy to ignore weeks like this as nothing to worry about. Murray has done a great job of making a name for himself this season and is recently off a 135 wRC+ month of August. Move along, and don't worry.
---
South Bend Cubs, High-A (1-5)
This will be the second to last week for the South Bend Cubs, who will miss out on the playoffs for the 2023 season. The Fort Wayne TinCaps took 5 of 6 in South Bend's last road trip, and the Cubs' last homestand of the season will begin Tuesday against Quad Cities. Expect a handful of the "fun" Cubs prospects to make their way to Tennessee to help the playoff push shortly.
🔥Michael Arias: 4IP, 1 K, 0 BB, 1 R, 1 ER: In a week that was kind of hard to find "hot" performances, Michael Arias put up one of his best starts in quite some time. Facing only one over the minimum, Arias shut down Fort Wayne pretty well, with his only blemish a home run. I hope for Arias' sake he finishes next week strong, as this has been a nice breakout season for someone just learning how to get professional hitters out.
🥶Moises Ballesteros: 80 wRC+, 29.4% K%, 0% BB%, 1 2B: Moises Ballesteros has struggled a bit lately, and that's okay. He's moved incredibly quickly, and his season line is still fantastic overall for someone his age. There probably needs to be some more home run power in his bat if he's going to become a true DH threat, but again, with his age, this has been a fun season. I wonder if the Cubs will promote him to AA, even with the late-season skids.
🥶Kevin Alcantara: 93 wRC+, 23.8% K%, 19% BB%: This isn't the worst line of all time, but I'm throwing him on the "cold" list for the lack of power he's shown since returning to the South Bend lineup. Kevin Alcantara has only one double and one home run (both hit in the same game), which isn't enough. I'd like to see Kevin Alcantara tap into the power a bit more. It's not terrible, but it's not good, either.
🥶James Triantos: 56 wRC+, 28.6% K%, 0% BB%: Uncharacteristically high strikeouts plagued James Triantos this week. James Triantos didn't strike out once last week, so it's forgivable. It will be interesting to see how the Cubs develop Triantos and where he eventually ends. It's another successful season for the 2021 2nd-round draft pick.
---
Myrtle Beach Pelicans, Low-A (2-3)
The Pelicans had multiple games this week disrupted due to weather while visiting the Charleston River Dogs, the divisional leaders. Myrtle Beach, winners of their division in the first half, has already wrapped up a playoff spot, but it would be great for them to finish off strongly as they will play the River Dogs in a three three-game playoff set in two weeks. The Columbia Fireflies, currently in second place, come to town for the Pelicans' last homestand of the regular season.
🔥Drew Gray: 3 IP, 7 K, 0 BB, 0 R, 0 ER: Drew Gray had perhaps the best start of his career this weekend, as he struck out 7 of the ten batters he faced. Drew Gray has had a pretty lovely bounceback season from Tommy John surgery, with walks being his only Achilles' heel. As we move forward, it will be important to see if the control is an issue with rust or if it's something more sinister, but for now, enjoy the kind of arm talent Gray has for what it is.
🔥Koen Moreno: 5 IP, 6 K, 2 BB, 1 R, 1 ER: Koen Moreno is probably a bit too old for Myrtle Beach at age 22, but he's had such a rocky go of it that I'm just happy to succeed anywhere. He's more polished than he's ever been, and there's probably enough here to dream of him having some MLB ability in him. The 2020 draft hasn't always been kind for the Cubs, but extracting some value from former 5th-round pick Koen Moreno would be great.
🥶Jackson Ferris: 3 IP, 6 K, 3 BB, 4 R, 4 ER: Over the course of the season, Jackson Ferris has done a really good job of avoiding blow-ups, but it was bound to happen. He's still working on being more consistent and avoiding walks, which got him in trouble this week. The learning process and these kinds of hiccups can be good building blocks.
🥶Jefferson Rojas: 19 wRC+, 42.1% K%, 0% BB%: Jefferson Rojas has featured so often in the "hot" category that, like many making uncharacteristic appearances on the "not" list, it's something that can be largely ignored as a blip on the radar. Lots of strikeouts is not something that Rojas has dealt with up until this point, and it hopefully will just be a rough, bad, no-good week for Jefferson.