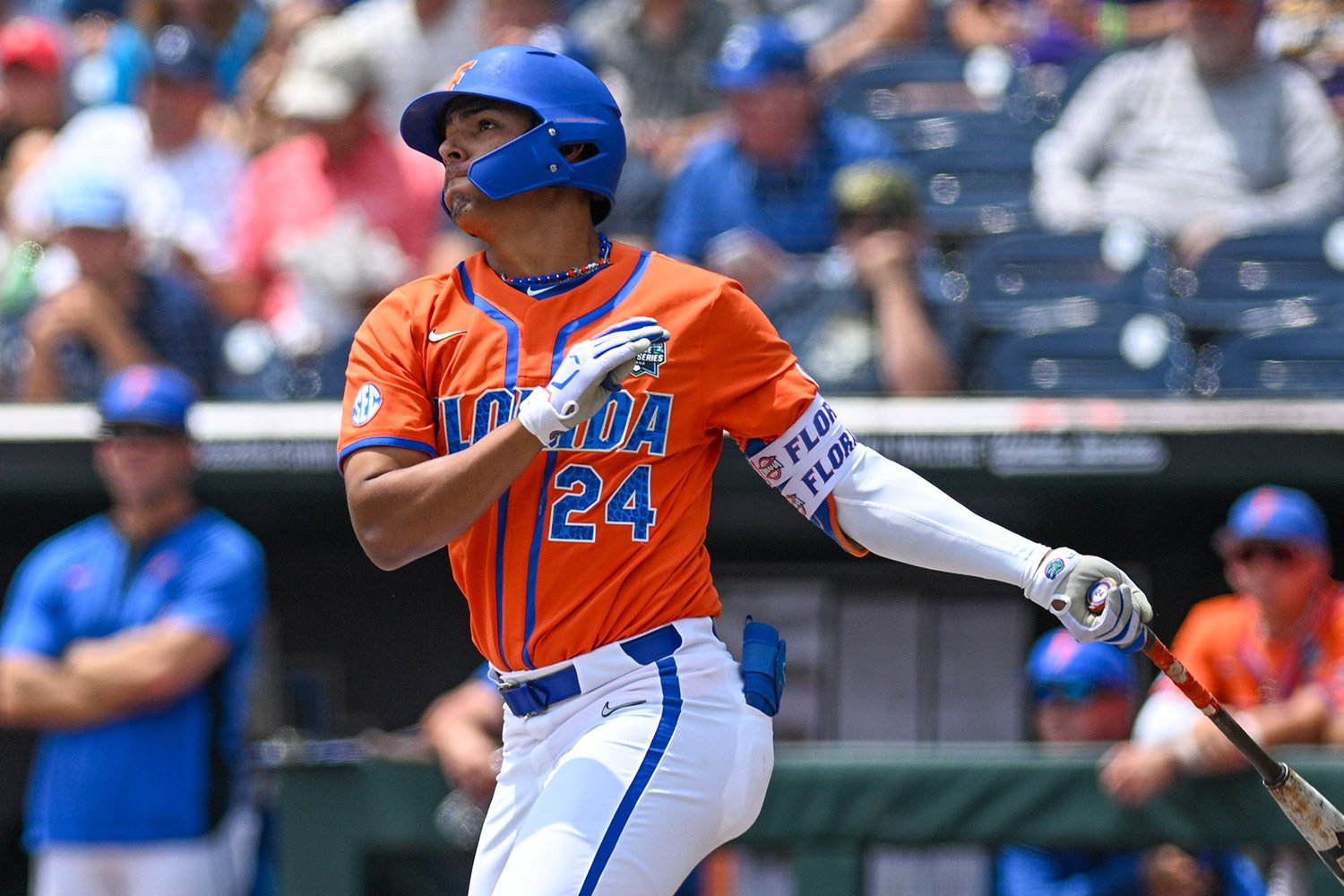 Image courtesy of © Steven Branscombe-USA TODAY Sports
2023 Season Review
Headed into the 2023 draft cycle, Josh Rivera, an infielder with the Florida Gators, wasn't on anyone's draft board as a possible top-100 selection. A 22-year-old junior this season, Rivera had posted fine, albeit unimpressive, lines over the course of two full SEC campaigns already. Since his freshman year, Rivera had posted a .704 OPS as a freshman (redshirt) in 2021 in a more limited role and a .780 OPS as a full-time sophomore (redshirt). From his freshman to his sophomore year, improvement was seen, though not in a big enough way for people to expect the type of 2023 season Rivera would have.
This year was a breakout season in almost every way for the Gator. Rivera managed to lower his strikeouts for a second full season in a row and increase his walk total to the point where Rivera walked more than he struck out. The biggest change was his power output. In 2022, Rivera hit nine home runs compared to the whopping 19 he would power out in 2023. Not only did he make more contact, the quality of contact was better, and this is seen in a steep rise in BABIP. While we often see BABIP as a "luck" category, when assessing young players who may be "too good" for their levels, a high BABIP can signal being on a higher plane physically and talent-wise, so seeing Rivera improve is a good thing. All of this resulted in a third-round selection from the Cubs.
Since jumping to the professional ranks, Rivera has had a good amount of success in limited action. He went straight from the Complex League to the Cubs High-A affiliate, the South Bend Cubs. While his initial start with the South Bend Cubs started slowly, he began hitting his stride over the last few weeks. In his final 52 PAs, Rivera posted a .346 batting average and a 173 wRC+. He hit both his home runs during that stretch and six of his eight doubles. While it's a small sample size, he ended the season on a high note.
2024 Season Outlook and ETA
Josh Rivera will probably go right back where his 2023 ended, with the South Bend Cubs. Having just over 100 PAs there, and only 50+ of them any good, he'll probably spend April to June in South Bend unless he absolutely crushes it and forces an early June bump. Rivera just turned 23 years ago as of the writing of this article, so age-wise, he'll be a smidge older than you'd want out of a South Bend Cub, but he'll hopefully move quickly. 
One of the questions with Rivera is where he'll end up defensively. He's not a small guy, as he's already listed at 6'2", 215 lbs. I don't see the body of a shortstop in Rivera long-term, and he's probably more of a third baseman down the road. That's going to put more pressure on the bat. Swing-wise, I would like to know if some work will have to be done down the road to shorten the hand path. He tends to have some extra hand movement (from down to up) that can be cut out. There seems to be a solid launch angle approach, so hitting the ball into the air shouldn't be much of an issue. 
As a ceiling, Rivera has MLB upside. I don't think we'll see a star-turn, but he might not need that. For Rivera, I see a "jack of all trades, master of none" type of build currently. Someone who has a bunch of grades that sit in the 45-50 range, but that's not a particularly "bad" thing, especially if you're familiar with the second half of the old saying (..."better to be than a master of one").  He could offer 2.5 fWAR upside as a starting 3B, or maybe he'll be more of a rotational bench player capable of filling in a few places. That's good organizational depth; players like Rivera are great glue types. For his ETA, an aggressive 2024 would put him on a path to see action in late 2025, but maybe more of an early 2026 type of prospect.