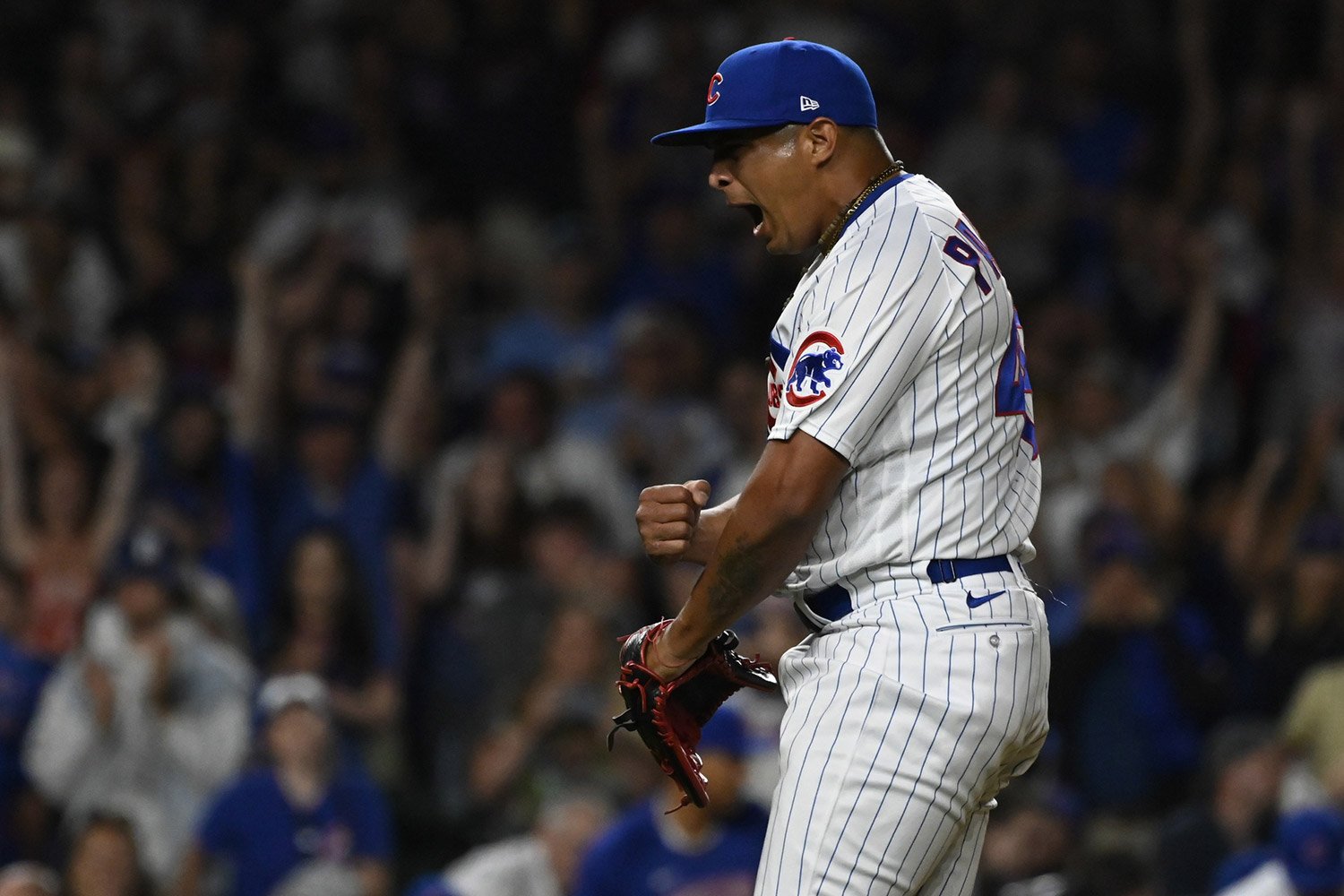 Image courtesy of © Matt Marton-USA TODAY Sports
2023 Season Review
Daniel Palencia's 2023 is similar to our #16 ranked prospect, Luke Little. Much like Little, Palencia entered the 2023 season as a member of the starting rotation. Making five starts in Tennessee, Palencia had some ups and downs in his first 15 innings. While being able to hit triple digits on the gun, Daniel struggled with walks, and most of his starts would last three or fewer innings. May 5th would mark his last start and appearance in Tennessee, as the Cubs would shift Palencia to the bullpen and immediately call him up to Iowa.
The change to the bullpen helped push Palencia's timetable well ahead of where it was. Even with some control issues, a reliever who can easily hit 100mph is useful in many teams' bullpens. While Palencia's ERA in Iowa would sit just south of 8.00, the stuff Palencia showed and improving accuracy made Palencia attractive for a mid-season callup. He took off in mid-June, striking out 11 hitters to only two walks over his final six innings. This would lead to his call-up to the Chicago Cubs in early July.
Looking at Palencia's overall numbers, I think it would be fair to be a little "whelmed" by the data in his first taste of the major leagues. Palencia saw 28 innings over 27 appearances, being used more and more by the end of the season. Struggling, especially at first, his first 11 innings were rough, to say the least. Striking out less than a hitter per inning and walking 6 per 9/IP, Palencia was wild and struggled with strike-throwing. Many of the feelings surrounding Palencia come with these first 11 innings playing a big part because, over his last 17 1/3 innings, Palencia struck out 11 per 9/IP, cut his walk rate in half, and posted a stellar 3.23 xFIP. This was mostly over his second stint with the team, and he seemed... more comfortable. By the end of the year, he was one of the more reliable relievers the Cubs had on the roster. 
2024 Season Outlook and ETA
Daniel Palencia should start with the Chicago Cubs in 2024, barring an offseason injury or mechanical issue rearing its head. Finishing with an average fastball over 98mph and an extension in the 92nd percentile, Palencia offers velocity in a bullpen that hasn't offered a lot of that in the recent past. Also, looking at his last 17 innings, Palencia began to settle in as a reliable reliever. There needs to be more than 17 innings to suggest he will continue that, and we know relievers can be volatile. Still, it's enough for me that Palencia should be given medium-leverage situations with the hope that he can become a reliable high-leverage arm throughout 2024. 
There's still some polish to look at for Palencia, however. Despite the velocity and the K/9, his chase rate was in the bottom 30th percentile, so increasing the swing and miss outside of the zone from Palencia would be great. It'll be interesting to see how the Cubs handle his pitch mix; he mixed in a handful of curveballs, sinkers, and changeups throughout the season and is trying to figure out how he's going to either pair that down or ramp up the usage of a specific pitch (for, example, his changeup to keep lefties honest) will be interesting. Those are the types of things that would help solidify Palencia as a true leverage reliever. 
Much like Luke Little, Daniel Palencia could survive with a few more walks than others, but he'll need to keep that in check. Ultimately, this is an excellent outcome from the Andrew Chafin trade. The Cubs turned a waiver claim in Chafin into a potentially controllable, leverage reliever. This is a scouting win for the Cubs.