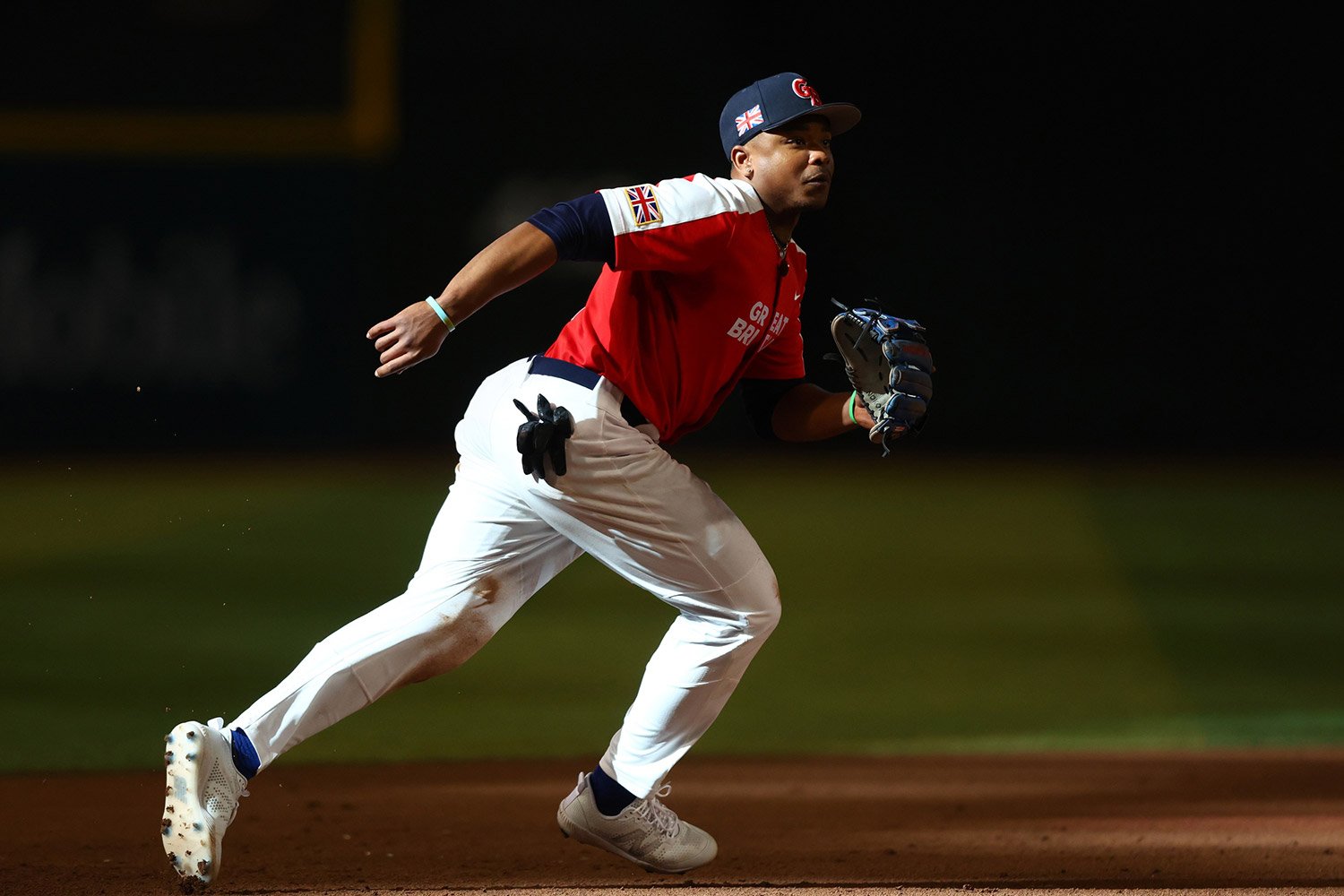 Image courtesy of © Mark J. Rebilas-USA TODAY Sports
2023 Season Review
B.J. Murray entered the 2023 season as a prospect who had already shown that perhaps MLB teams slept on the Bahamian in the 2021 draft. A 15th-round selection out of Florida Atlantic University, Murray had a great season in two stops, Myrtle Beach and South Bend, in 2022. Posting a wRC+ over 150 in the former and nearly 130 in the latter, Murray showed a strong nose for contact and approach. If there was some polish to put on Murray, it was the lack of game power shown, hitting eight home runs over the course of roughly 90 games. Murray was a college draftee, and you'd have hoped someone like him would have put up a few more home runs on paper. The 2022 season was good enough that BJ Murray was even given a roster spot on the Bahamian World Baseball Classic.
2023 B.J., however, took that personally once he reached Tennessee this year. Murray earned the AA promotion and started the season well, but he wasn't blowing anyone away with his first few months. Through June 30th. Murray had posted a solid, if unspectacular, wRC+ of 118 in Tennessee with a K-rate over 25%. In a reoccurring theme about Tennessee players, it's important to note that during this period, Tennessee and the Southern League were experimenting with a new pre-tacked baseball. The result was a league-wide increase of almost 3% in strikeout rates, and baseballs that behaved as if they were whiffle balls. 
Once the pre-tacked ball was shelved, however, Murray came to life. From July 1st through the rest of the season. Murray lowered his K% to 22.1% (or about 3%, the league average K% jump, mind you) and posted a .221 ISO with improved power, which was good for a 139 wRC+. Basically, after the baseball was switched, Murray turned into one of the better hitters in Tennessee and the Southern League in general. Much like any hitter, there were spurts up and down, but it was a nice second half for the young third baseman. 
Murray's season was good enough to represent the Chicago Cubs mid-season at the Future game alongside a pretty special prospect named Pete Crow-Armstrong. Overall, it's hard to find many complaints about how the season finished for Murray.
2024 Season Outlook and ETA
It's a foregone conclusion that Murray will start in Iowa in 2024. He has done everything he needed to Tennessee. Murray, as well, will be 24 years old, so he'll be age-appropriate for Iowa as well. What interests me about Murray is how the Cubs handle him positionally. Looking at the Cubs as an organization, first base and third base are the two positions where the Cubs have open paths for early prospect contribution. Murray has spent most of his career at third base and it will be interesting to follow how the Cubs handle him defensively because Matt Shaw will also be around the same level as Murray, and many assume Shaw (the more highly-rated prospect by the industry) will have a future at that position as well. 
So where does Murray go? Is he an option at first base? Matt Mervis may get another shot at the MLB level at position, which would open up Murray to playing first at Iowa. Is Murray the preferred option internally at third? In that case, do the Cubs continue playing Shaw in the middle infield, two positions locked down at the parent club for the foreseeable future? Murray hasn't been known for his glove to date, so there are many things on the table. I can also see him used as trade bait this offseason if the Cubs decide to make some splashy moves and prefer Matt Shaw as the third baseman of the future over Murray; if you're a team making a trade with the Cubs, Murray could offer interesting value as a second trade piece who hit well last year in AA and probably isn't too far off.
Murray could find himself on an MLB roster mid-season next year if things break right for him, either with the Cubs or elsewhere. Being 24 and starting in Iowa, especially without any current entrenched player at his historic position, Murray could provide a bat for the Cubs if he gets off to a hot start, and the Cubs must address the position meaningfully. He could also find himself on the path as a DH or first baseman A conservative ETA is a 2024 September call-up, but a more aggressive timeline could see him getting PAs in Chicago (or another organization) by June 15th. Whether he's traded to get MLB-ready players or adding value to the Cubs himself, this represents another big scouting win for the Cubs.