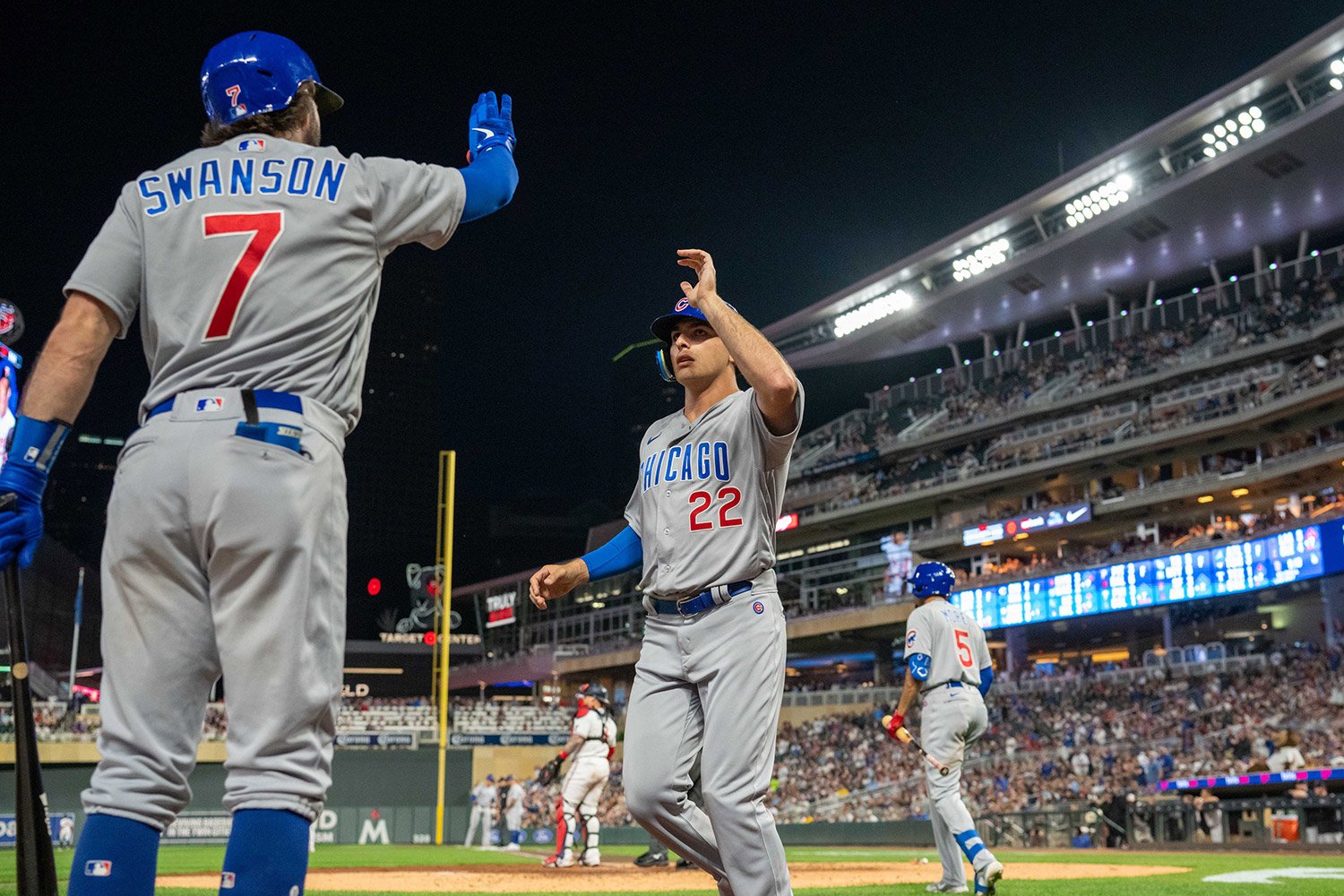 Image courtesy of © Matt Blewett-USA TODAY Sports
2023 Season Review
Matt Mervis showed up in South Bend in 2022 a changed man, it appeared, from the player we saw in Myrtle Beach in 2021. Moving quickly through South Bend, Tennessee, Iowa, and the Arizona Fall League, many believed in the offseason; Matt Mervis would get a shot at either first base or DH in April with the Cubs. This didn't happen, as the Cubs brought in Eric Hosmer and Trey Mancini in the offseason while giving plenty of plate appearances to players like Patrick Wisdom and Christopher Morel at the DH position.
Returning to Iowa, Matt Mervis blistered AAA once again. Posting a 136 wRC+, an 18 K%, and a .970 OPS, Matt Mervis picked up right where he left off in Iowa. Over 91 PAs, Mervis almost equaled his walks (18) and his strikeouts (19); all the while, both Mancini and Hosmer struggled and scuffled with the Cubs. As Mervis hit ropes in Iowa, Eric Hosmer and Trey Mancini started noticeably slow as the Cubs struggled in late April. Voices in the media and fans began clamoring for the man nicknamed "Mash" to make an appearance and save the Cubs. On May 4th, Matt Mervis was called up to the Cubs.
Sadly, for both the Cubs and Matt Mervis, his month with the Cubs did not go as planned. Getting 99 plate appearances spread over 27 games, Mervis had a disappointing 32.3 K% and an overall 46 wRC+. On the surface, these numbers were terrible and suggested that Mervis was overmatched at the MLB level. Looking a bit deeper into it, where Matt Mervis struggled can be summed up to two main areas: sliders and left-handed pitchers. Mervis whiffed on nearly 50% of the sliders he saw and had a -8 wRC+ against lefties. He also posted an uninspiring <9% launch angle. 
It would be easy to think it was all bad for Mervis looking at those numbers, but I think they partially bury the lede. There seemed to be a bit of bad luck for Mash, as his exit velocity, barrel, hard hit, and sweet spot percentages were all very impressive, most of which sat in the 90%+ zone. There seemed to be an aspect of bad luck for Mervis and while there can be some issues with expected batting average and expected slugging occasionally, but Mervis drastically underperformed both metrics. His xwOBA was .319. Is that good? Not really, but it's not the terrible 48 wRC+, either. For a rookie, in his first 99 PAs, a .319 wOBA wouldn't have been the worst outcome.
The Cubs became disillusioned with Mervis and turned back to Trey Mancini as the primary first baseman in early June, sending Matt down to Iowa to work on a mechanical fix. Upon returning to AAA, Matt Mervis would post another 131 wRC+, albeit slightly more elevated 24.6 K%. 
2024 Outlook and ETA
Looking at our North Side Baseball Top 20 prospect list, I'm confident about the path forward for most players; some players have a little more fog... then there's Matt Mervis. Where we go from here on, Mervis is pretty cloudy, and it's hard to pinpoint the path forward. I'm usually complimentary of how the Cubs deal with prospects and young players. Still, they did themselves a disservice with Mervis this season, as they learned very little about his ability to play in the majors. We entered 2023 in a place where it'd be fair to be confident that Mervis could hit AAA pitching at a high level, with questions as to what he would do at the MLB level, and we're entering 2024 with the same questions. 
I have no issues with someone saying the Cubs couldn't keep just trotting out Mervis, but there didn't seem to be anyone hitting so well to block him from April - July, his only competition being Eric Hosmer and Trey Mancini, who had tons of red flags of their own. A longer leash, punctuated by his xdata, suggests he would have regressed to the mean somehow, considering where the other two first basemen were offensively. We'd be in a better spot to answer the question, "What is Matt Mervis?" without sacrificing much of anything had he gotten that leash.
So, where do we go from here? Matt Mervis needs to be on an MLB roster in 2024. He'll be turning 26 early next season, and 661 PAs in AAA have proven that Mervis has solved AAA. Is that roster going to be the Chicago Cubs? I  don't know. I think there's an MLB first baseman in Matt Mervis somewhere, but the Cubs should have high aspirations, and I'm not sure they're in a space to find out right now.
There are permutations of this offseason where Matt Mervis takes a 1B/DH role with the club in April; I think there are others where he's traded. What I fear is that Matt Mervis could have a similar story to Max Muncy, another player who hit well in MiLB but took a little time in the MLB to figure himself out (not comparing the two or saying Mervis would be as good, just an observation and fear). But I also fear the inverse, that the Cubs aren't very high on Matt Mervis for something I can't see, and going with him in April without a backup plan could put a hole in the Cubs' boat. I'm glad I don't have to answer this question myself.