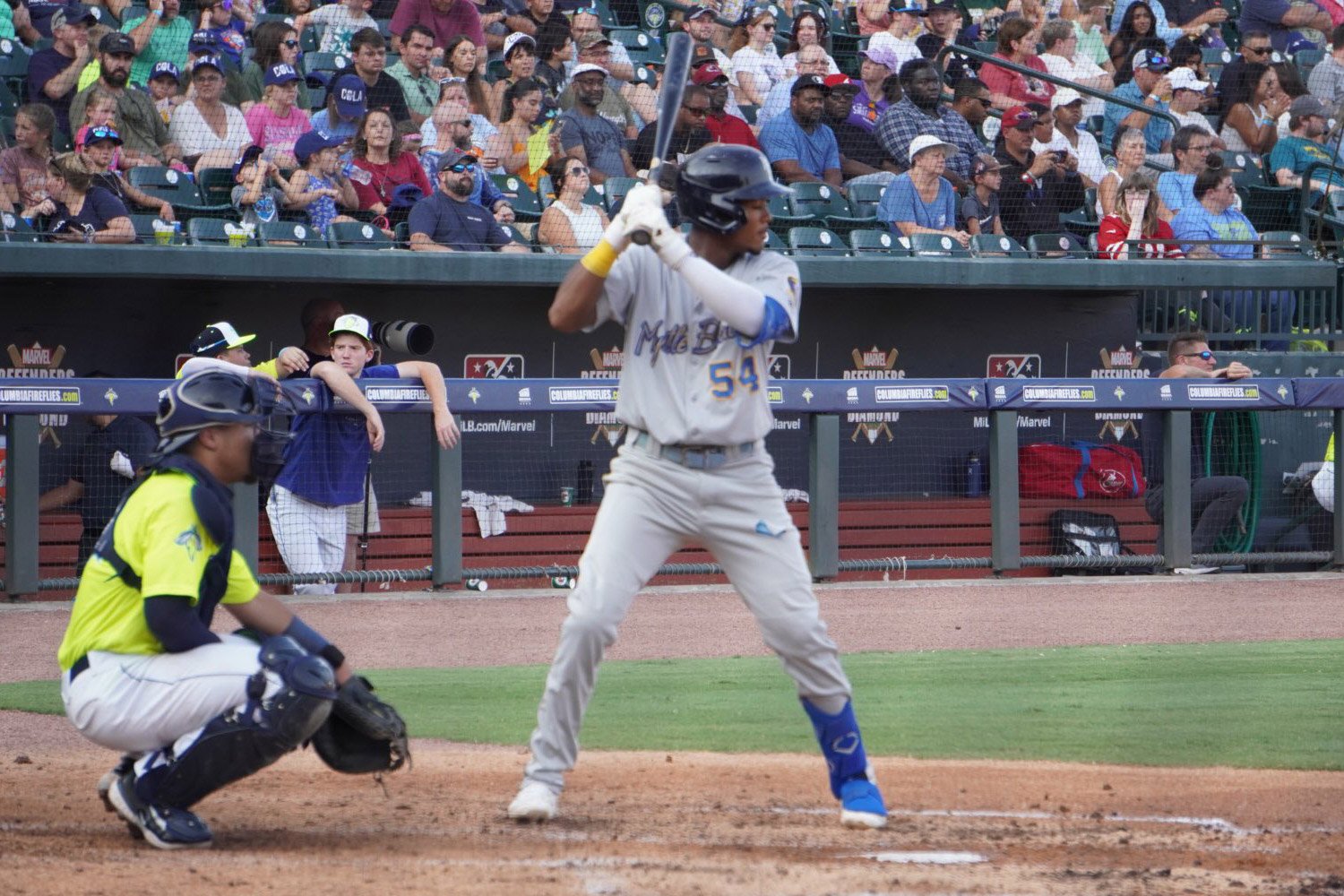 2023 Season Review
At the outset of the 2023 year, Jefferson Rojas got his (predictable) assignment in the Arizona Complex League. As an 18-year-old with only 45 games in the Dominican Summer League, it would have been expected to have Rojas settle into Arizona for his first season and then head off to Myrtle Beach at age 19. Instead, after only three plate appearances in the Arizona Complex League proper, Jefferson Rojas was sent to Myrtle Beach in what is possibly the most aggressive assignment of any prospect in the entire system.  
Upon arriving at Myrtle Beach, all Jefferson did was hit, starting his low-A career with a 2-4 performance on June 7th and having five multi-hit games out of his first seven. End-capping his season, Rojas picked up three more hits. In between the impressive starts and finishes, Jefferson Rojas would finish the season with an impressive 115 wRC+, a sub-20 K%, and a walk rate of 7.5%. These would be fine numbers for anyone in Myrtle Beach, a veritable haven for pitching, but even more impressive for a player who was barely 18 when he arrived, 
Helping Rojas was his excellent swing mechanics for someone his age. He has control of his body that others don't have at that age. There is a feel for the barrel already there, which is also helped by a mature plate approach. He's capable of hitting pitches across the zone, both high and low, suggesting that as is, his swing has very few holes while also having quick action. 
While I'd love to spend the entirety of this article gushing on Rojas, it wouldn't be fair to him, as there are still a few places to polish up. First off, offensively, the power, while impressive for an 18-year-old, is a place to watch as we move forward. A .130 ISO is entirely forgivable for his age, promotion, and where he was hitting, but it's something the young player can look to improve. Seven home runs in 300 PAs isn't terrible, but for Rojas to reach his full potential, he probably needs to get a few more up and out as he matures. Secondly, while it appears fine, his defense doesn't scream plus yet. But these things can grow with age and maturity, so think of this less as a critique/complaint and more of just "he's 18 and imperfect as all 18-year-old prospects are". 
2024 Season Outlook and ETA
It's shocking, but Jefferson Rojas will almost certainly make his debut in South Bend before turning 19. For all of the talk about the aggressive nature of Owen Caissie and his promotions, Jefferson Rojas is making those promotions look like child's play. The nice thing is that the Cubs have the ability (due to organizational depth) to be aggressive with Rojas while patient at the same time. For example, Rojas should spend the entire season at South Bend regardless of the outcome and with no real reason to feel the need to rush him further.
As we enter 2024, the name of the game is "growth" for Jefferson. Growing as a player, rounding out the corners, and improving. He'll be 19 and probably the youngest player in South Bend, so it's okay to expect some bumps. Watching how he adapts to his power and defense will be important. He'll also be 19, and we can likely expect a little growth still, as well. Listed at an out-of-date 5'10", 150 lbs, Rojas must mature into his body. 
The Cubs have a potential star here. 18-year-olds don't usually look this good right away. The Cubs identified this immediately in Arizona, and all Rojas did was succeed. If Jefferson has another successful season, expect his name to populate top-100 lists as soon as mid-season.