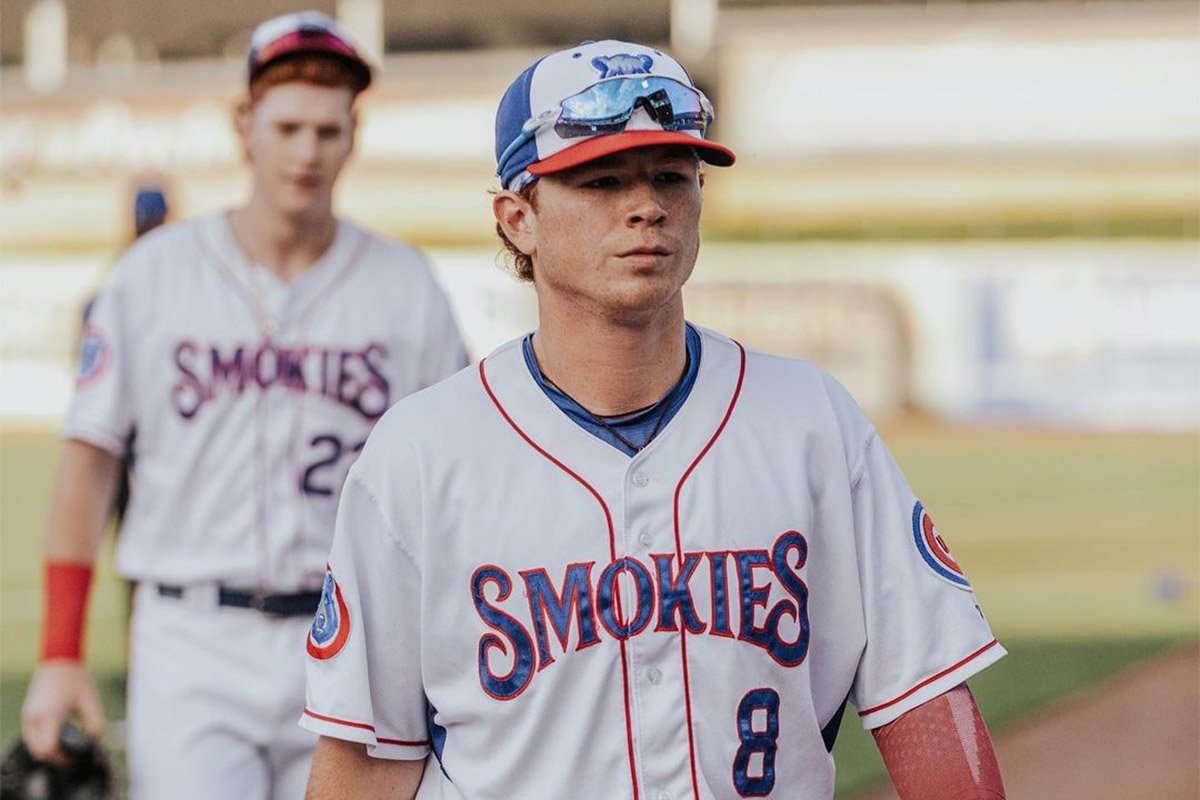 Image courtesy of James Triantos
2023 Season Review
Let's get this out of the way first: James Triantos has, arguably, the best hit tool of any prospect in the entire Cubs system. We can place a few other players in the conversation, but Triantos has repeatedly proven his ability to get his bat on almost any baseball thrown to him. 2023 was no different, as he lowered his strikeout rate in South Bend to a ludicrously low 10.6% over 350 PAs. He doesn't lack for walks, as many high-hit-tool players can do, walking almost at a 10% clip on his own. Any discussion of James Triantos should start with how impressive it is for someone his age to make this much contact with the baseball.
Triantos' season has taken him many places, largely brought on by the wonderful hit tool. Starting in South Bend this season, he posted a very nice 115 wRC+, mainly based on that hit tool of his. In his 350 PAs, he managed only four home runs, however. There were 17 other extra-base hits (14 doubles and three triples), but the home run numbers are slightly concerning. A full slate of games and PAs at that average, and you wouldn't get to double digits. While Triantos has impressive movement ability, swiping 16 bags, and a few of those XBHs were legged-out plays, his lack of home runs was noticeable.
Despite the dearth of power, Triantos made his way to Tennessee at the end of the season to help with the playoff push. Only a little can be gleaned from a three-game sample size, but Triantos did well in those 13 PAs, picking up a few hits with runners on and genuinely aiding the Smokies' playoff run to an AA championship. 
Defensively, Triantos was a bit of a mixed bag. Playing at second, third, and in the outfield, he donned a glove to mixed reviews. He made a handful of errors on the season, including two in his three games in Tennessee. While his arm has never been in question (being recorded as hitting over 90mph on a radar gun his senior season), Triantos' footwork and glove are a clear work in progress. Finding a defensive home in 2024 will be a part of the plan, but there's some wiggle room on where that home is.
As a reward for the great season and showing just how the Cubs feel about Triantos' prospects, he went on to play in the Arizona Fall League with other Cub top prospects like Kevin Alcantara. Earning AFL all-stat status, Triantos put on a show with the bat and with the glove. Offensively, he was second in the AFL with a .417 batting average and finished with an OPS just south of 1.200. He hit three home runs, just one shy of his entire A+ total. He also drew rave reviews on the defensive side, which is a great change, as he played multiple positions.
2024 Outlook and ETA
Some obvious areas for Triantos to clean up in 2024 are the home run power and the defense. While it's encouraging to see him do well in the AFL, it's a pretty small sample size overall, and it's an environment usually tuned to hitters, as teams withhold their prized pitching prospects from overthrowing them most of the time. If Triantos is going to turn into a useful MLB regular, he'll need to increase his game power and start flashing double-digit home run power. He doesn't need to become Barry Bonds, but he does need to be able to hit 10-12 home runs a season. 
The good news for him is that there's power in the body, and he can likely trade some swing and miss for home runs. We saw a little of this in the AFL, as Triantos struck out 15 times in 84 PAs, a bit more than usual, but also hit for more power. Seeing him make that trade will be fine, as a 15-17 K percentage is still an impressively low number and would be a worthwhile trade-off in the long term. 
Defensively, he just needs to continue to work. He would only be the first prospect to struggle initially once he found his footing, and hearing a few glaringly good reports on his defense this fall was good. Small sample size and all, but good. I expect he'll continue to play 2B, 3B, and CF as the Cubs try to use him in multiple roles. Hopefully, one of these will stick for him because he likely can't hit enough to be a DH-only type.
2024 should see Triantos start and stay most of the season in Tennessee. At 21, this is a good home for a player sorting out defensive questions and keeps him on a pace for a mid-to-late 2025 ETA. However, I wouldn't be surprised to see Triantos dealt. I wouldn't be looking to shop him, but his value is now at a peak following the strong 2023 AFL performance. If the Cubs remain concerned about the defensive prospects of Triantos and another team loves him, I wouldn't be surprised to see him moved. With a few other prospects at positions he can play, the Cubs could lose him, making the system generally acceptable. Regardless, it was another successful 2023 campaign for a top Cubs prospect.