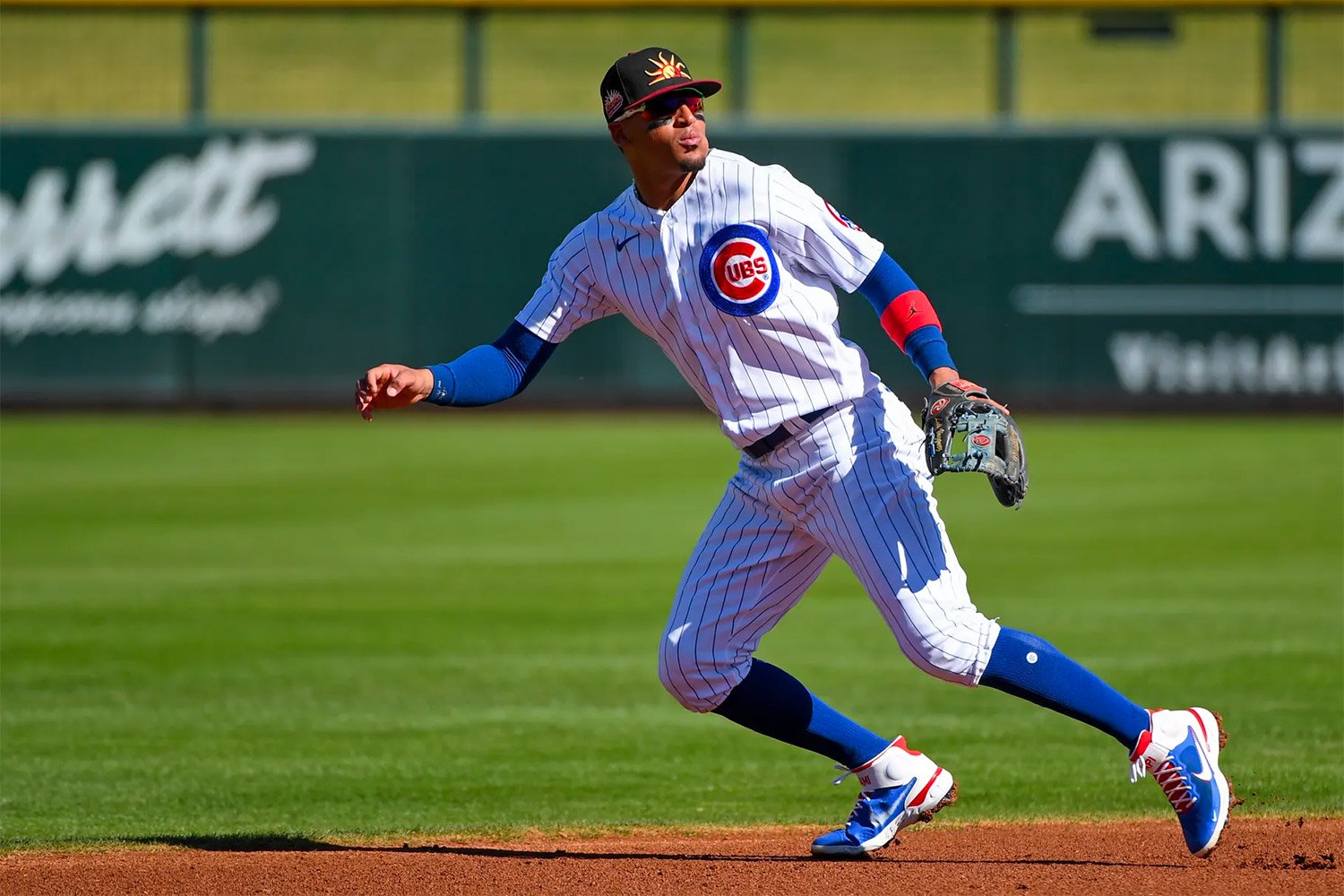 Image courtesy of Photo by Chris Bernacchi/Diamond Images
2023 Season Review
Very few Cubs prospects had their prospect star rise as much throughout the 2023 season as Luis Vazquez did. A player with whom very few were acquainted, Vazquez ended the season as the de facto shortstop in Iowa despite starting the year in Tennessee as a repeater. A strong glove and hit tool propelled him into Iowa, and he's now knocking on the doors of the Major League club. But how did we get here?
For Vazquez, the season began back in Tennessee after receiving a small cup of coffee in Iowa in the 2nd half of 2022 that didn't go particularly well, as Vazquez compiled a 20 wRC+ in just under 100 PAs. Even at just 22 years old entering the season, there wasn't a lot of excitement around Luis Vazquez as a prospect. Even in his 2022, Vazquez could only muster a 72 wRC+, and the only "successful" stints were always of the short kind. A glove-first prospect, Vazquez hadn't shown any ability to take a 50/55 grade hit tool and make much out of it at the plate. 2023, however, something clicked. Vazquez increased his power, posting a career-high .198 ISO in AA, increased his walks, and lowered his strikeout rate. 
This outbreak in AA caused the Cubs to move Vazquez up to Iowa midseason, and the renaissance continued. Posting an equally encouraging .171 ISO in Iowa, Vazquez continued to lower his K% to the low 20s and increase his walk rate to the double digits. All of this can be seen in his exit-velocity gains, showing the biggest gains of any prospect in the Cubs system from 2022 to 2023. He's hitting the ball more often and has more power; this is only a good thing. Vazquez finished 2023 with a 109 wRC+ in Iowa, capping off a really good season.
On the defensive side, Luis Vazquez is a wonderful glove man, and there's little debate. It's fair to give him a 60+ grade on the glove, and if you want to be very bullish, a 65 is probably okay. His glove has never really been in doubt, giving him a relatively safe floor as we move forward. If not for Pete Crow-Armstrong, an argument that Vazquez winning "Cubs MiLB Defensive Player of the Year" could be made.  
2024 Season Outlook and ETA
Luis Vazquez is in a weird spot for the Cubs right now, and despite the amazing season, I'm not entirely sure where we go from here. I think Luis Vazquez belongs on an MLB roster at some point in the 2024 season and has an upside somewhere between an up/down organizational type and a 2nd division starter (like a Jose Iglesias type). Vazquez also enters 2024 as a Rule 5 draft-eligible player, and I have little doubt an MLB team wouldn't pick him. The problem for the Cubs is how do they maximize his value if they aren't sure they can fit him into their plans?
Vazquez's roster spot is a somewhat odd fit, causing some confusion. The Cubs already have built-in shortstop protection on the MLB roster with Nico Hoerner, 2B/3B players like Christopher Morel and Nick Madrigal, and someone like Matt Shaw, who could be ready to help at second and third as soon as late June. The Cubs have many questions about who to protect on the 40-man roster, as well as how many of these players Vazquez would be ahead of. On top of that, the Chicago Cubs will likely make trades this offseason. There's a good chance Vazquez will have more value to another team and could be used as a piece in a trade (either as a 3rd option in a larger trade or as a 1st/2nd option in a smaller one). We'll get a little clarity on his situation early with the need to either add him on the 40-man being an early-off-season choice or even the Cubs choosing to move Morel or Madrigal and keeping Vazquez instead. Regardless of this choice, Luis Vazquez has intrinsic value to the Cubs when, 365 days ago, he probably didn't have any, so it's a win either way you slice it.