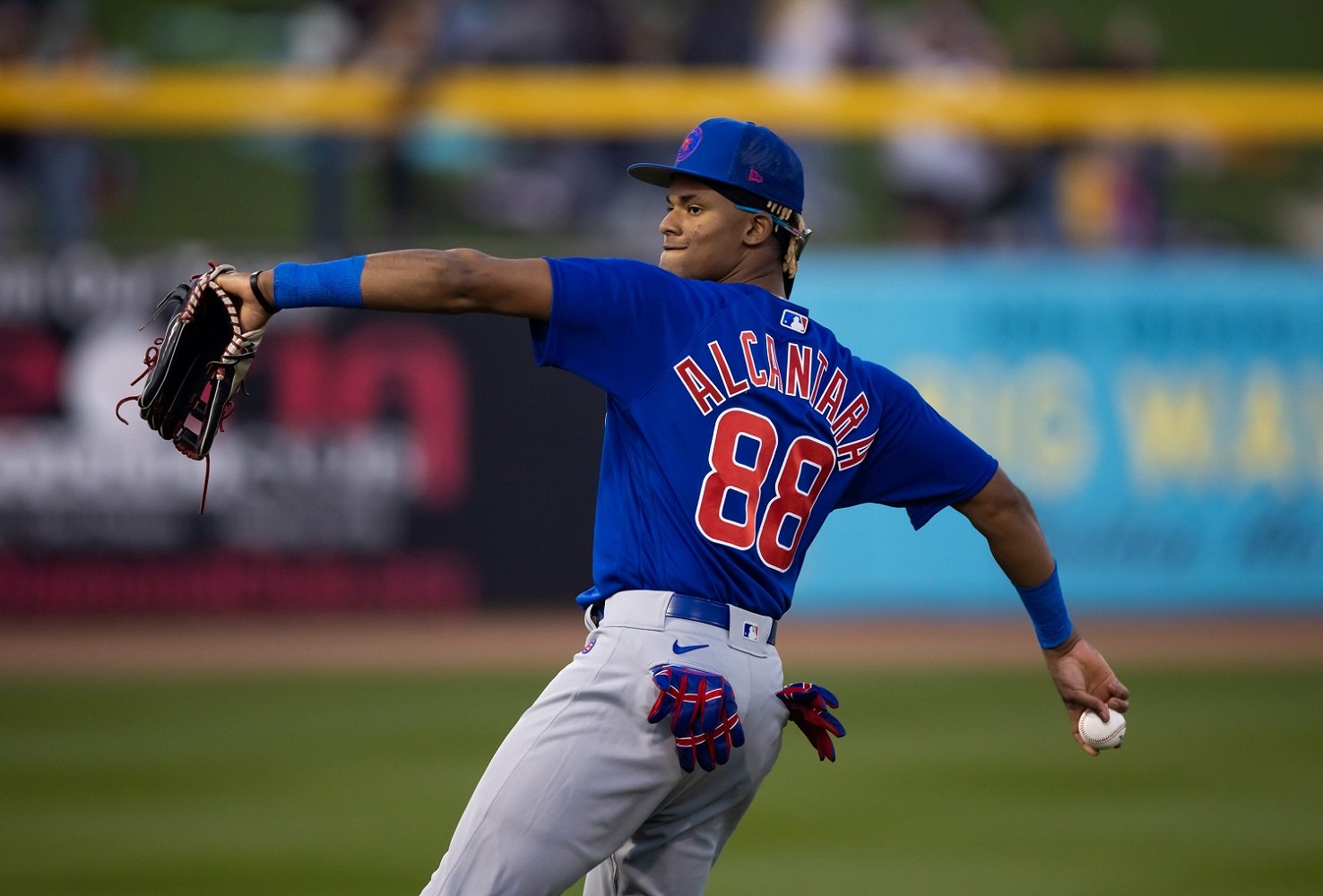 Image courtesy of Mark J. Rebilas-USA TODAY Sports
On Monday, the 2023 Arizona Fall League season will begin. Prospects from around Major League Baseball will play games about six days a week over the next six weeks with the league's championship game on November 11th. 
The Brewers prospects will be playing for the Surprise Saguaros this season. Eight Brewers players will team with minor leaguers from the Houston Astros, Oakland A's, Baltimore Orioles, and New York Yankees. . 
While the Arizona Fall League is often touted as a high-level of competition, teams don't often send their top prospects. In fact, this year, just 10 players on MLB Pipeline's Top 100 prospect rankings will participate. One of those Top 100 guys is Cubs outfield prospect Kevin Alcantara (#71). 
Of the eight players that the Brewers are sending, three of them rank in their Top 20 Cubs prospects. Alcantara (#4 on MLB Pipeline, #X on NSBB), James Triantos (#9 on MLB Pipeline, #X on NSBB), and Alexander Canario (#14 on MLB Pipeline, #X on NSBB). . 
Often, the players who participate in the Fall League are players who missed time during the regular season due to injury. Teams don't often want to send their starting pitchers because they have already thrown a lot of innings. So you'll see relievers sent, rather than starting pitchers. Relief Pitchers don't typically rank high on prospect lists, but anyone who watches the games knows how important a strong bullpen is. . 
Let's take a look at the eight players that will be representing the Cubs organization in Arizona starting this week. In addition to discussing the player's background, I had the opportunity to chat with one of the players, Nick Hull, on what he is looking forward to during his time in Arizona and what they hope to work on and improve while they are there.  
But let's start with the three hitting prospects. 
Kevin Alcantara stands out in a crowd. He stands 6-6, but he has also turned himself into a pretty exciting prospect. He originally signed in July of 2018 from the Dominican Republic. In 2019, he split his season between the DSL and the GCL. After missing the 2020 season due to Covid. In 2021, he started at extended spring training and played in nine games for the FCL Yankees. He was hitting .370 so at the trade deadline, the Cubs asked for him as part of their return for Anthony Rizzo. He joined the ACL Cubs roster and hit .337/.415/.609 (1.024) in 25 games. He spent 2022 in Low-A Myrtle Beach and hit .273/.360/.451 (.811) with 19 doubles, six triples, and 15 home runs. 
The Cubs sent Alcantara to High-A South Bend. In 95 games, he hit .286/.341/.466 (.807) with 25 doubles, three triples, and 12 home runs. He ended the season posting an .881 OPS in five games for Double-A Tennessee. In mid-July, Alcantara left a game with an apparent leg injury. It ended up being "just" a knee contusion,but he missed about 3 1/2 weeks of playing time. The Fall League will allow him to make up for the missed at-bats. 
James Triantos was the second-round pick of the Cubs out of high school in 2021. After signing, he hit .327/.376/.594 (.970) with seven doubles and six homers in 25 games. He spent the 2022 season with Low-A Myrtle Beach. In 113 games, he hit .272/.335/.386 (.721) with 19 doubles, six triples, and seven homers. He also had 20 stolen bases. 
Unfortunately, the 20-year-old needed surgery during spring training this year to repair the meniscus in his right knee. Estimates were that he would miss six to eight weeks. Impressively, his season began at South Bend on May 9th. In total, he played 80 games for the SB-Cubs. He hit .285/.363/.390 (.753) with 15 doubles, three triples, and four home runs. He had 16 steals as well. He ended his season with four hits in 12 at-bats for Tennessee. The AFL will allow him to make up for missing five weeks of games to start the season. In addition, it will allow him to get more time at second base. After playing 104 games, all at third base in 2022, Triantos started 55 games at second base. He also had seven starts at third base and five in center field. 
Unlike most players in the Fall League, Alexander Canario has some big-league service time under his belt. The 23-year-old spent nearly a month with the Cubs, and he played in just five games. Canario fans may want to point out that the Cubs were 5-0 in games that Canario played. 
Canario originally signed with the San Francisco Giants on July 2, 2016. He advanced one level at a time, and in 2019, he played for the advanced short-season ball. He did not play in 2020, but after the season, the Giants put him on their 40-man roster. He began the 2021 season at Low-A. However, at the trade deadline, the Cubs acquired Canario and pitcher Caleb Kilian in a deal that sent Kris Bryant to the Bay. 
2022 was the breakout season for Canario. He played in South Bend, Tennessee, and ended the season with 20 games at Triple-A Iowa. 2023 was a bit more difficult for the outfielder. The 23-year-old played in just 36 games for Iowa. Why? Well, when he was playing winter ball last offseason, he hit a ground ball and tried to beat out the throw to first base. He broke his ankle tripping over the base, and when he landed, he dislocated his shoulder. He returned to action in mid-June knowing he would head to the Fall League to get more at-bats. 
As we shift to looking at the pitchers who will represent the Cubs in Arizona, we start with Nick Hull. The 24-year-old right-hander was the Cubs seventh-round pick in 2022 out of Grand Canyon University. He had played five years in college. From 2018 to 2021, he primarily worked out of the bullpen. In 2022, he made 16 starts and responded by going 7-1 with a 3.72 ERA. After signing, he ended his season with three starts for Myrtle Beach. 
That is where Hull began his 2023 season. In 18 games (15 starts), he went 6-3 with a 4.30 ERA and a 1.22 WHIP. He ended the season with five games (1 game started) for High-A South Bend. In 92 combined innings, he gave up just 68 hits, walked 39 batters and struck out 88. 
Hull recently told North Side Baseball, "I am looking forward to playing against the best competition in minor-league baseball and pushing myself to compete with and against them." 
Asked for some specific things that he would like to work on while in Arizona, he said, "I am looking to refine my arsenal as I have added a few new pitches during the season. I will be happy to elevate each pitch into true competitive offerings." 
Chris Kachmar is a Pennsylvania native. After graduating from high school, he spent a season at Fairleigh Dickinson before a year at Palm Beach State College. He then spent 2018 and 2019 making starts for Lipscomb university. In 2019, he went 9-3 with a 3.61 ERA. The Cubs selected him in the 28th round. After the lost 2020 season, he made 10 starts for South Bend in 2021. And he only pitched in three games in 2022. That is because he had Tommy John surgery. 
He made 14 relief appearances and 11 starts in 2023. In his starts, he was generally limited to three or four innings. However, in his 67 innings, he had 75 strikeouts and 21 walks. The 27-year-old will be able to continue building up his arm strength and catch up on some innings in Arizona. 
Left-hander Adam Laskey was drafted by the Giants out of high school. Instead of signing, he went to Duke and three years later, he was the Cubs 19th round pick. Because of Covid, made his pro debut in 2021 and pitched in 15 games at Myrtle Beach In 37 1/3 innings, he had 40 strikeouts and 33 walks. He returned to Low-A to start 2022. He started the season with 19 appearances and 26 innings and gave up only an unearned run. He was then promoted to South Bend where he posted a 4.26 ERA in 31 2/3 innings. Combined, he was 9-0 with a 2.34 ERA. 
The 25-year-old began the 2023 season in South Bend. He pitched in 33 games out of the bullpen. He posted a 3.14 ERA in 48 2/3 innings. He had 17 walks and 59 strikeouts. He ended his season with a handful of games in Tennessee. 
The Cubs signed right-hander Jose Romero out of Venezuela in October of 2020. He was already 19 years old. He made his pro debut in the Dominican Summer League in 2021. He began the 2022 season in the Arizona Complex League where he made nine appearances. He finished with two games at Myrtle Beach. 
That is where the 22-year-old spent the full 2023 season. In 28 relief appearances, he posted a 2.77 ERA and a 1.19 WHIP. In 48 2/3 innings, he walked 23 but struck out 68 batters. He spent about three weeks in the IL in May. 
The Cubs signed right-hander Tyler Santana after he spent five seasons at Jacksonville University and went undrafted. He took advantage of using the extra year of eligibility due to Covid. He pitched in 27 games out of the bullpen as a freshman. Over the next four seasons, 50 of his 52 appearances came as a starter. Since signing, he has been a swing man wherever he has gone. 
In 2022, Santana went 11-1 with a 2.28 ERA at Low-A Myrtle Beach. He pitched in 24 games and eight of them were starts.  This season, the 25-year-old pitched for High-A South Bend. He pitched in 30 games (9 starts) and went 7-8 with a 4.07 ERA. In 90 2/3 innings, he walked 35 and struck out 78 batters. He should be able to provide Surprise with some innings. 
How do you feel about the Arizona Fall League participants sent by the Cubs? What are you looking forward to seeing?