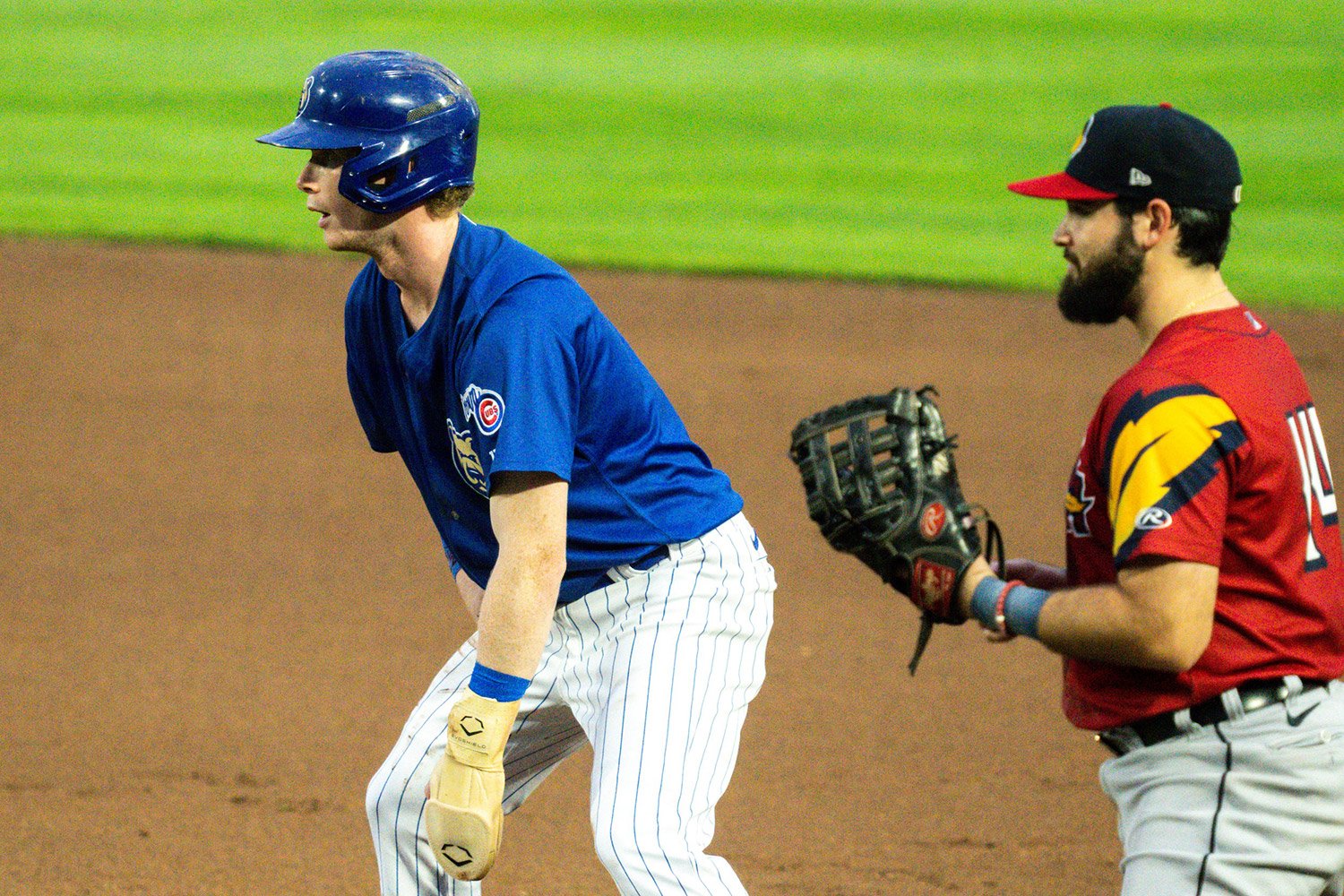 Image courtesy of © Lily Smith/The Register / USA TODAY NETWORK
We saw a few important promotions and some excellent play, so let's recap a few of the highlights and lowlights of noticeable Cub prospects during the first month of August:
Low A: Myrtle Beach Pelicans (2-4)
Rough week for the Pelicans, dropping 4 of 6 on the week, and offensively, it wasn't much fun for the big-named prospects. Fresh off a great week, Jefferson Rojas didn't get it going, striking out 27% of the time and picking up only three hits in 22 at-bats. The ups and the downs will come with Rojas, who is just a baby; be patient. Rojas' week was good compared to Hernandez, who went hitless in 18 at-bats himself. The shining light down in South Carolina was Pedro Ramirez, a prospect who came into the season with a lot of interest but hasn't really gotten going yet. Ramirez picked up six hits (all singles, sadly) while only striking out once. 
Moving to the pitching side of things, Jackson Ferris absolutely shoved on the mound in his one appearance, striking out 9 of the 11 hitters he faced. I'd love to see his pitch count moved up a little more, but the Cubs do a great job of managing pitcher injuries, so who am I to critique? Drew Gray continues his return season with some up-and-down wildness; Gray struck out five but had a whopping three wild pitches, despite only walking 1. That's okay for Gray; he's young and rebounding from a TJS. 
---
High-A: South Bend Cubs (3-2)
The South Bend Cubs finished the week with a winning record, but even more importantly, a handful of new players joined the roster from the 2023 draft, notably Matt Shaw (1st round) and Josh Rivera (3rd round). Rivera finished the week 9-28, hitting his first professional HR and having an OBP touching .400. Matt Shaw posted an impressive .481 OBP with eight hits, hitting a triple as his first professional hit outside of the ACL. Not to be outdone by the new players, Triantos hit a HR and posted a strong .890 OPS. Sadly, Ballesteros didn't have a huge week, posting a sub .700 OPS, but not everything can be perfect, can it? Kevin Alcanrata remains out; however, has been working in Arizona rehabbing and should be back shortly. 
In a nice bounce back, Luis Devers started to look like the 2022 version of Devers, as he struck out 14 over 10IP, walking only one and not surrendering a single run. Recently promoted Brady McCullough had a second rough start, throwing 40 of 71 pitches for strikes, only generating 3 Ks in 4 IP while walking two and giving up 3. Michael Arias went this week as well and was both equally electric (6 strikeouts in 5 IP) while being a little erratic walking 3. 
---
AA: Tennessee Smokies (4-2)
A really big week for Tennessee as we saw the graduations of Pete Crow Armstrong and Luke Little. Owen Caissie, fresh off being named my hitter of the month, decided to continue to go bananas, picking up four extra-base hits, walking five times, and only striking out five times…we're not there yet, but he's not far from forcing the issue and getting a promotion himself. Roderer continued having a great season. Picking up 6 hits himself. Unlike Caissie, I feel Roederer won't touch AAA this season. I don't think this because he's incapable, but because he's Rule 5 eligible. If they keep him away from AAA, it's less likely a team will select him and keep him on an active-26 man all season. With the Cubs' 40-man situation, I don't think they'll be able to save him that way, so this provides an alternate way they can keep him in the organization. BJ Murray (.214 average, seven walks, five strikeouts) had a decent walk, and Haydn McGeary (.263 average, one walk, eight strikeouts, two home runs) had decent weeks highlighted with a few warts. 
Pitching-wise, Kohl Franklin struggled a bit with walks but managed to strike out seven over 4.1 despite the control issues. Cade Horton made a scintillating premiere in AA, striking out six over 4 IP, allowing no walks and no runs himself. Horton continues to work with his third and fourth pitches, the changeup being a pitch he's using to keep LHH guessing and working on shaping his curveball and slider. Eduarniel Nunez, fresh off NSBB MiLB RP of the month honors, settled in a bit better, giving up no runs over two appearances. 
---
AAA: Iowa Cubs (1-5)
Welcome to Iowa, Pete Crow-Armstrong and Luke Little! Before diving into the week, I think both players have a chance to see time with the Cubs in the coming two months. In terms of on-field production, PCA hit his first AAA home run, though he struggled overall, striking out eight times over the course over the week; these are normal struggles for a young player at a new level. Much like PCA, Little struggled in his debut, striking out 3, however, walking two and surrendering two runs. Much like PCA, I remain unfazed; he's a young pitcher who has the kind of stuff that when it clicks, it clicks. Perlaza came back down to earth, as he really struggled with contact, striking out over 40% of the time over his last six games.
Iowa is our first stop struggling with a few injury concerns. Ben Brown was recently placed on the 10-day-IL. Initial reaction was a bit scary, but according to Sahdev Sharma of The Athletic, it appears to be a relatively minor lat issue that shouldn't cost him much time (this is a huge relief). Jordan Wicks, rumored to be skipping a start, went five innings, striking out three and walking 2. Wicks' strikeout numbers are below his K numbers in AA, but he's no longer using the pre-tacked ball in Iowa. Hi, sGB% is way up, and if he's going to be a 45%+ GB%, he's going to be very tough. Caleb Killian was reaching 97 and 98 mph consistently on the gun, increasing his strikeouts and looking more like the guy Killian was last April and May and less like the Killian we've seen in the last year. He could be in line for a few starts in Chicago with Stroman's injury.