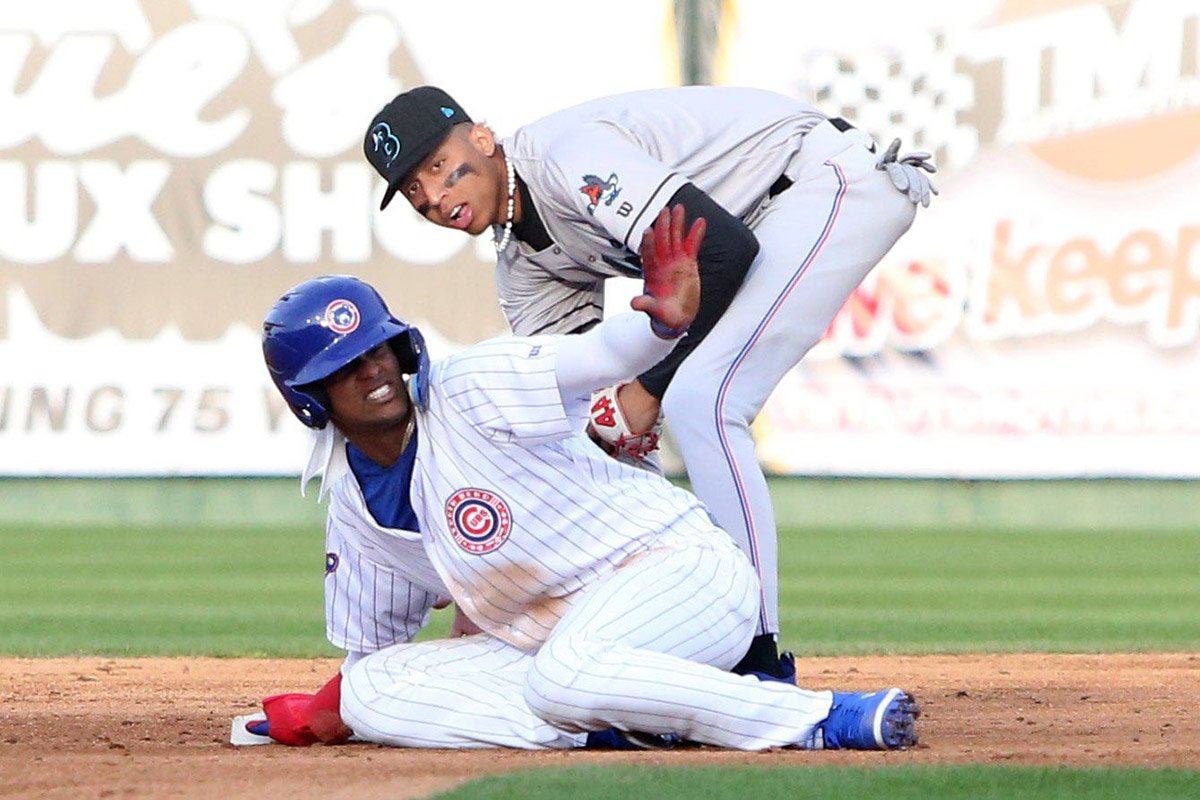 Image courtesy of © Greg Swiercz / USA TODAY NETWORK
Iowa Cubs, AAA (3-3) 
Up and down week, the Iowa Cubs, with runs a plenty (both scored and surrendered), with the lowest scoring game of the week at 5-3, and only going up from there.  
🔥 Jordan Wicks: 4.2 IP, 7 K, 0 BB, 2 R, 2 ER: I think this could be Jordan Wicks' last start in AAA.  He gave up a few two-out hits, which led to his runs, but overall, he looked great.  To add to his excellent start, he actually had an 8th strikeout nullified with a catcher's interference
🔥 Pete Crow-Armstrong: 130 wRC+, 13.8 K%, 6.9% BB%, 1 HR, 1 2B, 1 3B: Ho-hum?  At this point, we can probably copy and paste Pete Crow-Armstrong into the "hot" section weekly.  Like Jordan Wicks, there's probably a call-up in store for PCA in the near future.  
🔥 Yonathan Perlaza: 164 wRC+, 28.6% K%, 10.7% BB%, 1 HR, 4 2B: Nice bounce back for Yonathan Peralaza.  The K% is a bit high, but the 164 wRC+ and the four doubles are excellent.  Peralaza is still fighting to be selected for the Rule V draft at the end of the season, and these kinds of weeks will go a long way in making that choice difficult.
🔥 Luis Vazquez: 146 wRC+, 10% K%, 15% BB%, 1 HR: I think maybe I should care a bit more about Luis Vazquez than I have.  He hasn't stopped hitting regardless of his level; he's got a 60-grade glove at SS...why am I complaining?  He's certainly a pop-up prospect, but I'm getting on board with him being a squarely top-20 prospect in the system.  
🥶Matt Mervis: 107 wRC+, 39.3% K%, 10.7% BB%, 1 HR, 2 2B: Anytime you strike out nearly 40% of the time, you're a candidate for the cold list.  As a 1b, you have to be better than this, so despite the 107 wRC+, I'm going to knock him for a somewhat poor week.  
🥶Alexander Canario: 66 wRC+, 34.8% K%, 4.3 BB%, 1 HR, 2 2B: Well, the power is there, but the plate discipline and swing and miss from earlier in his career has returned with a vengeance.  Alexander Canario got on the prospect map last year because of the swing changes that helped him overcome his downfalls, but we're seeing those pop back up.  Hopefully, it's more rust than anything.
---
Tennessee Smokes, AA (3-2)
Much akin to the Iowa Cubs, the Tennessee Smokies had some up and down to their week.  They had a few big wins against Rocket City, winning 10-5 and 12-5 while getting shut out twice. 
🔥Cade Horton: 5 IP, 7K, 0 BB, 2 ER, 3 R: Cade Horton looked good and returned to form.  Horton's biggest flaw is that he just trusts his fastball too often at times, but he's still dominating AA hitters like he did in lower levels.  He's special.
🔥B.J. Murray: 177 wRC+, 9.5 K%, 4.8% BB%, 1 HR, 2 2B: Another week, and another BJ Murray heater.  Murray continues to destroy baseballs in Tennessee and may earn a call-up to Iowa at this rate.  
🥶Owen Caissie: 28 wRC+, 50% K%, 13.6 BB%: He was bound to come back to earth someone, and the week of the 15th is the week it happened.  Players ebb and weave through the year without reading too much into it.  Instead, let's hope it's a blip and the K% isn't a sign of things to come for the rest of the season.
🥶Kohl Franklin: 4.2 IP, 7 K, 2 BB, 9 R, 8 ER: Up and down week, but the overall numbers give him the "Not" designation for me.  He had two starts this week; the better of the two saw Kohl Franklin go four innings with six strikeouts to only a single walk, but his start on the 15th was the death knell in the week.  It was that start in which Kohl Franklin didn't even make it out of the first, surrendering nine runs.  
---
South Bend Cubs, High A (1-5) 
Not great, Bob, as the South Bend Cubs drop 5 of 6 to the West Michigan Whitecaps on the road.  It took South Bend all the way until Saturday to come how with a victory, but it couldn't keep the good times rolling on Sunday, getting shut out to end the week.
🔥Matt Shaw: 107 wRC+, 14.7 K%, 3.4 BB%, 1 2b: On top of the advanced data, Matt Shaw hit a whopping .346 on the week, and it's hard to keep him off this list with that kind of a line.  He's just too good for high-A.  His aggressive approach can't get him in trouble when he's this much better than everyone.  Hopefully, he'll see AA shortly. 
🔥Moises Ballesteros: 156 wRC+, 29.4 K%, 0 BB%, 2 HR: Okay, the K: BB ratio isn't perfect, but Moises Ballesteros is beginning to turn those doubles into home runs, and that's what I really care about.  As "Mo" turns on the power, he becomes more and more fun, regardless of whatever position he lands in.
🥶Michael Arias: 3.1 IP, 3 K, 2 BB, 2 R, 2 ER: The transition to South Bend hasn't been easy for Michael Arias, and he's continuing his inability to work deep into games or throw strikes consistently.  Arias was at 76 pitches in the third inning, and only slightly half were thrown for strikes.  
🥶Kevin Alcantara: -53 wRC+, 26.3 K%, 5.3 BB%: Welcome back Kevin!  A cold week was probably expected as he returned from the IL to South Bend in his first full week back.  Fingers crossed, he knocks off the rust, and July Alcantara returns.
🥶Ed Howard: -100 wRC+, 6.7 K%, 0 BB%: Ed didn't record a hit all week.  Taking our personal draft opinions out of the equation, no one wants to see anyone struggle as Ed has since returning from his devastating hip injury.  The lack of explosiveness is currently alarming, and I'm not sure it's returning.
---
Myrtle Beach Pelicans, Low A (3-3)
Another Cubs affiliate and another 3-3 record.  Myrtle Beach's week was end-capped with their best and worst performances, winning 11-9 over Kannapolis to start the week and then being unceremoniously destroyed 16-1 to close the week out.   
🔥Jackson Ferris: 5 IP, 6 K, 2 BB, 1 R, 1 ER: Another start and another banger for Jackson Ferris in Myrtle Beach.  For a prep arm, his season has gone literally as well as you could have asked; he's managed to limit the walks and rack up the strikeouts.  No health issues are the icing on the cake.  The 2022 draft already looks awesome.
🔥Jefferson Rojas: 190 wRC+, 13 K%, 4 BB%, 2 HR, 1 2b: Now sporting a shining 118 wRC+, Jefferson Rojas is among the biggest breakout prospects of his IFA class.  He's starting to hit home runs in a very pitcher-friendly environment.  There's a rocket ship attached to Rojas' prospect rankings.
🔥Brian Kalmer: 206 wRC+, 29.6% K%, 7.4 % BB%, 2 HR, 1 2b, 1 3b: The strikeout rate Brian Kalmer is showing isn't really great, but he's absolutely hitting rockets right now.  He's overaged and over-experienced for Myrtle Beach, being a 23-year-old out of Gonzaga, but he's been a fun find.
🥶Luis Rujano: 3.2 IP, 1 K, 1 BB, 4 R, 2 ER: Not a great outing for Luis Rujano this week.  He didn't get his normal swing and miss.  While his defense let him down a bit, this certainly wasn't his best start.
🥶Cristian Hernandez: 41 wRC, 23.8% K%, 4.8 BB%, 1 2b: Cristian Hernandez has been showing some signs of life, and while the overall week wasn't great, he had a good day Sunday, with a couple of hits, including his double.  He's showing better barrel control as of late, and I wouldn't be shocked to see a strong finish.
Was there someone I missed?  Who was your hitter of the week?  Do you think Pete Crow-Armstrong should be in Chicago?  Let me know in the comments section.
1