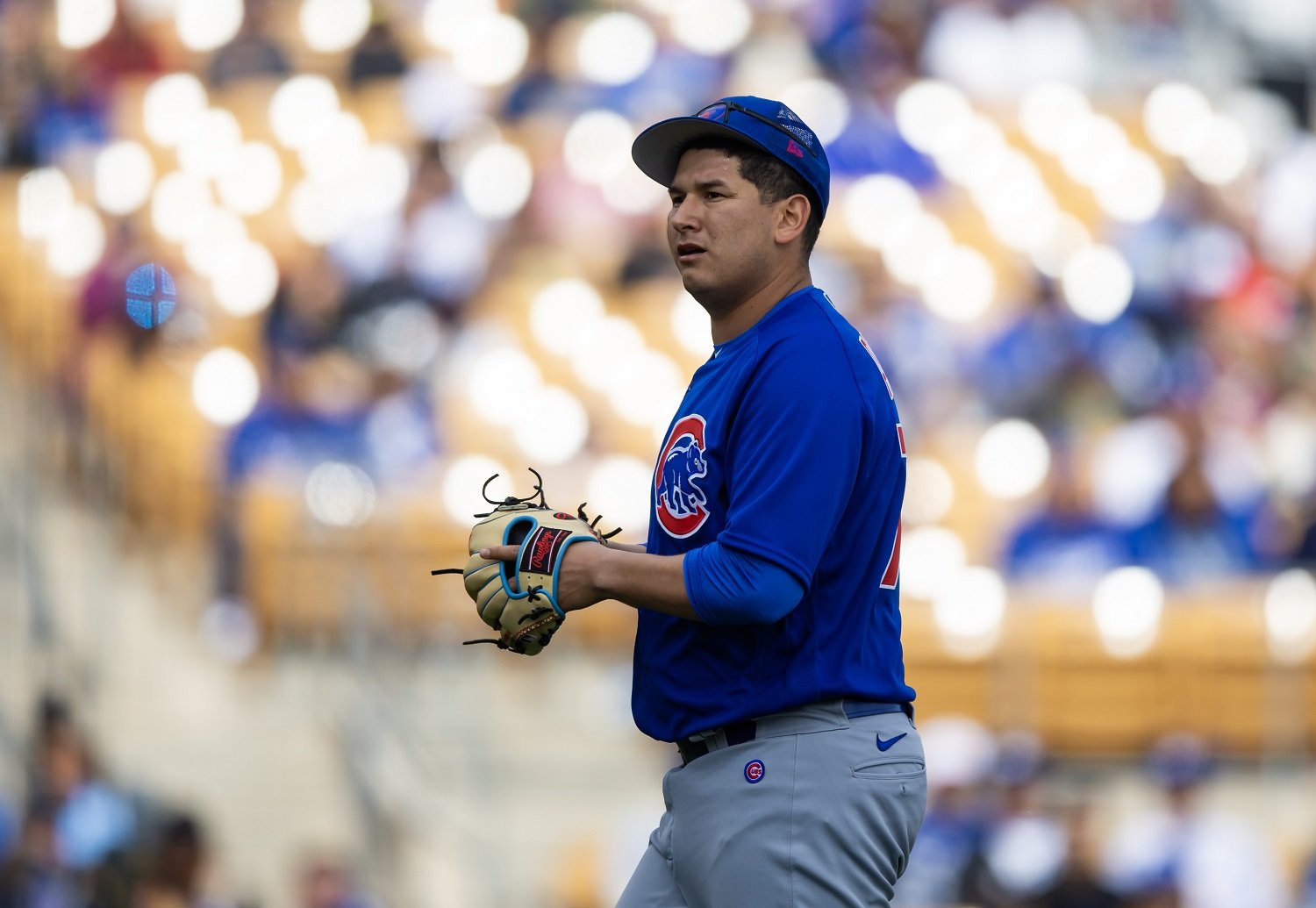 Image courtesy of Mark J. Rebilas, USA Today
Let's get to the report. As always, please feel free to discuss and ask questions. 
TRANSACTIONS
On Thursday, the Iowa Cubs activated second baseman Bryce Windham.
On Wednesday, the Smokies released catcher Tim Susnara.
IOWA CUBS COURIER  
Iowa 5, Indianapolis 10 
Box Score
The Cubs sent Javier Assad to the mound. Assad went four innings and gave up two runs on four hits. He walked three batters while striking out five. Assad had a very good start to the season though this start dropped his ERA on the year to 3.68. This was a rough one for the bullpen though. The Cubs then brought in Codi Heuer, and he gave up three runs on only one hit with two walks to take the loss. Tyler Duffey pitched two-thirds of an inning and gave up three runs on two hits along with three walks. Nick Neidert then came on and pitched two innings and gave up one run on two hits with three strikeouts. Bailey Horn pitched the eighth inning and gave up a run on one hit. Horn walked one batter while striking out two.   
The Cubs offensively were led by catcher Miguel Amaya who was 2-for-3 with a walk. Yonathan Perlaza went 2-for-4 with his second double and two runs scored. Jake Slaughter added his ninth double of the year. Nelson Velazquez added his sixth double. Levi Jordan went 1-for-3 with his second triple and a run scored.
The Cubs are now 23-16, 1/2 game ahead of Memphis in the International League West Division. 
SMOKIES SENTINEL
Tennessee 5, Pensacola 4 
Box Score 
The Smokies gave the start to Kohl Franklin in this game, and he was really good. Franklin went five strong innings. He gave up a run on two hits with three walks and four strikeouts. With this start, Franklin dropped his ERA to 7.00 over two Double-A starts after five starts with South Bend in which he had a good 2.79 ERA to deserve the promotion. 
Carlos Guzman came in for Franklin and went two innings. He gave up three runs on three hits with a walk and a strikeout. Riley Martin picked up his second save of year, going two innings with a walk and four strikeouts.
The Smokies were led offensively by B.J. Murray Jr. who went 3-for-5 at the plate with his tenth double and his 24th RBI. It is early in the season, but Murray Jr. has a .944 OPS. Jordan Nwogo had his first double.
The Smokies are now 19-17, 1 1/2 games ahead of Chattanooga  in the Southern League North Division. 
SOUTH BEND BEACON
South Bend 3, Beloit 5 
Box Score
South Bend gave the start to Richard Gallardo. Gallardo had a rough one as he took the loss to drop his record to 3-3. He went five innings and gave up five runs on six hits with two walks and three strikeouts. Eduarniel Nunez pitched a shutout inning with a walk. Joe Nahas pitched the last two innings without giving up a run on one hit with two strikeouts.
The Cubs were only able to pick up six hits on the day. Ezequiel Pagan led the team going 3-for-4 with his fifth double and two RBI. Kevin Alcantara added his 10th stolen base of the year.
The Cubs are now 20-16, 1 1/2  games back of Beloit in the Midwest League West Division. 
PELICAN PRESS 
Myrtle Beach 10, Augusta 8 
Box Score 
The Pelicans found a way to win a slugfest Wednesday 10-8. The pitching was not the story in this game. Marino Santy started and only lasted one inning. In that inning, he gave up three runs on two hits with two walks and three strikeouts. The major reason for coming out is he threw 41 pitches in the inning and typically in the low minors if you go over 30 in an inning, your night is done. Dominic Hambley came in relief and went 1 1/3 inning and gave up four runs on only one hit. He walked four guys and struck out one. Angel Hernandez had a rough outing, but somehow got the win. In three innings, he gave up one run on one hit, but what made it rough was six walks along with two strikeouts. Saul Gonzalez pitched the last 3 2/3 innings of shutout ball on two hits along with a walk and seven strikeouts.
The Pelicans put together a nice offensive game scoring 10 runs on eight hits. They were led by Juan Mora who went 2-for-3 with three RBI along with his second double. Cristian Hernandez went 2-for-4 with his first double. Andy Garriola went 2-for-4 with three RBI. Rafael Morel stole his third base, and Parker Chavers stole his second base.
The Pelicans are now 17-18, 4 1/2 games behind Kannapolis in the Carolina League South Division. 
CUBS DAILY MINOR LEAGUE PLAYERS OF THE DAY
Pitcher of the Day – Saul Gonzalez (Myrtle Beach Pelicans) - 3.2 IP, 0 R, 2 H, 1 BB, 7 K.
Hitter of the Day – B.J. Murray Jr. (Tennessee Smokies) - 3-for-5, 2B(10), R, RBI. 
PROSPECT SUMMARY
Check out the Prospect Tracker for much more on the Cubs Top 20 prospects after seeing how they did on Sunday. 

#3 - OF Kevin Alcantara (South Bend) - 0-for-4, R, 2 K.
#4 - OF Brennen Davis (Iowa) - 0-for-3, RBI (16).  
#8 - OF Owen Caissie (Tennessee) - 1- for- 4 BB, R. 
#11 - IF Cristian Hernandez (Myrtle Beach) - 2-for-4 RBI(16), K.  
#15 - 3B James Triantos (South Bend) - 0-for-4 RBI (5) 
#17 - C Moises Ballesteros (Myrtle Beach) - 1-for-4. BB, K.
#18 - SS Kevin Made (South Bend) - 0- for- 4.
#19 - C Miguel Amaya (Iowa) - 2-for-3, BB. 
Friday SCHEDULE AND PITCHING PROBABLES 
Iowa @ Indianapolis (6:05 PM CST) - TBD. 
Tennessee @ Pensacola (6:35 PM CST) - TBD.  
South Bend @ Beloit (6:35 PM CST) - Tyler Santana (1-5 6.08 ERA).   
Augusta @ Myrtle Beach (6:05 PM CST) - Jackson Ferris (0-0 1.50 ERA).  
Please feel free to ask questions and discuss Thursday's games!