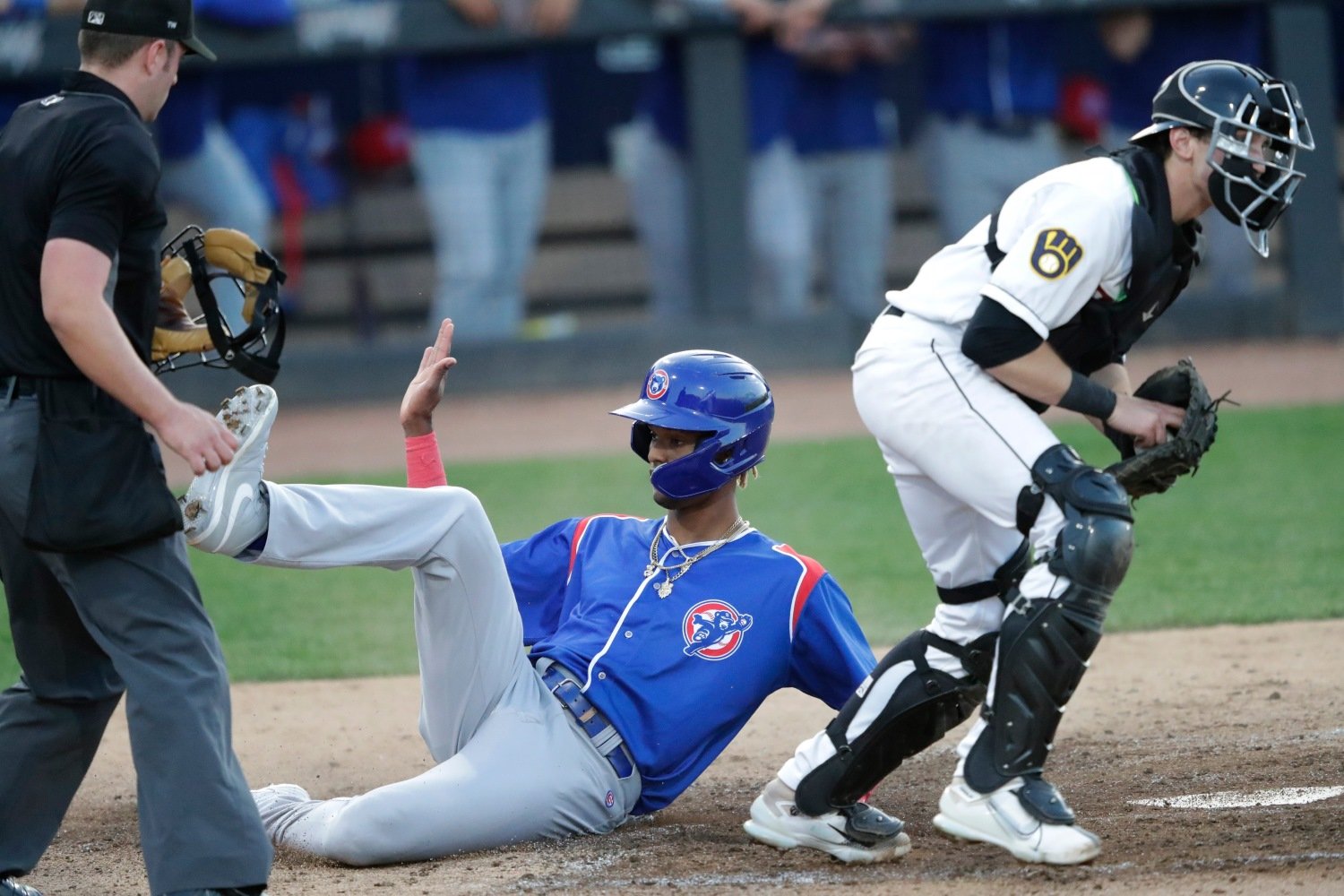 Image courtesy of © Dan Powers/USA TODAY NETWORK-Wisconsin / USA TODAY NETWORK
I'll ask you to think back to the Cubs teams of the Theo Epstein era. After three years of ugly tanking, the Cubs had the top farm system in the game, augmented by two top-10 prospects in particular: Javier Baez and Kris Bryant. Baez would go on to make his highly-anticipated debut on August 5, 2014, showcasing the full array of his talents (namely going 1-6 with a monster home run). The Cubs, knowing the rest of their top prospects were soon to follow, loaded up over the 2014-2015 offseason, preparing for a number of years of true contention. 
Well, Bryant made good on those assumptions, destroying Spring Training pitching in 2015 and then laying waste to Triple-A over the first two weeks of the season.  He followed Baez up to the big leagues on April 17, 2015, solidifying the Cubs' plans of finally winning again. 
The question now stands: who will be the Bryant to Pete Crow-Armstrong's self-proclaimed Baez? Below is a list of prospects who stand a chance of giving that same feeling Bryant did when he finally made his fateful debut. Now, this is not necessarily the top five guys in the system, nor the guys closest to the major leagues. Instead, look at this list as a collection of the most electrifying and exciting talents the Cubs have, and an expectation on just how pumped the Wrigley faithful will be to see these guys playing in Chicago. 
#5: Matt Shaw
The Cubs' first round pick in 2023, Shaw has blitzed three levels of minor league baseball (Rookie ball, High-A, and Double-A) to the tune of a 1.035 OPS this season. He'll be a consensus top-100 prospect by the time the offseason rankings come around, and I'd wager that a number of them will have him closer to the top 50 than to the bottom of the list. 
The biggest question surrounding Shaw during the draft was his long-term defensive home, with most suspecting a move to the other side of the second-base bag would be the plan for the team who drafted him. But Shaw's bat has been so far ahead of the curve that he might already be knocking on the door of the majors come Spring Training. With Nico Hoerner and Dansby Swanson patrolling the middle of the infield, could Shaw expedite the call-up process with a full-time move to third base?
Bryant was drafted in 2013 and made it to the Major Leagues at the beginning of his second full season in pro ball. Shaw may be on the precipice of making his debut even quicker than the 2016 National League MVP did. 
#4: Michael Arias
There are a lot of talented arms in the Cubs' farm system, so do not take it lightly when I say that Arias may have the most raw talent of all of them. It's hard to appreciate a 97-mile-per-hour bowling ball sinker from a sidearm slot without video, so please watch him toss five innings of no hit ball here so we're all on the same page. 
The Cubs have remained dedicated to working Arias as a starter in 2023, and the 21-year-old righty has delivered with 81 innings pitched across 22 starts. He'll continue to have his workload ramped up, though it's a promising sign that the former shortstop prospect has been able to handle this much already. His 51 walks in those innings are a concern, but the 110 strikeouts he's fired jump off the page all the same. 
The real reason he's on this list, though, is the demeanor he has on the mound. In the same way that Jordan Wicks has been described as a "bulldog" by some, Arias pitches with his heart on his sleeve and rides on waves of momentum. He'll have some really fun outings at Wrigley Field, if the team elects to keep him and bring him along. 
#3: Cade Horton
The top pitching prospect in the organization (and almost certainly the number one prospect for the Cubs once PCA graduates), Horton has the look of a long-term ace. He has two plus-plus pitches (his fastball and his wipeout slider), and simply has the "it" factor you want in the guy leading your pitching staff. He possesses an intimidating presence on the mound, and has a knack for pitching out of tough spots. 
That pedigree has been earned as well, as Horton has been utterly dominant in his first full season with the Cubs. Across three levels (Low-A, High-A and Double-A), Horton has a 2.65 ERA in 88 innings, pristine marks matched by his strikeout (117) and walk (27) totals. The big righty also has a .191 batting average against and sharp 1.00 WHIP. In other words, he can't be hit, and he never really walks anyone. He'll be good for a very long time.
The biggest thing going for Horton, though? It's been a long, long, time since the Cubs have had a homegrown pitcher this talented make their debut. Though he'll fall short of the national hype Stephen Strasburg generated before his historically great debut, Wrigley will be rocking when Horton takes the mound for the first time. 
#2: Kevin Alcantara
Odds are, when offseason lists come out, both Shaw and Horton will be ranked above Alcantara. That isn't what we're here to discuss, though. This guy is nicknamed "The Jaguar" for a reason. He's a performance artist on the diamond, with the top-end speed to go with his love of making highlights. 
The five-tool righty has 12 homers and 15 steals this year, though those numbers are suppressed by the injury issues that cropped up for the 21-year-old earlier in the summer. He posted an .807 OPS in 95 games at High-A (a league in which he was two years younger than the average player), showcasing his raw talents, even if his approach needs some work. He's also got the arm, speed, and glove to stick in center long-term, though assuming PCA is out there, he'll make for a fine corner outfielder with instincts like these. 
Alcantara may be the farthest away from the majors on this list (it's either him or Arias), but there's no one else on here with the showmanship of The Jaguar. It's more Baez-esque than even PCA, and if I had to guess the one guy to become synonymous with the Cubs over the course of his career, it'd be Alcantara. 
#1: Owen Caissie
I'm sort of flying in the face of my methodology with this pick and placement, as Caissie is probably the most serene player out of everyone listed here. But, I mean, look at this light tower power. This is Schwarberian in nature. 
Caissie has been outrageous in his breakout 2023 year, putting up a .916 OPS and 21 home runs at Double-A as a (recently turned) 21-year-old. His second half numbers have been even more ludicrous, as he's got a 150 wRC+ and 16.5% walk rate backing up his prodigious power numbers. The strikeout numbers over the full year have been concerning, but there will always be a swing-and-miss element to the game of someone who hits the ball as hard as Caissie does.
(If that homer looked odd, it's because Caissie hit the ball on a 16-degree launch angle at 117 miles per hour. No, that isn't a typo.)
Caissie isn't as consistent as Shaw, as emotional as Arias, or as dominant as Horton. Nor is he as much of an entertainer as Alcantara. None of that matters. He's going to be a fixture in lineups at the Friendly Confines for years to come, and he'll make a living driving in Pete Crow-Armstrong with moonshots the way Bryant once did with Baez.