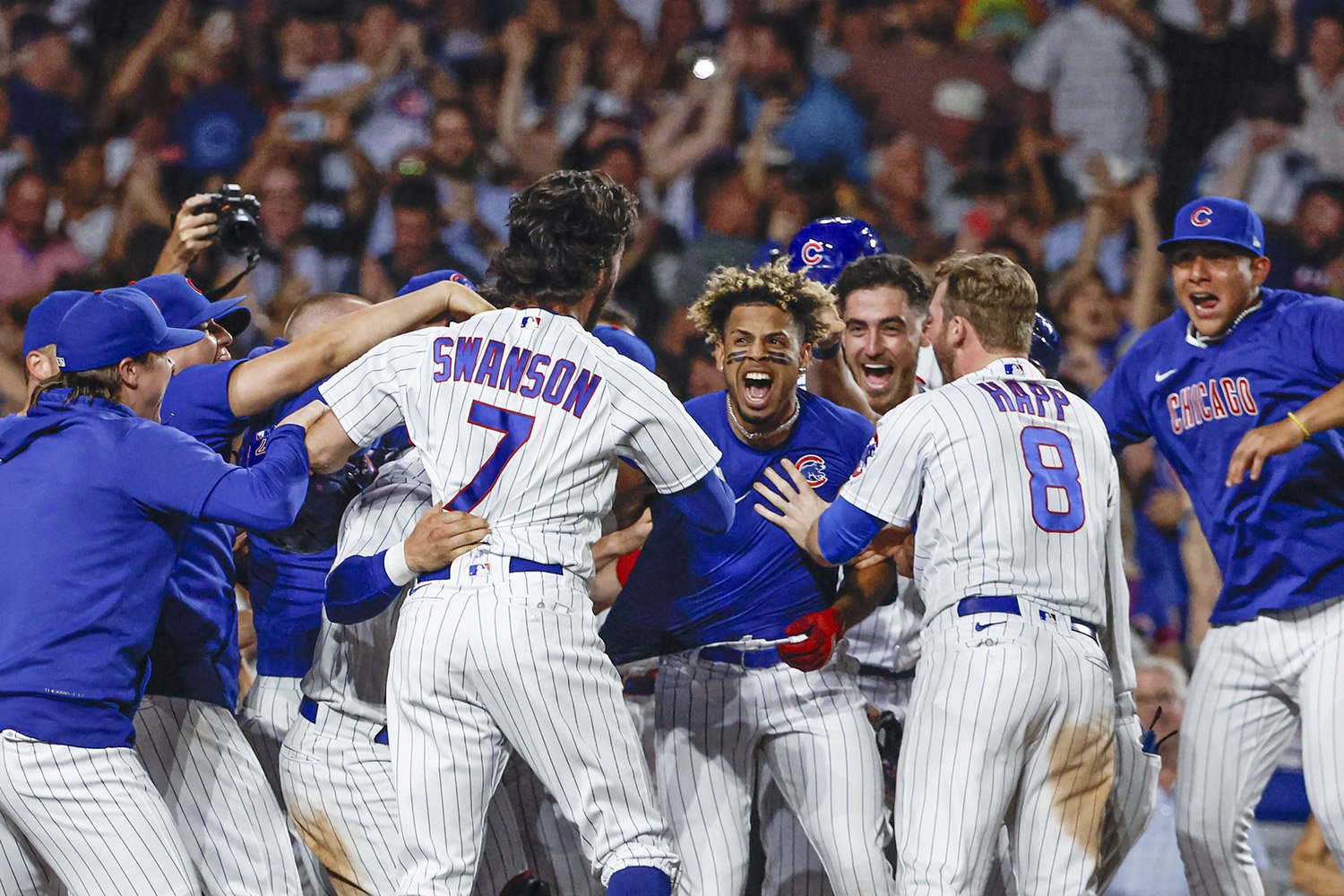 Image courtesy of © Kamil Krzaczynski-USA TODAY Sports
That is one of the toughest rules for me to follow as a Dad of two rambunctious 4 and 6-year-olds. However, my undying love for this team and this sport draws me back.
At times, I have been rewarded. July 31st, 2016. Travis Wood. Jon Lester. A magical win in a magical season. At times, I have increased the pain of a loss—1/162nd of my season's potential pain extended by the ever-longing hope of something amazing. 
Last night I was rewarded.
I was frustrated. The White Sox have underachieved all season, with the starting pitching being dismantled at the deadline. This is the dangerous "easy" section of a schedule, where opponents' losses increase the expectations of dominance. 
Javier Assad did his job with a quality start but seemed to have no support from the bats. I turned the game off on my TV in the 7th and walked to bed. 
These little hissy fits of frustration usually last a commercial break. I got to my bed and barraged my wife with a lament of underachievement that I had let ruin my night. She patiently listened as my Cubs therapist. 
I had made peace and popped the game back on my phone in time for the top of the 8th. 
Bases loaded. Michael Fulmer. What a horrible situation to inherit! 
Nails. Three strikeouts in a performance that cements him into the circle of trust. 
I check the lineup eagerly and lose a bit of the adrenaline seeing Tucker Barnhart leading off. False. Pinch Hitter. Nick Madrigal vs Aaron Bummer.
Ground ball hitter versus ground ball pitcher. Wonderful.
BASKET. BALL. An 0-2 pitch with a swing more appropriate for Olympia Fields this weekend leaves the yard. A home run in 13 other ballparks is still a home run.
That's when the internal bartering and matchup game starts: a constant game of pleading with your psyche on who needs to do what, etc. This is a torturous game of "What If" Cubbie blue bloods are very good at.
After a clean ninth from recently re-inserted to the rotation Drew Smyly, hope grew in my heart.
Bellinger. Swanson. Morel.
My heart begins to race. I feel like Zach Galifinakas playing blackjack in "The Hangover," meticulously running scenario and scenario to find a way to win.
Santos cut through the order, looking dominant in his 3rd organization audition. 100 mph sinkers and darting sliders. This felt like a Herculean task. 
Belli double.
Swanson walk.
Christopher Morel, 3 for his last 36, swung at the first two pitches he saw. I dejectedly concluded during his batter time out that it wasn't going to matter where the next pitch was, as his scuffles would push him to swing. 
So many fake rallies tonight. So much frustration. I pontificated on how long this loss would sting. 
Crack.
Capturing the innocence and exuberance of my joy, Morel rounds the bases like a little leaguer who has never excelled at this level.
"God is good. Cubbies win!"
Well said, Chris. 
Never turn off a game. 
1