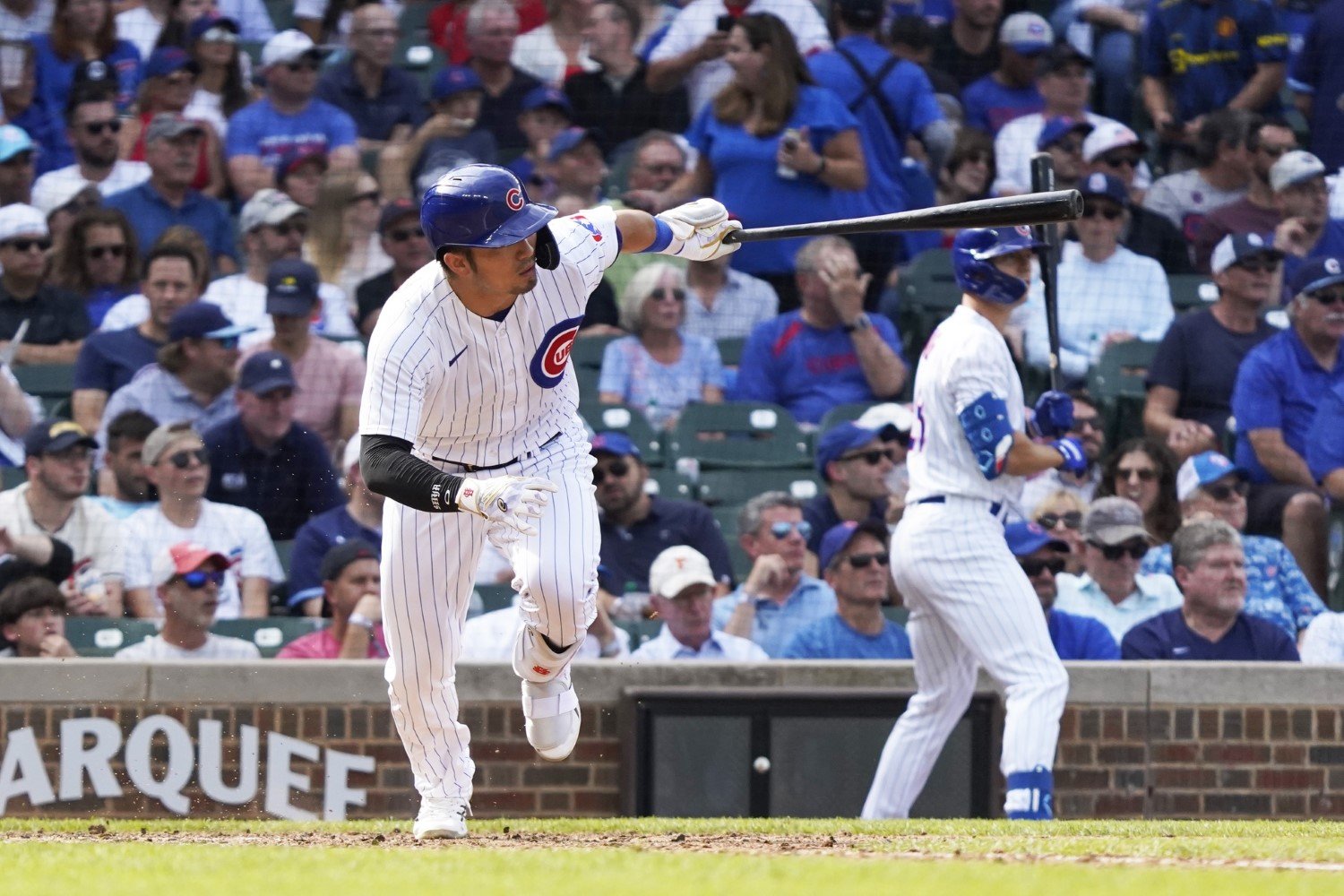 Image courtesy of © David Banks-USA TODAY Sports
Yes, this is in response to that drop yesterday. No matter what people say, and regardless of how the rest of this season progresses, the Cubs wouldn't be here, fighting with the Marlins, Reds and others for a Wild Card spot, if it weren't for the heroic contributions of their right fielder. 
The book on Seiya Suzuki is still being written, though the first few chapters of his Cubs tenure have been tumultuous (to say the least). He was good last year, his rookie season in the majors, posting a .770 OPS in 111 games, though that's really all he was. His defense faltered, relative to his sparkling reputation and decorated status in Japan. He had blazing hot streaks (like the first month of his career) and long cold patches (like the two months that followed), and the injury bug caught him a few times. 
Heading into the offseason, Cubs fans had plenty of questions about his viability as the team's long-term right fielder, especially once the team made the play to give Cody Bellinger a one-year prove-it deal to play (primarily) center field. Those doubts only deepened as the season began, as Ian Happ was rewarded with a three-year extension and top prospect Pete Crow-Armstrong came out of the gates strong. 
Just as he did in his first season Stateside, Suzuki has had very high peaks and very low valleys this year, all of which culminated in a brief benching in early August after the Cubs went out and acquired Jeimer Candelario. That trade led Bellinger back to manning his spot in center field, pushing Mike Tauchman to right field, leaving no spot in the everyday lineup for the team's $85-million man. How Suzuki would respond to that was anyone's guess, though I'd imagine no one predicted the outcome we've gotten. 
Since that benching, across 189 plate appearances, Suzuki has slashed .351/.402/.690, which adds up to a preposterous 186 wRC+. That slugging percentage ranks first in the majors over that stretch (his wRC+ is third). In other words, Suzuki is performing beyond an MVP level right now. For reference, Cody Bellinger posted a 161 wRC+ in his 2019 MVP-winning season. 
This sizzling stretch has his season-long numbers looking good, too: a .283/.354/.485 slash line, good for a 125 wRC+. His fWAR is up to 3.0, which ranks 50th among all National League players, pitchers included. He's also showing out in right field with the glove again: His metrics, even with the drop yesterday, are well into positive territory--which isn't a surprise, given his five Golden Gloves during his time in NPB (Nippon Professional Baseball). 
While Bellinger, Justin Steele and Nico Hoerner have been better over the course of the season, no one has been as hot or important to the team's success over the last six weeks as Suzuki. So much of the lineup, from Dansby Swanson to Candelario to Tauchman, has been struggling down the stretch, making Suzuki's rise back to his peak potential all the more important for a Cubs team that has been wavering in the final weeks of the season. 
This is what the Cubs envisioned when they handed Suzuki a five-year, $85 million contract as he came over from Japan. The hope was that he'd be a middle-of-the-order bat, and after plenty of struggles in adjusting to MLB pitching, he's finally delivering on that promise. If the Cubs can overcome that gaffe in the outfield Tuesday night and are playing beyond October 1st, fans owe a lot of gratitude to the team's second-half MVP.