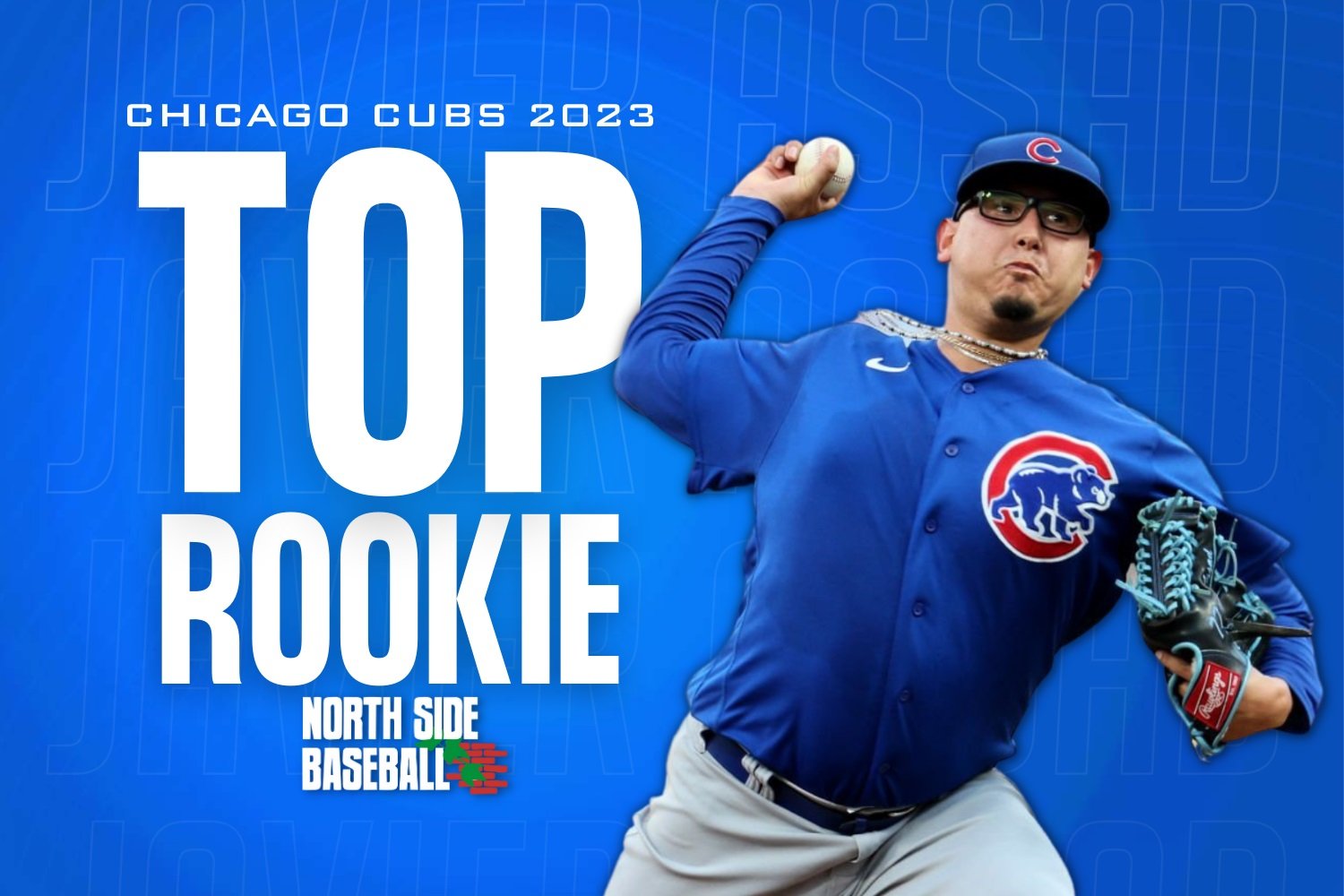 Image courtesy of Nick Turchiaro-USA TODAY Sports
The Cubs have not had a National League Rookie of the Year winner since Kris Bryant's electric debut in 2015. That… will not change here in 2023, though for the first time in a while, there were serious contributions to the major league team from the Cubs' rookie class (even if there could have been more had a certain manager been willing to play them more, but I digress). Even if there won't be any league-wide hardware bestowed upon the Cubs' rookies, they still deserve a shout-out for their performance this season. Below are the top vote-getters in the annual North Side Baseball end-of-season award ceremony for the Cubs Rookie of the Year.
Before getting into the top three, here are some others that received votes. All stats shown are only those accrued in the major leagues this year. The number indicated next to each player's name is their age at the conclusion of the 2023 regular season. 
Honorable Mentions
RHP Hayden Wesneski, 25: 34 G, 11 GS, 89.1 IP, 82 H, 32 BB, 83 K, 4.63 ERA, 1.276 WHIP, 3.2 BB/9, 8.4 K/9
Wesneski was brilliant at the end of last season and Spring Training this year, winning the competition for the fifth starter spot out of the gate in 2023. Then, the wheels came off, and Wesneski was relegated to the minors, where he tinkered with everything to try and find a combination of pitches to get lefties out. Upon his return, "Wesnasty" was used primarily as a right-on-right matchup reliever out of the bullpen, and it's a role he's more than capable of filling for years to come (righties hit a paltry .202/.269/.348 off him this year). However, the Cubs need him to get back to his starting pitcher capabilities; it will be a make-or-break year next season for the righty. 
UTIL Miles Mastrobuoni, 27: 60 G, .241/.308/.301, .609 OPS, 1 HR, 5 RBI, 13 SB
The Cubs like themselves some utility players, and Mastrobuoni fits that definition like a glove. Like many of the Cubs' bench pieces this season, Mastrobuoni crushed Triple-A pitching and struggled at the major league level, and it wasn't until a late-season surge in September that the lefty looked anything like a capable hitter at the plate. His rookie season with the Cubs provides some optimism as a super-utility type. However, you shouldn't be shocked if he's among the first players displaced during a potential 40-man roster crunch this offseason. 
OF Pete Crow-Armstrong, 21: 13 G, .000/.176/.000, .176 OPS, 0 HR, 1 RBI, 2 SB
Akin to Daniel Palencia getting second place in the Minor League Reliever of the Year vote thanks to his major league results; PCA is being rewarded here for his (excellent) work in the minors as opposed to his production, or lack thereof, in the majors. If you want a full write-up on the Cubs' top prospect's terrific season, you can see that in the Minor League Hitter of the Year article, where the outfielder got a deserved second-place distinction. For the sake of this article, wait until next year when PCA will be the resounding favorite to take home the Cubs' top rookie award. 
Others Receiving Votes 
None. This was a pretty cut-and-dry category for North Side Baseball contributors. 
Cubs Rookie of the Year
Here are the top three vote-getters for the Cubs Rookie of the Year.

3. C Miguel Amaya, 24: 53 G, .214/.329/.359, .688 OPS, 5 HR, 18 RBI, 0 SB
What a journey it's been for Amaya, as he somehow overcame Tommy John surgery and a fracture in his left foot in back-to-back seasons to return this year (all of that was on top of him missing all of 2020 as well since the minor leagues were halted during the pandemic season). The Cubs' top prospect back in 2019, Amaya has reestablished himself as an important piece of the future, and his role should evolve next year as Yan Gomes passes the torch of the starting catcher designation. 
Amaya's bat wasn't terrific in his rookie year. However, catcher is a notoriously weak position for offensive contributions anyway, and he's had limited development at the plate thanks to his aforementioned injury luck. The most promising sign for Amaya at the plate was his plate discipline, as he worked 12 walks and an astonishing 11 hit by pitches in just 156 plate appearances this year. If his power can return to full strength after another year removed from his injuries and his eye continues to develop (or he continues wearing whatever magnet kept attracting balls to him), Amaya should be among the best offensive catchers in the sport before long.
More importantly, given how the Cubs have prioritized defense from the catcher spot after letting fan favorite Willson Contreras go, Amaya was routinely lauded for his feel for the pitching staff and ability to call a game for his pitchers. Gomes' mentorship only helps in that regard, and an entire offseason with the big league staff should make Amaya even more comfortable behind the dish. Though the counting stats may have been lacking, it was a successful rookie year for the Cubs' catcher of the future. 
2. LHP Jordan Wicks, 24: 7 G, 7 GS, 34.2 IP, 33 H, 11 BB, 24 K, 4.41 ERA, 1.269 WHIP, 2.9 BB/9, 6.2 K/9 
What an unbelievable performance from Wicks at the end of this season. As the starting rotation crawled to the finish line and the bullpen collapsed down the stretch, Wicks became one of the Cubs' most reliable arms in their first playoff push since 2020. He had some genuinely great starts (his debut against the Pirates, in particular, stood out), though his consistency in taking the ball every fifth day and keeping the Cubs competitive when he was on the mound earned him this spot. 
As I mentioned in the Minor League Starting Pitcher of the Year article (where Wicks earned another second-place award), some will compare this performance by Wicks to Wesneski's end-of-year tear in 2022. Luckily for Cubs fans, it's not the same situation. Wesneski was pitching for a team that was already out of contention by the time he arrived, and he dominated on the back of opposing players having limited exposure to a unique pitch (his sweeper). Wicks came up and was nails for a team in postseason contention, showcasing a much deeper arsenal and better feel for his pitches than Wesneski ever did. Wicks definitely has a lower ceiling, but his floor should be much higher than other starting pitching prospects. 
If you want further analysis of Wicks' future and potential role with the Cubs in the coming year, you can check out his section in the Minor League Starting Pitcher of the Year article. 
1. RHP Javier Assad, 26: 32 G, 10 GS, 109.1 IP, 93 H, 41 BB, 94 K, 3.05 ERA, 1.226 WHIP, 3.4 BB/9, 7.7 K/9
There is no praise too effusive for the season Assad just had. He edged out Adrian Sampson and Keegan Thompson for the long-man role in the bullpen during Spring Training, and he seamlessly converted to starting once Marcus Stroman was lost to injury during a crucial six-week stretch in August and September. His flexibility was invaluable to an ailing pitching staff down the stretch, potentially hinting at his future role with the club. 
Unfortunately, nothing can be assumed with Thompson anymore following his lost year, though if he returns to his 2022 self, you can be assured that Assad will have an inside track on a job in the starting rotation. If not, Assad proved his worth out of the 'pen this year, and a guy who can give you four-plus shutdown innings every three or four days is nearly the equivalent of having a quality sixth starter in the rotation anyway. 
Assad doesn't have overpowering stuff, nor is his command Kyle Hendricks-esque. He gets by on a very deep arsenal and a ton of confidence in each of his many pitches. His ability and willingness to throw any pitch in any count is his best quality, which should only improve as he gets further exposure (and has further success) against major league hitters. 
Before the season started, I'm not sure if anyone in their right mind would have bet on Assad being the Cubs' best rookie in 2023 (and if he were, they'd probably assume something went horribly wrong during the year). Yet, that's exactly what happened, and the Cubs are better as an organization for it. 
Congratulations to Javier Assad on being the inaugural North Side Baseball Rookie of the Year! Each of the players written about today deserves to be recognized and discussed. How do you feel about the selection of Assad, and how would you rank the Cubs' top rookies in 2023?