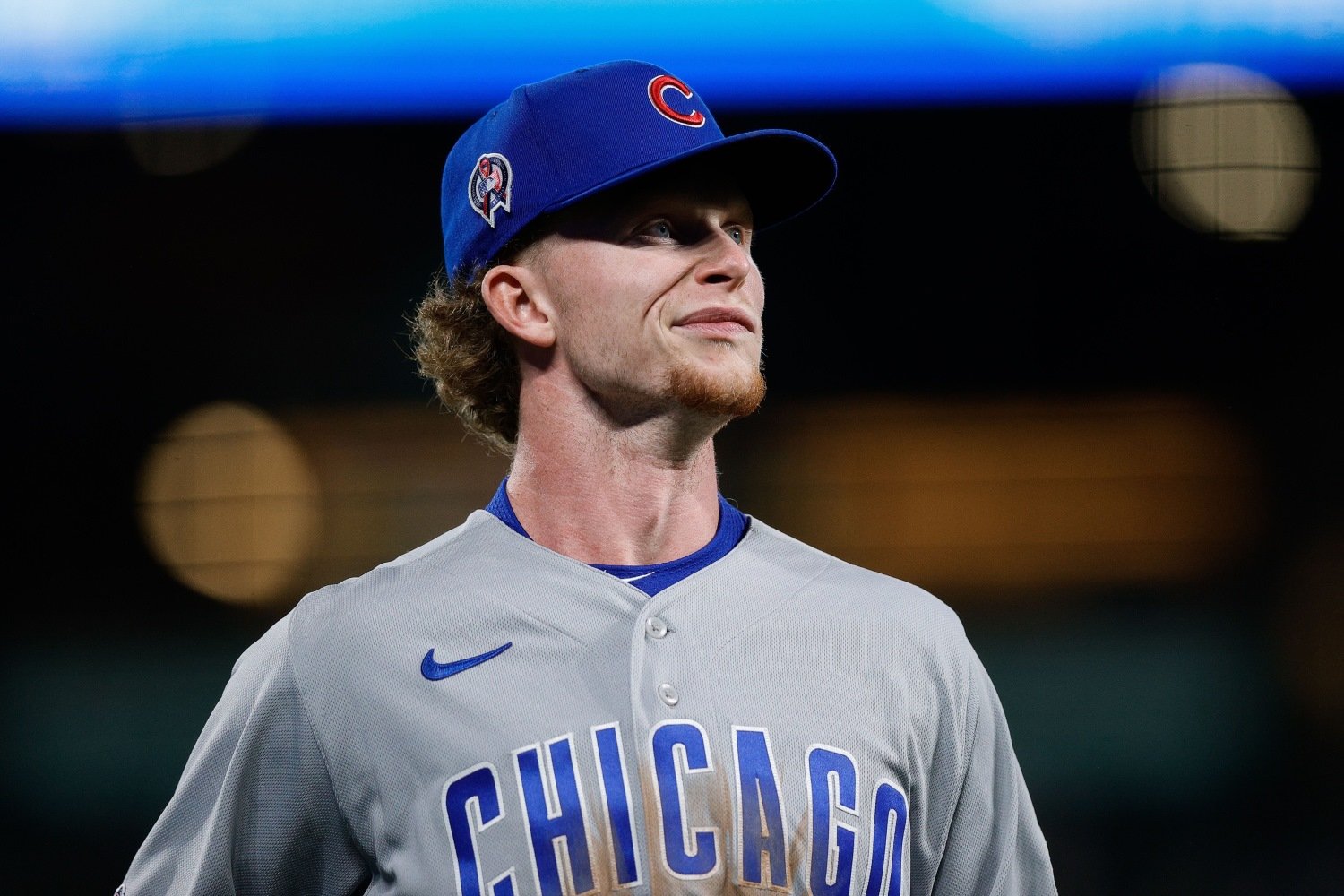 Image courtesy of © Isaiah J. Downing-USA TODAY Sports
In case you somehow missed the news, yes, that Pete Crow-Armstrong (he of the 80-grade center field glove and 70-grade speed) is going to be playing in Chicago. He slots right into the roster spot formerly given over to Alexander Canario, who saw no playing time of note during his brief stint.
Unlike Canario, the expectation should be that the Cubs will use PCA early and often. Perhaps he's not yet an everyday player, but this is a guy with a mountainous pedigree and the talent to match. He will immediately become the best outfield defender the Cubs have--yes, even more than their trio of Gold Glovers (Ian Happ, Seiya Suzuki (who won five NBP Gold Gloves while playing in Japan), and Cody Bellinger. Even on days when PCA gets to fulfill Canario's role of left bench, he'll be a hugely important late-game weapon as a pinch-runner and defensive substitute. We saw that happen, albeit in somewhat star-crossed fashion, in his debut Monday night.
The basic profile on PCA at the plate is that he's got a good eye, but strikes out a little too much right now (which is certainly a consequence of his uppercut swing). He also generates surprisingly easy power, which you can see at the 0:25 mark in the video embedded below, though you should do yourself the favor of watching the whole thing. 
This year, across Double-A Tennessee and Triple-A Iowa, PCA has accrued exactly 500 at-bats, posting an impressive .283/.365/.511 slash line, good for a 126 wRC+. He's got 37 steals in 47 tries, though his speed shows up even more out of the batter's box, with all of the doubles (26 on the year) and triples (7) he legs out. Throw 20 home runs into the mix, and you've got a player who's exceeded even the loftiest expectations and who should become an annual fixture in center field at the Friendly Confines. 
Okay, now that we have all of the effusive praise out of the way, it's unfortunately time to reel in expectations a bit. For as good and talented as PCA is, he's not a finished product. His strikeout rate ballooned up to 33.6% while at Iowa, and he only spent 34 games there. In a year in which the Cubs weren't trying to extract value at the margins for every additional win they can gather, PCA would likely be finishing out the season at the highest level of the minor leagues. 
Crow-Armstrong's lofted swing also introduces some natural holes that major-league pitchers will be sure to exploit, particularly up in the zone. He has the bat speed and plate approach that are required to catch up to those big-league fastballs above the numbers, but the adjustment period for him as he learns how the best pitchers in the world will attack him will take time. That uppercut motion does play in his favor for pitches low in the zone, though, and he's got an uncanny ability to see spin out of the pitcher's hand. As a result, you're unlikely to see PCA be "fooled" badly by a pitch very often. It also helps that he's got a true all-fields approach on his swing, buoyed by shocking power to the opposite field. 
This is normally the point where I'd dig into PCA's exit velocities against certain pitch types and his effectiveness against pitchers with unique arm slots, but unfortunately the Statcast data on all of those niche topics is limited for minor-league guys. You can dig into everything they have on PCA here, but for now, based purely on the eye test and memory, you should feel confident that PCA will post competent metrics even as he figures out the big leagues. 
For all the data, industry hype, and highlights PCA has and will continue to generate, I want to conclude by taking this all in as what we all ultimately are: baseball fans. This is, without doubt, the most exciting prospect to debut for the Cubs since the days of Kris Bryant and Javier Baez. This guy is absolutely electric on the diamond, with the high baseball-IQ to match his athletic instincts. The Cubs are doing this because they're competitive again for the first time since the window slammed shut on that championship core, signifying the end of a short but painful rebuild that saw franchise legends get unceremoniously shipped out of town for prospects. Crow-Armstrong won't singlehandedly bring the Cubs back to the zenith of the baseball world this year, but he has a chance to be the face of the team that eventually does get there. 
For now though, let's just enjoy watching a guy play the game we love with a passion rivaled only by the fans he'll play for.
2