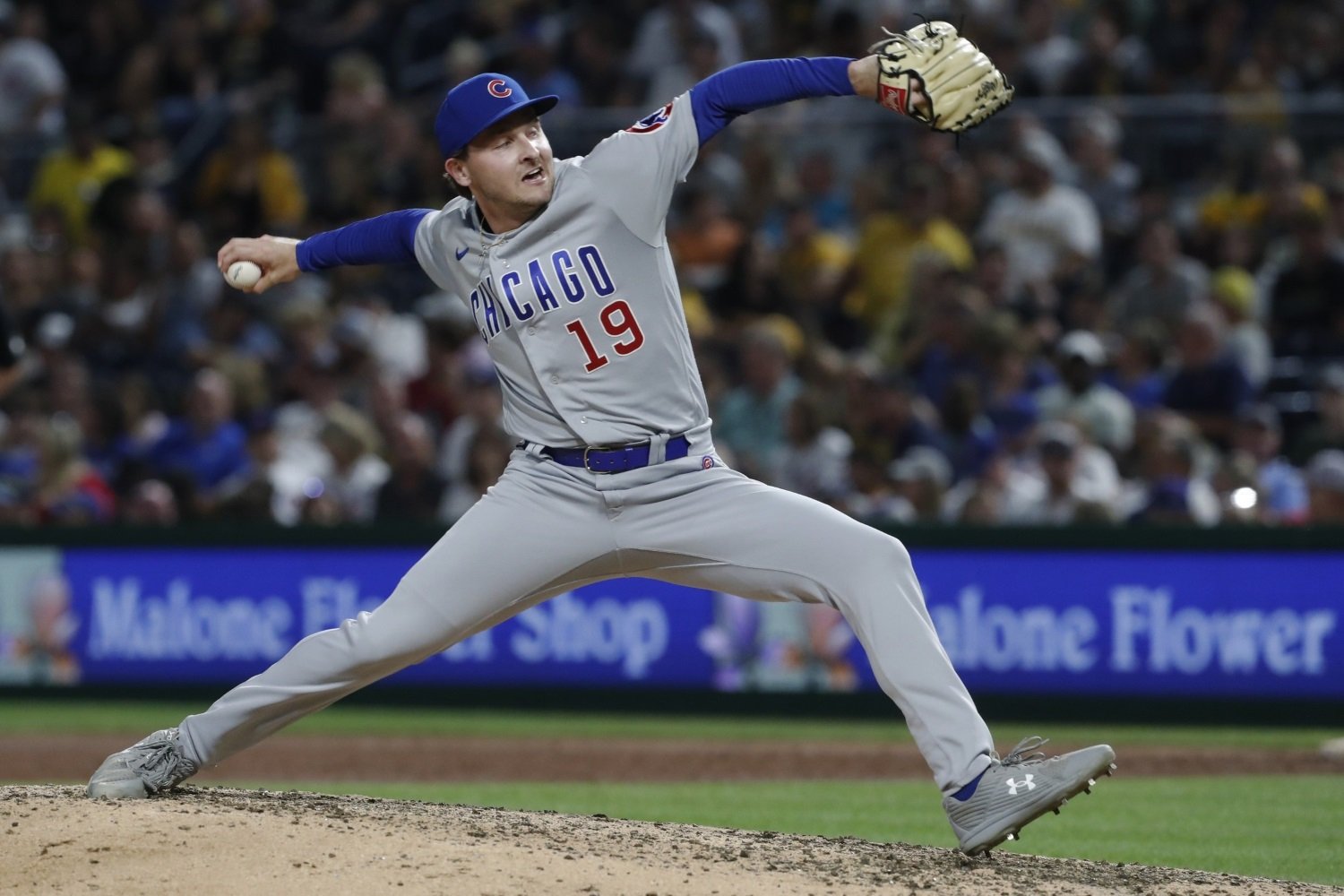 Image courtesy of © Charles LeClaire-USA TODAY Sports
The career of Hayden Wesneski has been a rollercoaster since the Cubs acquired him for Scott Effross at the 2022 Trade Deadline. He struggled against Triple-A hitters, to the tune of a 5.66 ERA in 20 ⅔ innings at Iowa, before getting called up in September and catching a heater, throwing 33 innings of 2.18 ERA ball. He then came into Spring Training this year in a heated battle with, among others, Adrian Sampson for the fifth spot in the rotation. Wesneski left no doubt about who won that competition, completely dominating with 22 strikeouts and a 2.12 ERA across 17 innings in the Cactus League. 
From there, you know what happened. Wesneski struggled badly out of the gate, allowing 22 earned runs in just 39 ⅓ innings across eight starts in April and May, and he was sent down to the minors to tweak things, namely his severe struggles against lefties. The Cubs have since recalled him and stashed him in the bullpen as a multi-inning arm, but what comes next for a guy who was supposed to be a staple of the next half-decade of Cubs rotations?
First things first: the stats. Wesneski has been absolutely smoked by lefties this year. In 134 at-bats against opposing lefties, he's given up a .313/.374/.649 slash line. That, my dear friends, is a 1.023 OPS for left-handed batters. For reference, Ronald Acuña Jr., arguably the National League MVP frontrunner, has a 1.002 OPS this year. So, by at least that metric, left-handed batters have hit Wesneski better than Acuña has hit overall. Woof. 
It's not all bad news, though. Wesneski is still his usual self against right-handed hitters. They've only slashed .185/.247/.312 (.560 OPS) against Wesneski in 173 at-bats this year, meaning the average righty is hitting him about as well as Tucker Barnhart has hit this year (he had a .541 OPS for the Cubs). So, clearly, the thinking by the Cubs to get Wesneski in more match-up protected spots out of the bullpen has some evidentiary rationale behind it. 
However, if Wesneski is ever going to be anything more than a mop-up arm, the Cubs have to figure out how to help him get lefties out. Looking at his Statcast data, we can see some interesting trends. 
Wesneski is throwing his sweeper and four-seam fastball more than ever this year, mostly at the expense of his sinker. The percentages are even more stark since his shift into the bullpen, highlighting a purposeful change by the Cubs pitching infrastructure to try and make Wesneski's most effective pitches play up in relief. The idea, at least in the most raw sense, has worked, as his fastball velocity is up one mile per hour from last year (91.8 to 92.8) and his off-speed velocity is way down, dropping 2.7 miles per hour from 2022 to 2023 (87.2 to 84.5). In theory, this starker change in velocity and simpler pitch mix should make Wesneski more reliable, but is that actually what's happened?
Well, not exactly. His sweeper is performing fine against lefties - he's thrown 158 this year to lefties, yielding a .200 batting average against and .400 slugging percentage against (and only a .356 expected slugging). However, his fastball is getting CRUSHED by left-handed hitters. In 220 fastballs thrown to lefties this year, Wesneski has given up a .387 batting average and a .790 slugging average (though I guess it's only a .682 expected slugging… so, progress?). That is downright unacceptable, especially when you realize how good those pitches are to righties (the sweeper has generated a laughable .086 batting average in 298 pitches, and the fastball is at .237 across 166 pitches). 
So, what's the saving grace? Perhaps it lies in his changeup, which he only throws to lefties anyway (seriously; he has thrown five changeups to righties, versus 64 to lefties). That pitch is working well since he added it to his repertoire in Triple A earlier this year: lefties are batting .200 against it. Does that mean a changeup-sweeper combo is Wesneski's path forward? Is that even feasible, when those pitches average 84.3 and 81.3 miles per hour, respectively?
In truth, Wesneski is in his best position right now on the big-league team. He's a righty-whiffing weapon with multi-inning capabilities that give him enough value to stick around on the postseason roster, even if he isn't the first (or second or third) guy you'd trust in a high-leverage spot. Yet, if he's ever going to contribute to the Cubs in the way they envisioned when they traded Effross for him, he unequivocally has to find something that works against left-handed hitters. Whether that's improving his dismal cutter, adding more run to his sinker to differentiate it from his four-seamer, or some out-of-the-box solution like throwing a screwball, this offseason is make-or-break time for the young righty.