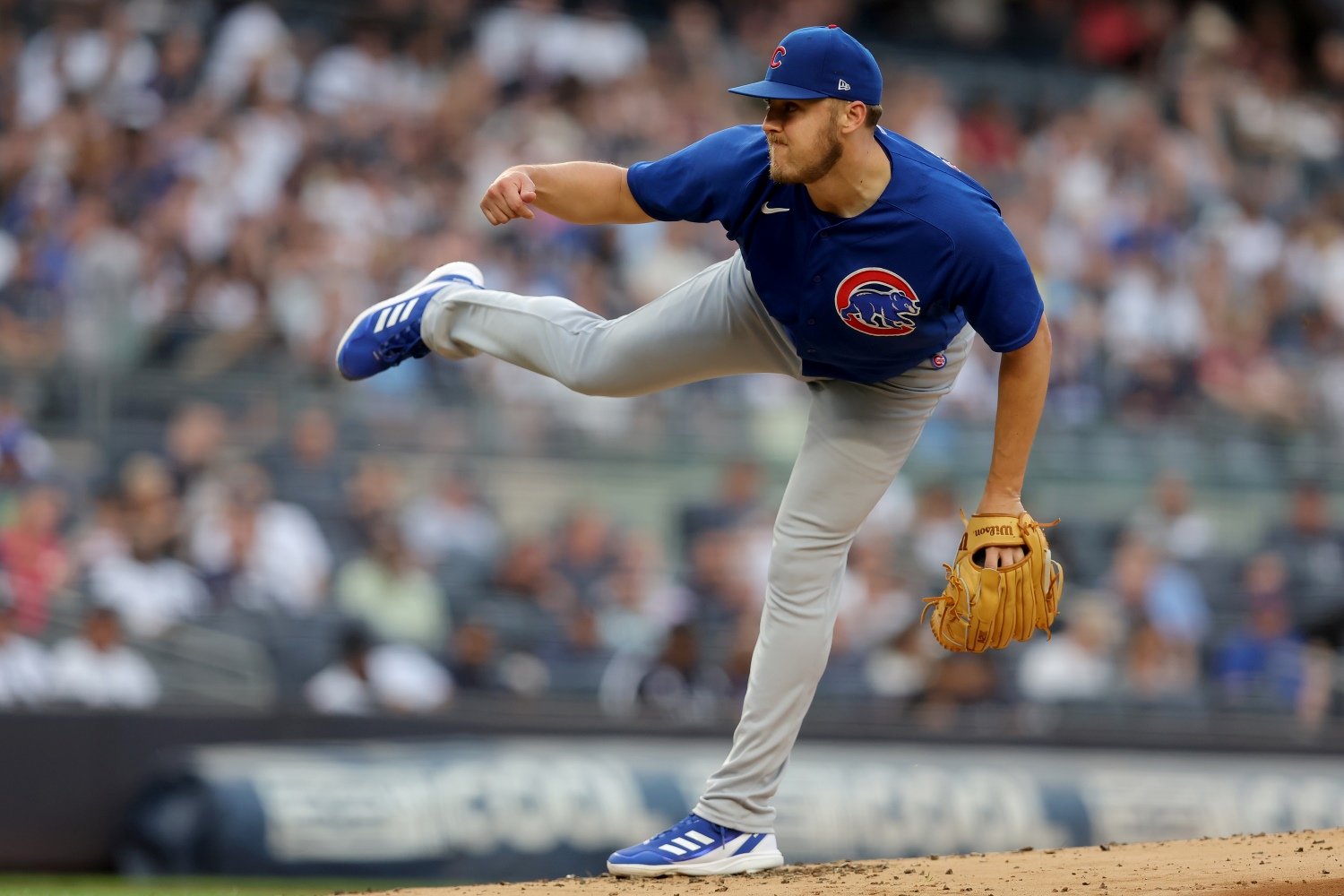 Image courtesy of © Brad Penner-USA TODAY Sports
Entering Friday's game, left-handed batters were hitting .308/.395/.654 against Jameson Taillon in 2023. It goes without saying that having half the league rake against you at such a rate renders being an effective starting pitcher impossible. Taillon's gaudy ERA reflected a little bit of bad luck, but mostly, he just couldn't get lefties out, and he often couldn't even keep them in the ballpark. 
That changed Friday night. Undoubtedly, it helped that the Yankees only had three lefties in their lineup (Anthony Rizzo, Billy McKinney, and Franchy Cordero), but Taillon also made a substantial and notable adjustment. He pared down his pitch mix to those three batters almost entirely to two offerings: his four-seamer and his curveball.
For much of this year, Taillon has been trying desperately to get outs against lefties with his cutter. Under the Cubs' direction, he further developed the cutter, which had been a very small part of his repertoire last year. They believed he could play it off the four-seamer to great effect.
That's rooted in sound fundamental pitching theory. The cutter is often a pitch with a reverse platoon split. It looks like a four-seamer, but it runs in on the hands of an opposite-handed batter, and it can generate weak contact at a very high rate. That depends on a number of other conditions, though, and Taillon just didn't meet those prerequisites.
Should we worry about the fact that the Cubs tried to help Taillon bring along a fledgling pitch, only to have it turn out to be essentially useless? It's hard to know. Sometimes, taking a chance like that turns a pitcher into a Cy Young Award candidate. Still, the Cubs' hit rate on tweaks like these in recent years is troublingly low. 
For today, though, that doesn't need to be the headline. Taillon cleverly unwound his miserable results against lefties, even if only for one night. He pitched brilliantly, using his four-seamer and curve to change eye levels and create a significant vertical disparity. He still didn't miss as many bats as one might prefer, but he stayed off the Yankees' barrels--even those of Rizzo, McKinney, and Cordero.
It's fun and interesting that the adjustment amounts to a mirror image of similar ones made by (for instance) Marcus Stroman recently. Like Stroman, Taillon is a guy for whom the depth of his arsenal has always been the headline, rather than the nastiness (and especially the bat-missing potency) of any one offering. Like Stroman, he just made a breakthrough by bifurcating his pitch mix based on handedness, to an extreme extent. He still threw all his pitchers (four-seamer, sinker, sweeper, curve, and yes, the cutter) to righties last night, even as he became almost a two-pitch guy against lefties.
Stroman, however, pares down to two pitches (sinker and slider) against righties. That is, by far, the more common version of this approach. Guys who struggle with opposite-handed batters usually address the issue by adding pitches, until they have a kitchen sink to throw at those guys every time they come up. Against same-handed ones, they usually have two pitches that play nicely enough off one another to dominate without further assistance. Taillon is trying the reverse.
Only time will tell whether it's a winning gambit, but this deep into a season this frustrating, it was well worth a shot, and the early returns are terrific. In eight shutout innings, he allowed just one hit. He only had nine whiffs all night, and the Yankees hit 11 balls hard against him, but he manipulated their launch angles well and was able to work the edges of the zone more effectively. The Cubs don't need results this dazzling every time. If Taillon pitches equally well but gets a bit less lucky in each start the rest of the way, the team will still benefit considerably. There is finally light at the end of the tunnel for Taillon.