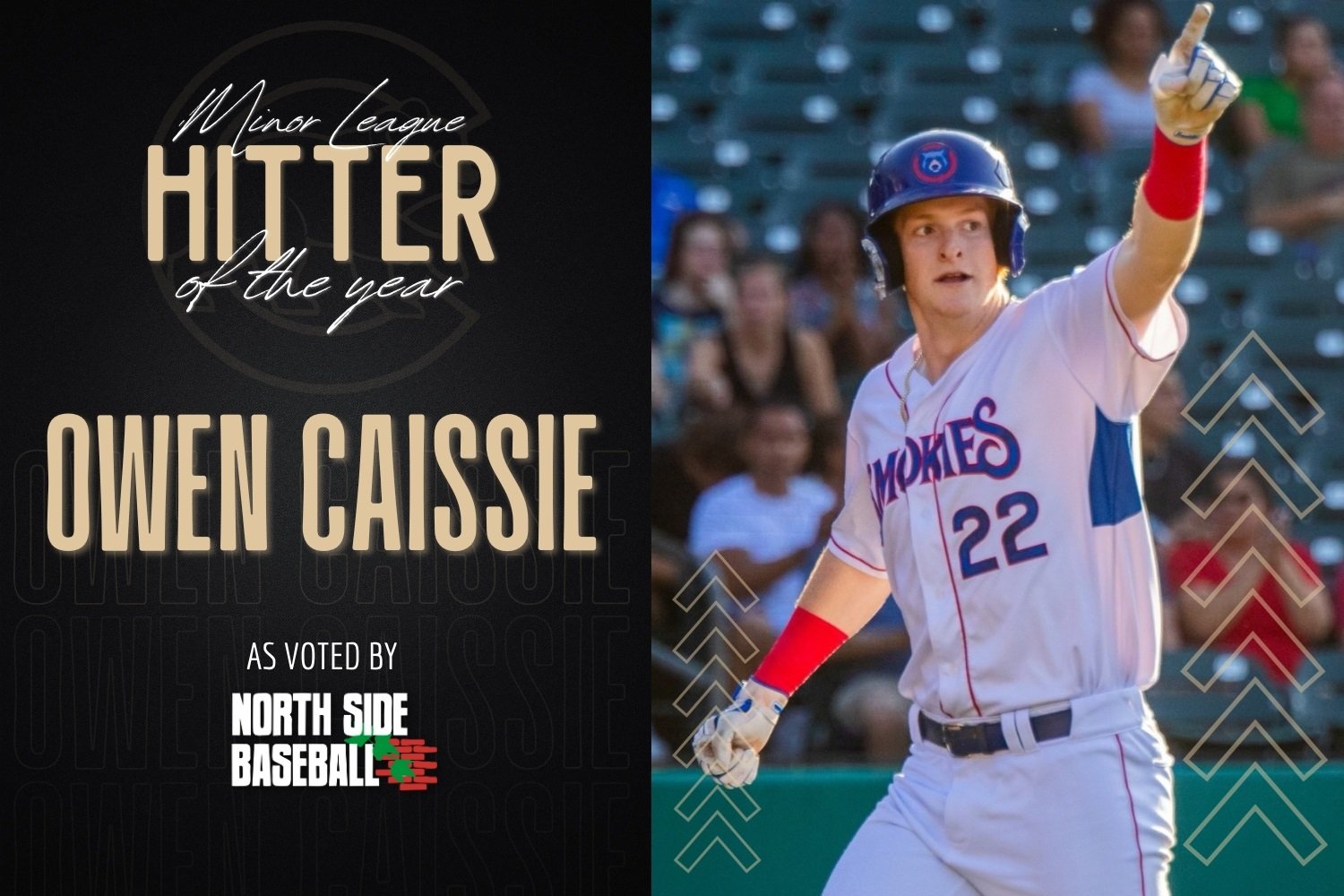 Under Theo Epstein, the Cubs' design philosophy was to prioritize elite college hitters and projectable high school athletes, leading them to build the best farm system in baseball after a few years of rebuilding. That system was highlighted by position player prospects, from Kris Bryant to Javier Baez to Kyle Schwarber and more. Nowadays, the Cubs have shifted their mentality to focus more on the pitching-side of drafting-and-developing prospects, though the team has still seen breakout performances from a number of players in the batter's box and in the field this year.
Below are the top vote-getters in the annual North Side Baseball end-of-season award ceremony for the Cubs Minor League Hitter of the Year. 
Before getting into the top three, here are a couple of others that received votes. The level indicated next to each player's name is where they finished the 2023 season, and all stats shown are only those accrued in the minor leagues this year.  
Honorable Mentions
1B Jared Young, 28 (Chicago Cubs)
90 G, .310/.417/.577, .995 OPS, 21 HR, 72 RBI, 7 SB
Young shuttled up-and-down between the minors and majors this year, serving as valuable depth at a position where the Cubs got infamously limited contributions from the likes of Eric Hosmer and Trey Mancini. Although he's a much older prospect and is dangerously close to wearing the dreaded "Quadruple-A" prospect label, Young was unbelievable at Iowa this year, nearly posting a 1.000 OPS in just 310 at-bats. He'll likely make it through the offseason on the 40-man roster and compete for a bench job in 2024, though don't be surprised if the Cubs try to sneak him through waivers during the busiest time of the winter. 
SS Jefferson Rojas, 18 (Myrtle Beach Pelicans)
71 G, .266/.342/.400, .742 OPS, 7 HR, 31 RBI, 13 SB
This guy is going to start flying up prospects lists as soon as this offseason, on the back of being a teenager with a projectable body type and above-average offensive contributions already. There's still a long way to go for Rojas, especially in a system loaded with middle infielders, but a .750 OPS at Single-A in your first year stateside is nothing to scoff at. He has the speed and power to be an annual 20-20 threat down the line, and most scouts seem to agree he should be able to stick at shortstop long-term, though a move to third base may help him rise quicker. If you wanted to place a bet on it, odds are this kid is the top prospect in the system by 2025. 
1B Matt Mervis, 25 (Iowa Cubs)
100 G, .282/.399/.533, .932 OPS, 22 HR, 78 RBI, 2 SB
Another year, another dominant season from Matt Mervis at Iowa. After his home run bonanza last year, Mervis was more well-rounded at the plate this season, showing even greater discipline than before and staying more consistent with his all-fields approach. There's questions about his major league viability after he struggled following a hyped-up promotion in May, though he'll enter Spring Training next season as a candidate for everyday at-bats, save for a move for Pete Alonso or someone of his ilk. 
OF Yonathan Perlaza, 24 (Iowa Cubs)
121 G, .284/.389/.534, .922 OPS, 23 HR, 85 RBI, 13 SB
Arguably THE breakout season for hitters in the Cubs' farm system this year, Perlaza finally put it all together for a full season and his numbers do his improvements justice. He pretty much has to be placed on the 40-man roster this offseason, lest the Cubs wish to lose another outfielder with a major-league quality bat. There won't be a ton of opportunities in the Chicago outfield for the foreseeable future, what with Pete Crow-Armstrong and Alexander Canario joining Ian Happ and Seiya Suzuki in the majors, though if anyone in the system is going to push those guys for at-bats early next year, it's probably Perlaza. 
OF Kevin Alcantara, 21 (Tennessee Smokies)
102 G, .284/.345/.466, .810 OPS, 13 HR, 71 RBI, 15 SB
The centerpiece of the Cubs' return in the Anthony Rizzo trade with the Yankees, Alcantara impressed everyone in spring training and maintained his momentum all the way through July, when he left a game with a lower leg injury. His season-long numbers still look good for a guy who is two years younger than the average player at Double-A, and some time in the Arizona Fall League and Winter Ball should only help keep his stock on the rise. Given the crowded outfield situation we just discussed, it's highly unlikely Alcantara makes his debut next season, though he may be the most talented of the entire bunch. With some better health and further refinement to his plate approach, the Cubs may have their "other" center fielder of the future at Wrigley Field soon. 
Others Receiving Votes 
    1B/3B B.J. Murray, 23 (Tennessee Smokies): 124 G, .263/.382/.462, .844 OPS, 16 HR, 74 RBI, 14 SB
    C Moises Ballesteros, 19 (Tennessee Smokies): 117 G, .285/.375/.449, .823 OPS, 14 HR, 64 RBI, 7 SB
    C/1B/DH Haydn McGeary, 23 (Tennessee Smokies): 124 G, .275/.397/.462, .859 OPS, 19 HR, 88 RBI, 7 SB
    1B/3B Brian Kalmer, 23 (Myrtle Beach Pelicans): 35 G, .357/.426/.667, 1.092 OPS, 10 HR, 42 RBI, 0 SB
Cubs Minor League Hitter of the Year
Here are the top three vote-getters for Cubs Minor League Hitter of the Year.

3. SS/2B Matt Shaw, 21 (Tennessee Smokies)
38 G, .357/.400/.618, 1.018 OPS, 8 HR, 28 RBI, 15 SB
The Cubs' first round pick this summer, Shaw lit the world on fire after an aggressive assignment right out of the gate, making it all the way to Double-A in his first partial season as a pro. Like Rojas, Shaw has the fielding ability to stick at shortstop long-term, but if his bat demands it, he'll get called to the majors as early as next season as the third baseman flanking Dansby Swanson on the left side of the infield for the Cubs. 
Shaw possesses some of the best hand-eye coordination and bat-to-ball skills in all of the minor leagues already, and his pure hitting ability will get him placed around the 50 spot on most league-wide prospect ranking lists this offseason. His bat speed isn't tremendous, at least not compared to some of the Cubs' prospects of old like Baez, but his preternatural ability to recognize spin out of a pitcher's hand allows him to make swing decisions much quicker than most. With time and refinement at the plate, Shaw should post some lofty on-base percentage numbers, with the capacity to hover around a consistent .400 OBP at his ceiling. 
The most impressive part of Shaw's season was his desire and willingness to attack pitchers even as he climbed the ranks. He said after being drafted he was going to "hunt for failure" in an effort to conquer the learning curve of pro baseball as quickly as possible, though he never met his match in 2023. With a big Spring Training, Shaw could debut at Triple-A at the start of next season, potentially putting a summer call-up on the table. It's early, but it looks like the Cubs nailed their first pick in the 2023 draft. 
2. OF Pete-Crow Armstrong, 21 (Chicago Cubs)
107 G, .283/.365/.511, .876 OPS, 20 HR, 82 RBI, 37 SB
The top prospect for the Cubs struggled badly through sporadic playing time during his cup of coffee in September, failing to get his first big league hit in 14 at-bats and going two for four on stolen base attempts. That being said, his minor league season was a resounding success, as he nearly put up a 20/40 season in just over 100 games played. 
The major league numbers don't count for the purposes of this list, and they shouldn't scare away anyone who is dreaming on PCA's potential. His glovework is outstanding at its worst, with "historically great" within legitimate reach. He has enough speed to be a constant threat on the base paths and he should consistently post stolen base totals in the high 30's (if not more given the increased emphasis on steals with the larger bases). Even if PCA settles below his median outcome at the plate and tops out as a league-average bat, his fielding and running skills will make him an annual 3+ WAR player at worst. 
How the Cubs view PCA's readiness will be among the biggest questions this offseason, as Cody Bellinger (and, by proximity, Jeimer Candelario) will be free agents come November. If the Cubs feel comfortable handing the center field reins to their top prospect, one or both of Bellinger and Candelario can be allowed to walk. If the Cubs want to give PCA more time to develop in the minors, odds are they'll be more aggressive with their in-house free agents. Regardless of how next season's Opening Day depth chart appears, though, PCA should be patrolling center field at Wrigley for the next decade-plus. 
1. OF Owen Caissie, 21 (Tennessee Smokies)
120 G, .289/.399/.519, .918 OPS, 22 HR, 84 RBI, 7 SB
The first thing to note about Caissie is that he actually had a sub-50 percent success rate on stolen bases this year, getting thrown out in nine of his sixteen attempts this year. Other than that, it's hard to find any flaws in the prodigious season the 21-year-old put together. His glove work improved (mostly playing right field) and should make him a viable option in the corners when his bat is ready for the majors. He has a tremendous eye and uncanny plate discipline for such a young player, reminiscent of Juan Soto when he was flying through the National's farm system (disclaimer: I'm not saying Caissie will ever come close to reaching the heights Soto has, I'm simply comparing their shared elite skill of being a patient hitter). 
Caissie has arguably the most raw power of any prospect in the organization, and he should immediately become a middle-of-the-order bat once he's recalled, likely some time at the beginning of the 2025 season. Caissie topped out at a 117 miles per hour exit velocity this year, a number that would rank in the 99th percentile in the major leagues this season. The pop is real. 
Once PCA graduates, Caissie will be my number one prospect in the system, ahead of even Shaw and Cade Horton. The potential for greatness is here, and I for one am going to let myself dream on Caissie's potential after his breakout season. 
Congratulations to the 2023 Cubs Minor League Hitter of the Year and the rest of the minor leaguers written about today. All deserved the honor after a strong season. Feel free to discuss Owen Caissie, the rest of these hitters and even how you would rank their 2023 seasons. 
1