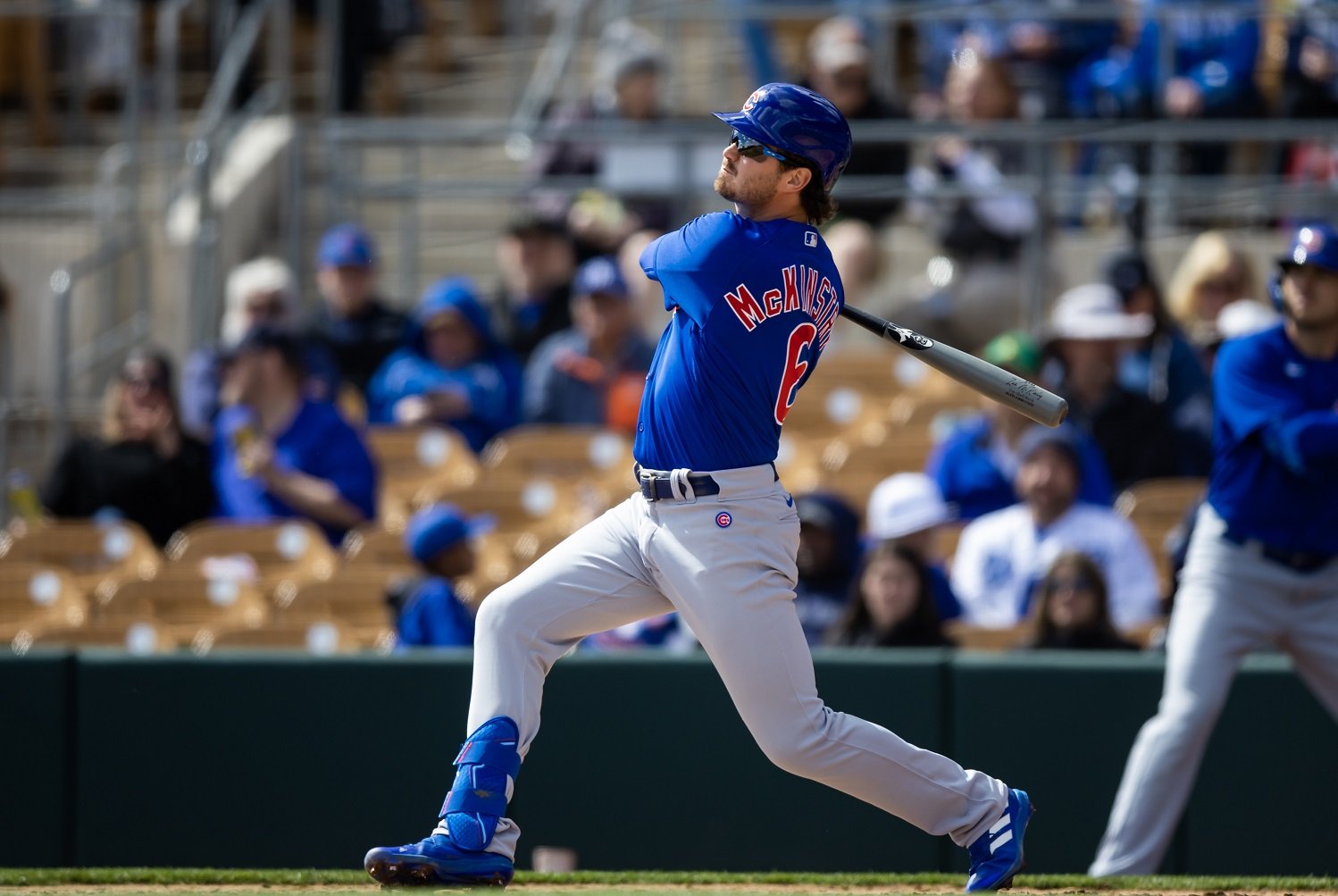 Image courtesy of Mark J. Rebilas, USA Today
What was your favorite Zach McKinstry moment in a Cubs uniform? The 27-year-old played around the infield for the Cubs in the second half of the 2022 season was traded to the Detroit Tigers on Monday. In return, the Cubs received 24-year-old pitcher Carlos Guzman. 
Coming into the spring, McKinstry was going to be given an opportunity to fill a utility role for the Cubs. In fact, he got plenty of playing time this spring. He played in 20 games and hit just .079/.222/.105 (.327) with a double. He had three hits in 38 at-bats. And sure, we all know that spring training numbers don't really matter much, but when you're fighting for final roster spots, it isn't ideal to post those kinds of numbers. 
McKinstry was the 33rd round pick of the Los Angeles Dodgers in 2016 out of Central Michigan. He made his big-league debut as a 25-year-old in September of 2020. He played 60 games for the Dodgers in 2021 and then 10 more games in 2022. At the trade deadline, the Dodgers dealt him to the Cubs in exchange for reliever Chris Martin.  He finished out the season with the big-league club. In 47 games, he hit .206/.272/.361 (.633) with six doubles, three triples, and four homers. 
Carlos Guzman is 24 years old. He originally signed with the Tigers way back in March of 2015 from Venezuela. He spent 2017 in the GCL and then 2018 in the New York-Penn League. In 2019, he moved up to Low-A West Michigan where he made seven appearances. Like most, he did not pitch in 2020 due to the pandemic. In 2021, he returned to Low-A, now in Lakeland, Florida, where he went 7-9 with a 4.65 ERA. 
Last year, he returned to West Michigan. The Midwest League affiliate is now the Tigers' High-A affiliate. He made 23 starts and went 9-6 with a 4.16 ERA. in 106 innings, he walked 34 batters and struck out 89. He dropped his WHIP from 1.58 in 2021 to 1.17 in 2022. Why? He reduced his Hits/9 IP from 10.0 to 7.6. He also reduced his walk rater from 4.2 BB/9 to just 2.9 BB/9. Of course, at the same time, his K/9 dropped from 9.3 to 7.6. He finished the season with two appearances out of the bullpen at Double-A Erie. He faced four batters and got all four of them out, one on a strikeout. 
Guzman has a fastball that has been clocked between 89 and 97. I know, a huge range. Generally speaking, he sits between 92 and 95. He reportedly has a nice changeup. Beyond that, he has struggled with a third pitch. In reality, he may have a chance to advance if he moves to the bullpen where his stuff does have a chance to play up. 
Christopher Morel will likely begin the season in Triple-A Iowa. With McKinstry dealt, it appears that Miles Mastrobuoni has taken one of the final bench spots as a utility option. Mastrobuoni, also 27, hit .333/.500/.333 (.833) over 24 plate appearances this spring. 
Mastrobuoni was originally drafted by the Tampa Bay Rays in 2016. He slowly worked his way up the Rays system and made his big-league debut last year with eight games in late September. In November, he was drafted to the Cubs in exchange for Alfredo Zarraga. 
What are your thoughts on the trade? How do you feel about the Cubs choosing Mastrobuoni over McKinstry? Leave a COMMENT below.