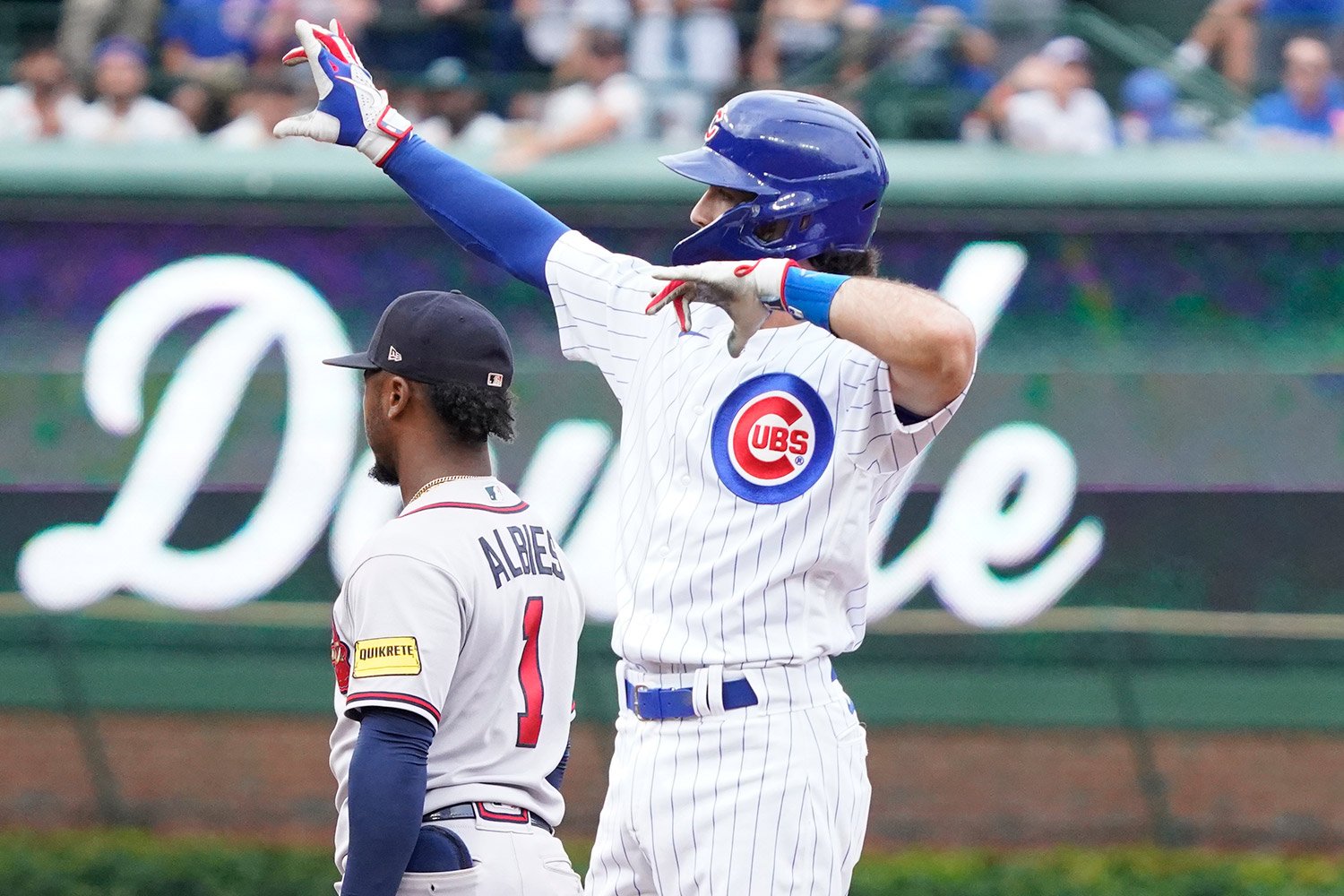 Image courtesy of © David Banks-USA TODAY Sports
If you are reading this blog, before 2016, magic was tied to every playoff run, as they were as rare as gemstones. Each moment magnified while sitting on the edge of our seats. 2016 replaced scapegoats and real goats with rain delays and parades. I took the years after for granted, as they felt expected, not special. It wasn't until they were taken away again that I began to yearn for the feeling again.
The feeling is back. Obsessive scoreboard watching. Stress during games. Inappropriate elation when my kids are sleeping. It has all returned, and it feels good.
Here is where we stand with 50 games to go.
Record
58-54
1.5 GB in the NLC
CURRENTLY HOLDING THE FINAL WILD-CARD SPOT
The Cubs went 5-2 this week on their home stand vs the Reds and the Braves. Given the strength of schedule this week, I had hoped to tread water minimally, but they exceeded my expectations. 
The Week Ahead
Three games at the Mets
Drew Smyly vs. Kodai Senga; 6:10 CT
Jameson Taillon vs Carlos Carrasco; 6:10 CT
Kyle Hendricks vs. David Peterson; 6:10 CT
Three games at the Blue Jays
TBD vs. Bassit at 6:07 CT
Justin Steele vs. Ryu at 2:07 CT
Drew Smyly vs Kikuchi  at 12:37 CT
This week isn't nearly as hard as it was thought at the beginning of the season. Due to some underperforming, the Mets were stripped down a bit at the deadline, making their rotation a little less formidable. In addition, the Cubs are dodging Kevin Gausman and Alex Manoah in Toronto. After this six-game road trip, the Cubs come back home to a light set.
3 Up
The Offense
If you like baseball offense, this was the week for you! Heading into the series with the Reds, I was curious how things would turn out. The Reds play with a youthful energy that matches their roster. They are fast and filled with budding stars. Their Achille's heel has been pitching. The Cubs exploited this staff after Monday to the tune of 41 runs in 3 games. On Tuesday/Wednesday, the 36 runs scored were the most ever in a two-game span since 1897. The TEAM hit .302 for the week with .375 OBP, .595 SLG, .970 OPS, 23 2B, 16 HRs, and 54 RBI. The most impressive thing to me was in 242 ABs; they only grounded into four double plays. There were a lot of stars, but I enjoyed…
I admit Swanson was low on my list based on the SS availability this offseason. However, this has been a home run signing. First of all, the defense. Swanson is tied for first with 13 OAA from shortstop. This week, Swanson hit .280 with a .357 OBP, .960 SLG, 5 HR, and 11 RBI. Also, his Twitter handle is absolute magic: LieutenantDans7. That is almost as good as the…
Outfield defense
Ian Happ earned his first Gold Glove in 2022 and seems determined to retain his throne. Per Sports Info Solutions, Happ and Seiya Suzuki led their respective positions in July for DRS.
3 Down
I loved this guy's bat. Suzuki has shown stretches since he signed. He can be a middle-of-the-order potential. However, in Suzuki's last 30 games, he hits an abysmal .224 with only 19 hits. Since the team turned on David Ross' playoff zone, Suzuki finds himself on the bench. If it weren't for Marcus Stroman's hip, Suzuki would find himself next to…
Drew Smyly
Another start, another stinker. The good news is he got 16 runs of support. The bad news was the three home runs and no cheapies. This leads us to my concern with 
Starting Pitching Depth
I thought the Cubs would look at some LHP at the trade deadline, but I ended up being wrong. With Smyly spiraling and Stroman on the IL, the Cubs will need to find innings from their system. Given the bullpen usage on Saturday, Caleb Killian was called up for innings today. I expect the Cubs to use Hayden Wesneski, Caleb Killian, and Javier Assad to cover innings. Hopefully, BleacherNation is right about Killian's new sinker usage leading to more success this time around. 
What were your highlights from the week? Go, Cubs, Go!