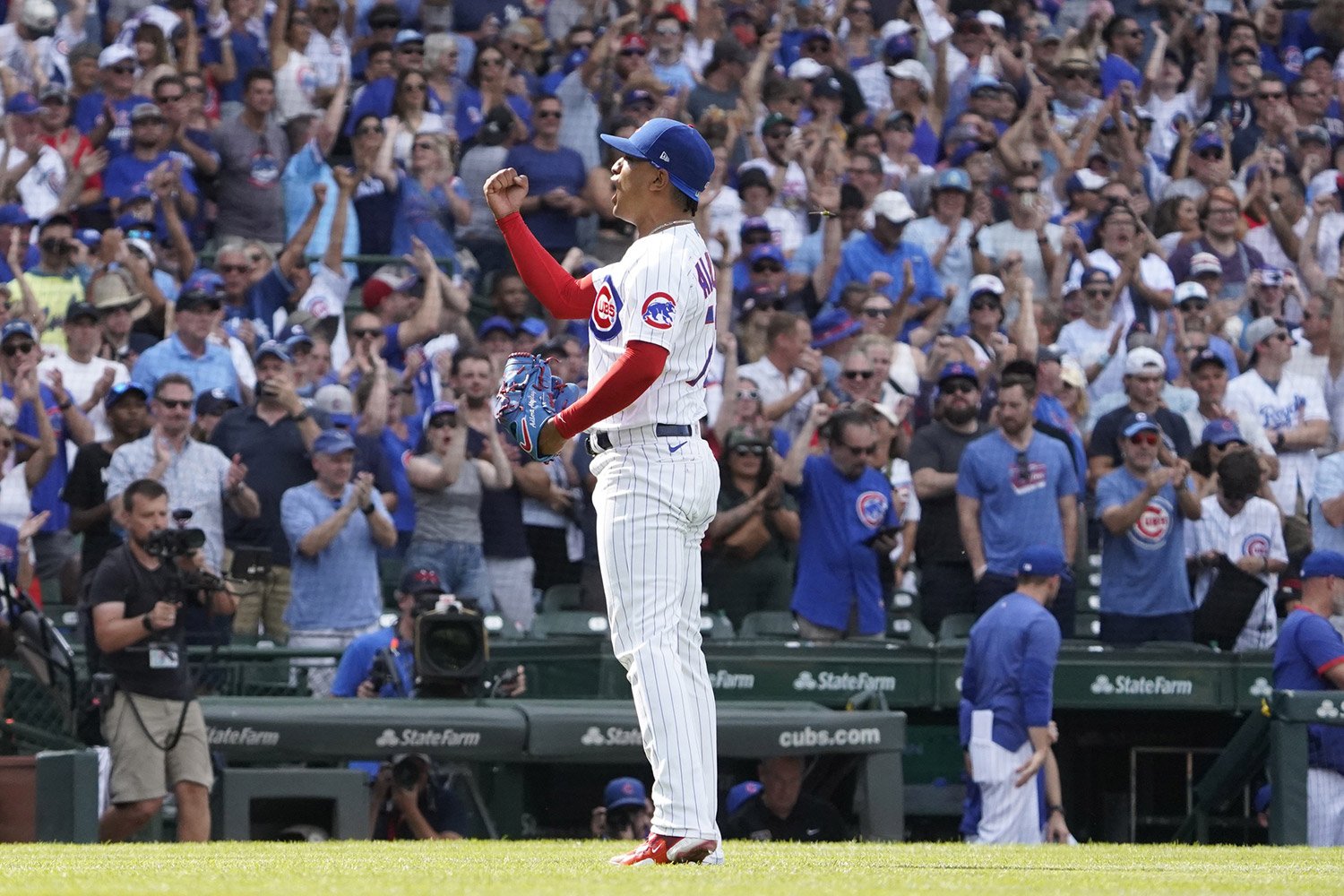 Image courtesy of © David Banks-USA TODAY Sports
Have you ever gone on a "Stay-cation?" This was my kiddos' last weekend before school, so we took some time to enjoy the city. I have spent most of my professional life in Chicago. I highly recommend seeing Science Storms and The Blue Paradox at the Museum of Science and Industry. 
If it isn't abundantly clear, the Cubs are in the middle of a playoff push, with each game having importance as they sit behind the Brewers in the standings. Like Michael Scott, I am not superstitious, but a little stitious. I'm trying to jumpstart the universal juju and going for a format change. Buckle up, kids, this isn't your Grandma's three up, three down.
Record
64-59
3 GB in NLC
Holds 3rd Wild Card Spot by one game
The Cubs were the lucky recipients of a two-off-day week. With a 3-2 record this week, the Cubs maintained their position behind the Brewers while grabbing that final Wild Card spot. 
The week has an inflection point of Christopher Morel's dramatic 9th inning go-ahead home run to steal away a game from the White Sox. Without that win, this week would have felt a bit like a missed opportunity, given the records of their opponents. 
Weekly Positive
Starting pitching stabilized a bit as that continues to be a concern. This week, the Cubs were the beneficiaries of quality starts from Jameson Taillon, Javier Assad, Justin Steele, and Kyle Hendricks. Marcus Stroman was supposed to return for his start on Wednesday but is struggling with a Rib cartilage issue. Javier Assad has filled in amicably, delivering 2 QS in his place. The question will be how the Cubs cover these innings as the season ticks on. David Ross has tapped Drew Smyly to return to the rotation. As a staff, the Cubs are 19th in baseball at a 4.98 ERA since August 1st. Milwaukee, by comparison, is 3rd. 
Week Ahead
Cubs at Tigers
Game 1 - Assad vs Faedo, 5:40 PM CT
Game 2 - Smyly vs. Olson, 5:40 PM CT
Game 3 - Taillon vs Skubal, 12:10 PM CT
The Tigers are a solid club that is trying to turn a corner back into contention. They had an exciting system that saw the likes of Spencer Torkelson, Riley Greene, and many others get promoted and added to the squad in the last three years. Unfortunately, old friend and major signing Javier Baez has not been the piece they thought he would be. Ironically, his K-rate has dropped since moving to Detroit at the expense of any production:
What to Watch
Miguel Cabrera. "Miggy" is a sure first-ballot Hall-of-Famer that has done nothing but hit since his debut in 2003. On broadcasts, Boog Sciambi mentioned that he is excited to catch up with Cabrera, as he called his first career hit a walk-off home run. 
Also, if you are not listening to "The Compound" with Ian Happ, Zack Short, and Dakota Mekkes, you need to start. This podcast, produced by JomBoy Media, gives an extremely humanizing view of how players perceive events and how they manage the grind of 162. I will be rooting silently for ZS59, aka Short-tani. I say Parce, you say...
Cubs at Pirates
Game 1 - TBD vs Steele
Game 2 - TBD vs Hendricks
Game 3 - TBD vs Asad
Game 4 - TBD vs Smyly
What to Watch
The Cubs are currently 6-0 vs. the Pirates this season, having a team OPS of .867 in those games. They are averaging eight runs per game in this match-up. I would look to see Cody Bellinger to have a big series with that tantalizing porch in right field that Kyle Schwarber has just not bothered hitting. Pittsburgh's pitching has struggled, dropping them out of the Central race. They have a team ERA of 5.16 since the All-Star break. 
Playoff Chase Opponent Commentary
The Brewers are annoying. There. I feel better. Their lineup doesn't have anyone that jumps off the page as traditional baseball numbers go, but they win ball games. Their pedestrian offense is 14th in the sport with a .308 OBP and .427 OPS.  Their defense is EXCELLENT. They are second in baseball with 48 DRS, with the Cubs 3rd with 33. I don't generally believe managers can win ball games, but Brewers' manager Craig Counsell seldom makes wrong decisions. I think my frustration is an odd version of jealousy. The Brewers play the Twins and the Padres at home. This is significantly different competition than the Cubs will face.
The Reds need pitching. BAD. As exciting as their young core of position players are, they cannot afford to have an off night at the plate. Hunter Green returned yesterday to give up five home runs. I suspect he had some rust to get off, and that ballpark/weather doesn't help much. 
The NL Wild Card is closer than I recalled. There are six teams within 3.5 games for the three slots. 
Given the nature of the opponents, I would like to see the Cubs have a strong week. However, I have some concerns about the length the rotation will be able to give, with two starts for Smyly and Assad this week. The offense has continued to carry the team this week. Their 2-13 with RISP vs. the White Sox almost ended that series in disaster, but the grinding at-bats made a comeback with a 7-16 set this weekend. 
What do you think the Cubs' record will be this week?