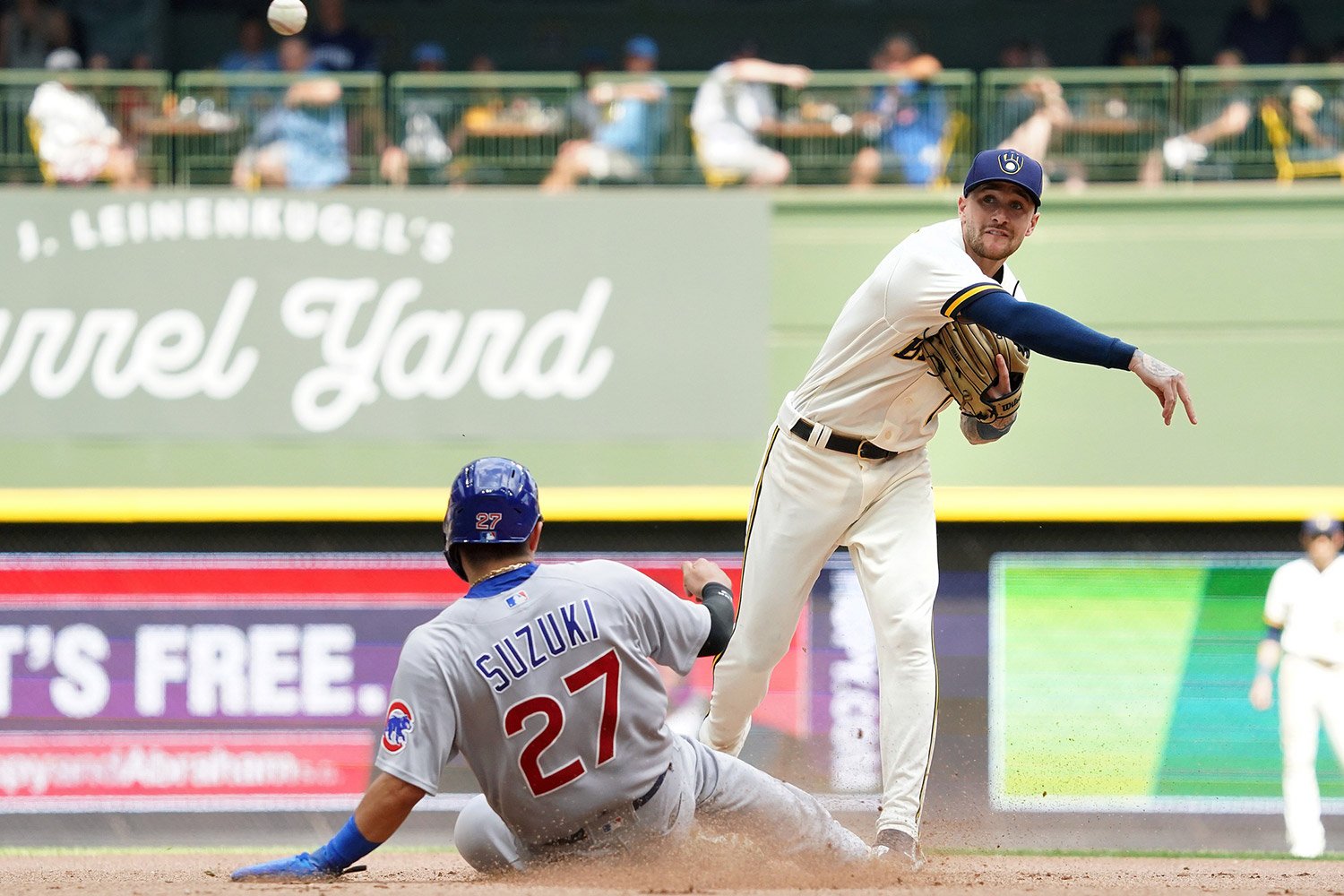 Image courtesy of © Kayla Wolf-USA TODAY Sports
Running up to the 2016 Championship, and even shortly after, the Chicago Cubs had received nearly no innings pitched from arms internally developed. As of 2018, Sahadev Sharma had researched, showing only 30 total! 
This weekend was such a breath of fresh air. Jordan Wicks turned in a needed left-handed start on Saturday, making history along the way. Javier Assad has been a breath of fresh air as Marcus Stroman works his way back. 
This might be the biggest week of Cubs baseball in a very long time. It is nice to enjoy September baseball again. 
Record
69-61
4 GB of NLC
Currently Hold the 2nd WC Spot
A lighter stretch gave the Cubs a solid 5-2 week. I wouldn't describe this week as the easiest-looking wins, but good teams can win when they are not firing on all cylinders. 
Weekly Positive
Jordan Wicks. Holy Moly. Drew Smyly did not help the Cubs in his one start this week. A fiery post-game comment by David Ross stating Drew Smyly was "his guy" led us down a primrose path. As Sahadev Sharma, Brett Taylor, and Patrick Mooney discussed on "Onto Waveland," Ross tends to stand behind his guys and can be testy after losses. However, after a healthy scratch on Wednesday, it felt inevitable. 
AND HE DID NOT DISAPPOINT. 5 IP, 9Ks, First Major League Win. I hope he gets another start in the series coming up with the Reds. 
Week Ahead
Cubs vs Brewers
Game 1 - Jameson Taillon vs. Wade Miley, 7:05 PM CT
Game 2 - Justin Steele vs. Corbin Burnes, 7:05 PM CT
Game 3 - Kyle Hendricks vs. Brandon Woodroof, 1:20 PM CT
This might be the biggest series at Wrigley in a number of years. I am recalling a division-clinching run vs. the Cardinals in 2003 in which the Cubs took 3 of 4 in early September. Leave comments if you can think of some others!
What to Watch
Both teams are coming in pretty hot since the All-Star Break. Take a look at these numbers:
Record: Cubs 27-14; Brewers 24-15
FIP: Cubs 4.48, Brewers 3.99
WRC+: Cubs 104, Milwaukee 90
Defensive Runs Saved: Cubs 33, Brewers 49
The Cubs are 3-4 vs. the Brewers this season, with 5 of the contests being decided by two runs or less. They last matched up on July 4th-6th, with the Cubs taking 2 of 3. These two teams have two different identities, with the Brewer's pitching and defense leading the way. The Cubs will need to continue their deep production up and down the lineup in order to take advantage of the seldom situations in which the Brewers allow multiple base runners. The last two nights in Pittsburgh are hopefully the sign of an offense on the rise again. The Cubs should have a potential advantage playing in front of what I expect a raucous crowd at Wrigley, where the Cubs pound 111 WRC+. The Brewers, by comparison, struggle offensively a bit more on the road, posting an 82 WRC+. BRING THE NOISE, WRIGLEY. 
Cubs at Reds
Double Header (Makeup of April 5th)
Game 1 at 1:10 PM ET, Game 2 at 6:40 PM ET 
Game 3 at 1:10 PM ET
Game 4 at 12:10 PM ET
At this time, it is hard to sort out who will be pitching with the double header on Friday. The off day implies they could go Assad/Wicks on Friday, with Taillon on normal rest Saturday, then Steele on Sunday. 
The Reds are very much in play for both the playoffs and this division. That story shifts dramatically based on the results of the 1st series of the week. 
What to Watch
Kyle Schwarber once told Ian Happ, "Don't leave Cincy without a Homer." He has taken that lesson to heart with an absolutely ridiculous .327 batting average with 16 Home Runs, 38 RBIs, and 31 runs in 46 games vs. the Reds. Look to him to continue to get back on track in Cincy this weekend. Having Happ and Seiya clicking on top of Belli would be great for the Cubs going forward. 
What does a "successful week" look like for the Cubs? Where will they be in regard to the division by the end of the week? How much pressure are you putting on how you feel about this team on such a small sample size?
Looking forward to playoff-like baseball this week. Until next week, Go Cubs, Go!
Ian Happ has a .327 batting average with 51 hits, 16 home runs, 38 RBIs, and 31 runs scored in 46 games versus the Reds on the road in his career.