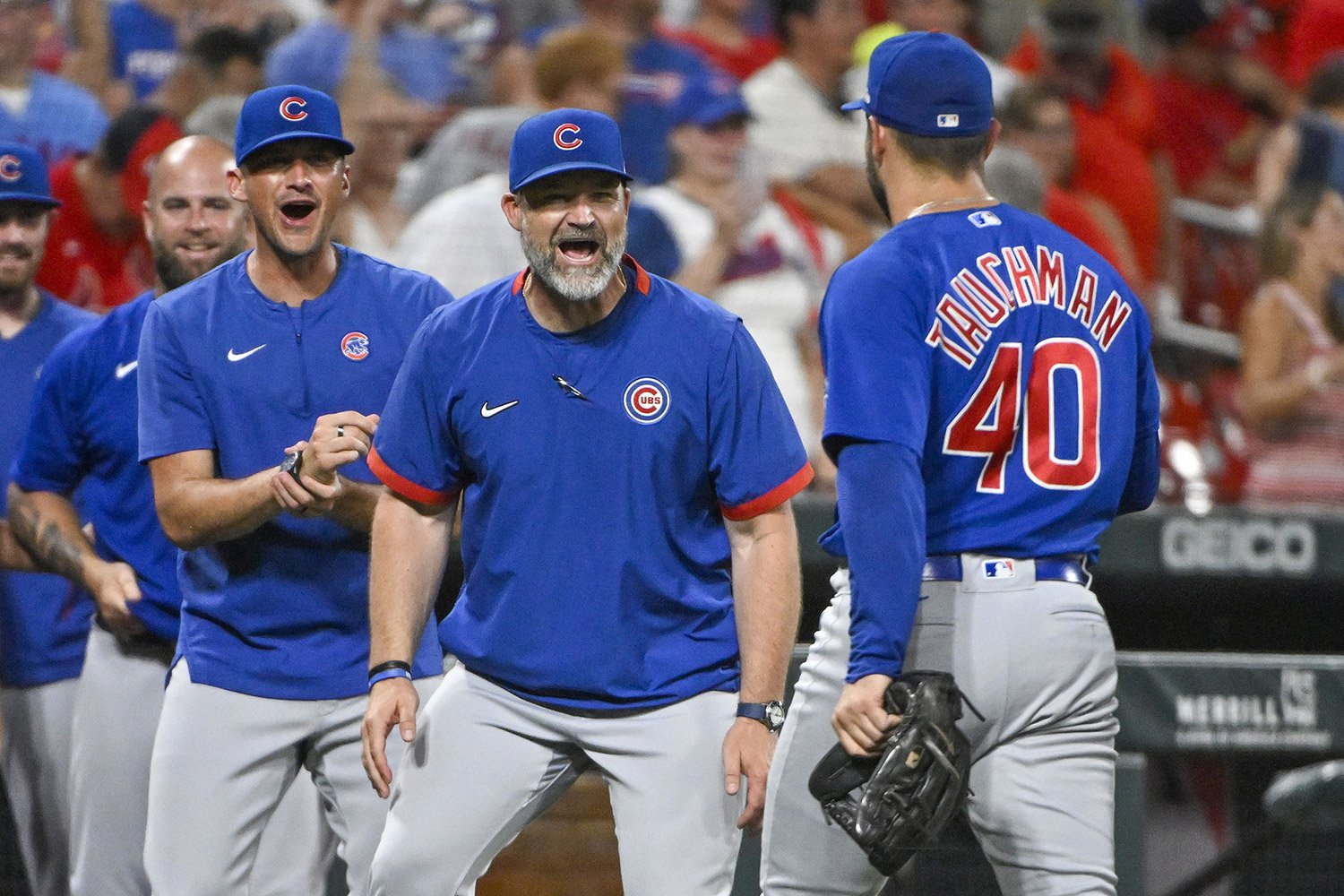 Image courtesy of © Jeff Curry-USA TODAY Sports
First of all, I don't think there is a more obvious way to say that I am a dad than in my article titles. Shout out to the early 2000s for providing a beautiful Justin Timberlake-tied pun. I love when my love of Justin Timberlake can be married to my love of the Cubs in order to provide a chuckle. 
I have been a bit tired the last few days, as I have been having a hard time getting to sleep after all the Cubs winning. Based on how this week went, I knew there would be much pressure on my general Cub-joyment. Luckily for my psyche, the Cubs BROUGHT IT. 
I want to take one moment to acknowledge the pain there would have been if the Cardinals and the White Sox had solidified a decision to sell pieces at the deadline. 
*Deep Breath*
Let's see how things went this week:
Record: 53-52
4 GB in the NLC
3,5 GB of the Wild Card
5-1 This Week
Week Ahead
Four vs Cincinnati:
Abbott vs. Stroman
Lively vs. Steele
Williamson vs. Smyly
Weaver vs. Taillon
Three vs. Atlanta:
TBD vs. Hendricks
TBD vs. Stroman
TBD vs. Steele
This is a big week vs. playoff teams on your turf. You have to, at minimum, win the week. In the Reds series, the Cubs line up pretty well on the rotation side with Marcus Stroman, Justin Steele, Drew Smyly (maybe?), and Jameson Taillon. 
The Reds feature two young lefties which likely means more Trey Mancini and less Mike Tauchman. Hopefully, some reinforcements will come this week. 
3 Up…
Mike Tauchman: If you are a Cub fan who spends the majority of your time off the internet or under rocks, you might have missed this electrifying catch to save a win on Friday night. He had a rather pedestrian series vs. the White Sox but really stuck it to the Red Birds. He had a .538 average, 1 HR, and 3 RBIs. He has been steady at the top of the order with his .364 OBP, 113 WRC+, which is what…

This is what Jameson Taillon was supposed to be when he signed his four yr, $68 million deal in December. Unfortunately, the start of his Cub career has not been stellar. I have seen the Cub Twitterverse (or X-verse, I am not sure what Elon wants from me this week) all over this front office for this move. However, we may be seeing some ROI. In July, Taillon is sporting a 2.67 ERA with three wins, 2 QS, 24 SO, and 8 BBs in 30.1 IP. His performance has shifted the Cubs back into…

Buying. A lot of time in the last few weeks has been attached to this term, that has varying definitions. Adding at the fringes of an imperfect roster can be buying. Adding controllable talent while at the beginning of a competitive window can be buying. Not selling off assets on your roster on expiring deals can technically be buying. Regardless of how you define buying, the Cubs are now buyers, with interest reported in the likes of David Bednar, Aaron Bummer, and Brent Suter. I will happily take interesting baseball in August over…
3 Down…
Selling. I am going full Michael Scott. My downs are my ups. I personally am happy he will be sticking around, but we have to talk about…

Marcus Stroman and his last few starts. Stroman is unique and needs a combination of mechanics and charisma to manifest his best version. He is not a big strikeout guy, and his sinker need to be sankin' to Dansby and Nico. Unfortunately, he has cooled off this July, sporting a 7.99 ERA with 1 Quality Starts in 5 starts. His walk rate has climbed with 13 free passes in 23 IP. I am not hitting the panic button yet, as he has 15 QS, which is third in baseball. A quality start is well-defined, unlike…

Unwritten Rules. I really tried not to address this, but I am still laughing/confused about it. Miles Mikolas derailed a baseball game on Thursday this week by intentionally throwing at Ian Happ twice after Ian hit Willson Contreras in the head with his backswing. Contreras and Happ are known to be friends off the field. Happ even hugged Contreras as he was removed from the game to receive treatment to stop the bleeding. Unlike Chip Caray, I understood why Mikolas was ejected. What I am still trying to understand is why he threw at Happ in the first place. Look, I know the Cardinals have only had a losing record twice in the last 25 years (2007, 1999), but they do not get to enforce their own set of rules. Thank god the Cubs dugout thought this was hilarious, as they were focused on winning ball games. 
The trade deadline is my favorite week on baseball Twitter. I have every prominent national news member on alert, with all my favorite local guys in there for good measure. I would like to get an idea of what direction the Cub front office feels the franchise is heading with these moves. Are we on the cusp of the next "window?" Is Jed done building the farm and confident of the development process in place? 
I know I will be here waiting to find out.