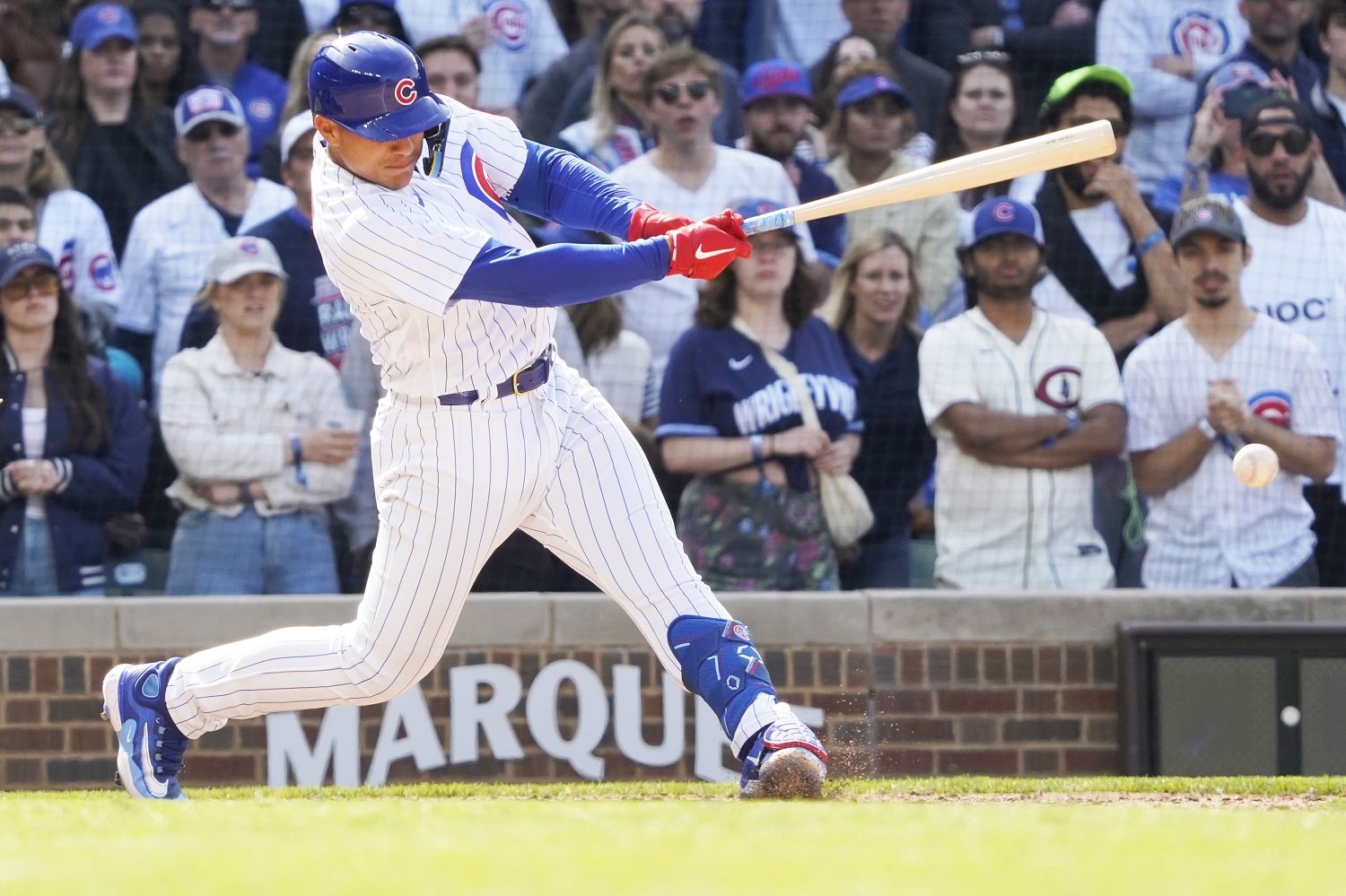 Image courtesy of David Banks-USA TODAY Sports
Let's get to the report. As always, please feel free to discuss and ask questions. 
TRANSACTIONS
Iowa Cubs activated C Jake Washer. And sent C David Avitia to South Bend.
IOWA CUBS COURIER  
Iowa 2, Toledo 6
Box Score
The Cubs dropped the finale Sunday to Toledo by a score of 6-2. Iowa  in a tight 2-2 game until the top of the 8th. That's when  Cubs pitchers gave up four runs including a three-run home run to put the game away.
Iowa gave the start to rehabbing Cubs starter Kyle Hendricks. He fared how you would expect him to as he went five innings and only gave up two runs on six hits. He walked two batters, while striking out four on 79 pitches.
After Hendricks, the Cubs went to their bullpen. Cam Sanders was the first arm summoned. He went 1 1/3 scoreless innings with two walks and two strikeouts. Left-hander Bailey Horn came on and got two outs while giving up an earned run on two hits and a strikeout. Next, Manuel Rodriguez entered and gave up two runs on two hits with a walk and a strikeout. Tyler Duffey pitched the ninth and had two strikeouts.
The Cubs offense just couldn't get the big hit with guys on base. They went just 2-for-8 with runners in scoring position. Miguel Amaya led the team going 4-for-4 with his first two doubles and an RBI. Sergio Alcantara went 2-for-4.
The Cubs are now 22-14, one game back of Memphis in the International League West Division. 
SMOKIES SENTINEL
Tennessee 1, Montgomery 4
Box Score 
On Sunday afternoon, the Smokies were on the short end of a 4-1 game. Tennessee fell behind 3-0 after three-and-a-half innings. They were unable to get much going at the plate. They only were able to score  one run on three hits.
The Smokies handed the ball to DJ Herz. The southpaw went 3 2/3 innings and gave up three runs on only two hits. He walked three batters but impressively struck out nine. With the three runs allowed it raised Herz's season ERA to a solid 3.68. 
Herz was followed by Carlos Guzman who worked 1 1/3  innings with a walk and two strikeouts. Luke Little was very impressive as he went two perfect innings with three strikeouts to drop his ERA to 1.50. Little was followed by Cayne Ueckert who gave up the fourth run on a solo home run but added two strikeouts. Chris Kachmar pitched a scoreless 9th inning and recorded  a walk and a strikeout.
The Smokies were held in check by Montgomery's pitching. They were only able to collect three hits. They were led by top prospect Pete Crow-Armstrong who went 2-for-4 along with his 10th stolen base of the season. Crow-Armstrong is hitting .287. The other hit was by catcher Caleb Knight. The only run came in the 4th inning on a Owen Caissie sacrifice fly, his 25th RBI of the season.
The Smokies are now 18-15, two games ahead of Rocket City in the Southern League North Division. 
SOUTH BEND BEACON
South Bend 2, Wisconsin 1 (11 innings) 
Box Score
With the score tied 1-1, a James Triantos RBI single in the top of the 11th put the Cubs ahead for good. With runners on 2nd and 3rd and two outs, a big strikeout won the game.
South Bend gave the ball to Manuel Espinoza, and he gave the Cubs three shutout innings on only one hit. This was only his second game and first start for South Bend. Frankie Scalzo Jr. followed and pitched two shutout innings with a strikeout. Next was Brad Deppermann who pitched a perfect inning with a strikeout. The Cubs brought in Joe Nahas who went three innings and gave up a run on two hits with two walks and a strikeout. Sheldon Reed pitched the last two innings to improve his record to 4-1 on the season.  In Reed's two innings, he walked one while striking out two batters.
Offensively, the Cubs were held to just five hits, but five was all they needed. Triantos went 2-for-5 with the game-winning hit. Fabian Pertuz hit his second triple of the year. Bryce Ball went 1-for-3 with his fourth RBI and his first stolen base.
The Cubs are now 18-15, three games back of Beloit in the Midwest League West Division. 
PELICAN PRESS 
Myrtle Beach 3, Lynchburg 1
Box Score 
The Pelicans finished off their series with Lynchburg on Sunday evening. They scored two runs in the third inning and then another insurance run late to put this game away thanks to some great pitching.
The Pelicans got a really strong start from Brody McCullough. The 22-year-old right-hander went five innings and gave up just a run on three hits. He walked two batters while striking out eight. The start brought his ERA on the season to a very good 2.92.
The Pelicans then brought in Branden Noriega. Noriega went 2 2/3  and did not give up a run on two hits. He walked two batters and struck out two. Saul Gonzalez worked the last 1 1/3  perfect innings with two strikeouts to pick up his second save.
The Pelicans did not do much offensively, but it was just enough. They left nine runners  on base, to keep the game close. Juan Mora led the way. He  went 3-for-4 with an RBI and stolen base. Rafael Morel went 2-for-4 with a run scored. Cristian Hernandez also went 2-for-4 at the plate.
The Pelicans are now 16-16, 2 1/2 games behind Kannapolis in the Carolina League South Division. 
CUBS MINOR LEAGUE PLAYERS OF THE DAY
Pitcher of the Day – Brody McCullough (Myrtle Beach Pelicans) - 5 IP, 1 R, 3 H, 2 BB, 8 K.
Hitter of the Day – Miguel Amaya (Iowa Cubs) - 4-for-4, 2-2B(2), R, RBI. 
PROSPECT SUMMARY
Check out the Prospect Tracker for much more on the Cubs Top 20 prospects after seeing how they did on Sunday. 

#1 - OF Pete Crow-Armstrong (Tennessee) - 2-4 R, SB(10). 
#3 - OF Kevin Alcantara (South Bend) - 0-for-4, 2 k
#4 - OF Brennen Davis (Iowa) - 1-for-4, 
#6 - 1B Matt Mervis (Chicago) - 2-for-4   
#8 - OF Owen Caissie (Tennessee) - 0-for-2, RBI (25), K. 
#11 - IF Cristian Hernandez (Myrtle Beach) - 2-for-4   
#15 - 3B James Triantos (South Bend) - 2-for-5 RBI (2) 
#17 - C Moises Ballesteros (Myrtle Beach) - 1-for-4. K
#19 - C Miguel Amaya (Iowa) - 4-for-4, 2-2B (2), R, RBI 
TUESDAY SCHEDULE AND PITCHING PROBABLES 
Iowa @ Indianapolis (5:35 PM CST) - TBD 
Tennessee @ Pensacola (6:35 PM CST) - TBD  
South Bend @ Beloit (6:05 PM CST) - TBD.  
Augusta @ Myrtle Beach (6:05 PM CST) - TBD 
Please feel free to ask questions and discuss Sunday's games!