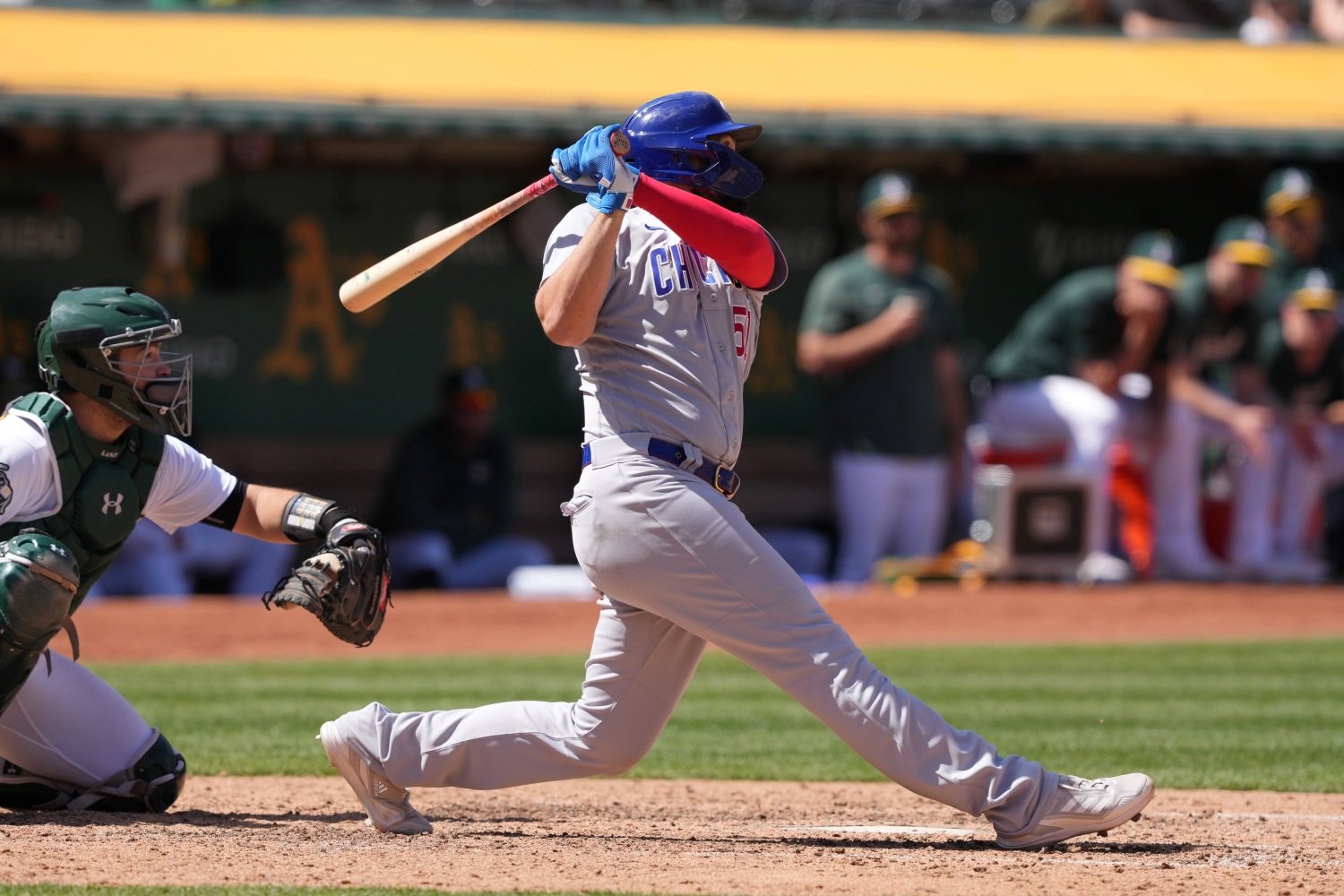 Image courtesy of © Darren Yamashita-USA TODAY Sports
That said, there are reasons to question its sustainability. It seems unlikely that Patrick Wisdom will continue to hit like Paul Goldschmidt did last year on the way to an MVP award (though if he does, more power to him!). While the hot streaks may cool for several players, there's cause for optimism as well. Dansby Swanson has yet to tap into his power, and is still searching for his first homer as a Cub, and Seiya Suzuki is likely to run into a few more once he really gets going. Perhaps the best reason to be optimistic about the offense, though, is by simply looking at who hasn't been hitting so far: the catchers, Yan Gomes and Tucker Barnhart; and the first basemen, Eric Hosmer and Trey Mancini.
Neither of the catchers were ever expected to hit. Sure, there may have been some optimism that between the two of them, playing the hot bats or favorable matchups, the Cubs could get the position close to league average, but that would've just been a bonus. It's been clear since the Cubs moved on from Willson Contreras that the intent is to focus on defense behind the dish, as the Astros have been very successful in doing. Still, you'd like to see a bit more. Gomes is hitting for a 76 wRC+ (where 100 is league average) through nearly 50 plate appearances, and he's been the stronger side of the platoon. That puts him 11th-worst in baseball out of 29 catchers with at least 40 PA. You'd like to see that get up to at least the mid-80s. Barnhart, for his part, has been even worse: putting up a measly 27 wRC+ through his 28 PA.
While you'd hope for (and expect) a bit more from both (Gomes is only two years removed from being a near-average bat, and Barnhart (while still terrible last year) was worth nearly twice as much offensively), there already exists a solution to these woes on the roster: Luis Torrens. Torrens, who I wrote about previously, is not especially well-regarded as a catcher–particularly compared to future managers like Gomes. But he is expected to hit, and so far, he has, putting up a 117 wRC+ in 18 PA. It's a tiny sample size, but he's out-slugged Swanson to this point. Downgrade he may be, but the expectation is that he's the third catcher on the team. Why not pinch-hit him for Barnhart or even Gomes late in games, leaving him to receive the last inning or two if the team needs an offensive jolt? If the Cubs have no confidence in his ability to catch, I'd wonder about his role on the roster at all.
As for the first basemen: I already wrote up Hosmer's precarious position, but Mancini's struggles haven't gone unnoticed. His 56 wRC+ would be insupportable even from a shortstop, but it's especially galling given his lack of defensive value. Nor does his 22-to-1 strikeout-to-walk ratio inspire any confidence that he'll turn things around. The obvious solution is only a bus ride away—Matt Mervis, the Cubs' looming first base prospect, is running a 140 wRC+ at AAA through a little over 75 plate appearances (he hit 152 wRC+ in 240 PAs there, last year). But in a report from The Athletic's Patrick Mooney this week, the Cubs seemed to signal that he's going to have to wait. Ross echoed the sentiment on the broadcast Friday, talking about the value consistent lineups and plate appearances bring to his players. Mancini, for his part, has been very forthcoming about his struggles, saying he feels his mechanics are out of whack.
While you can count me among the fans banging the drum for Mervis to take a roster spot (ideally Hosmer's), I understand the impulse to default to consistency from Ross, and to not overreact to small samples or heartbreaking losses from Jed. But is there any need to put them both in the lineup day in and day out? The lineup already has a hole baked in, at catcher. I'm not quite clear on the need for two more, daily. Actually, that the team has been so positive offensively despite playing three lousy bats nearly every day is quite astounding. The Cubs are cruising along, and may no storms rock this boat. But if we've learned anything, it's that they always do. The Cubs have lost winnable games, and in a year where a playoff spot is in reach but not guaranteed, the Cubs should be fighting for every win they can get.
This is probably what Hosmer is at this point; a "good vibes veteran," negative bat, with above-average defense, holding the spot for Mervis for league-minimum pay. Mancini has some upside remaining, but maybe the time he needs to work through his mechanical or mental struggles could come in the form of a stint on the injured list. At the very least, let your bench work for you. Torrens might not keep up his offensive performance, but he's likely still an upgrade. Nick Madrigal finally seems to be hitting as advertised. Edwin Rios has been lackluster, but he's only been given 20 plate appearances to show out so far. That's not even to mention the squad of killers looming in Triple A. It's a simple ask, really: play the hot bats.