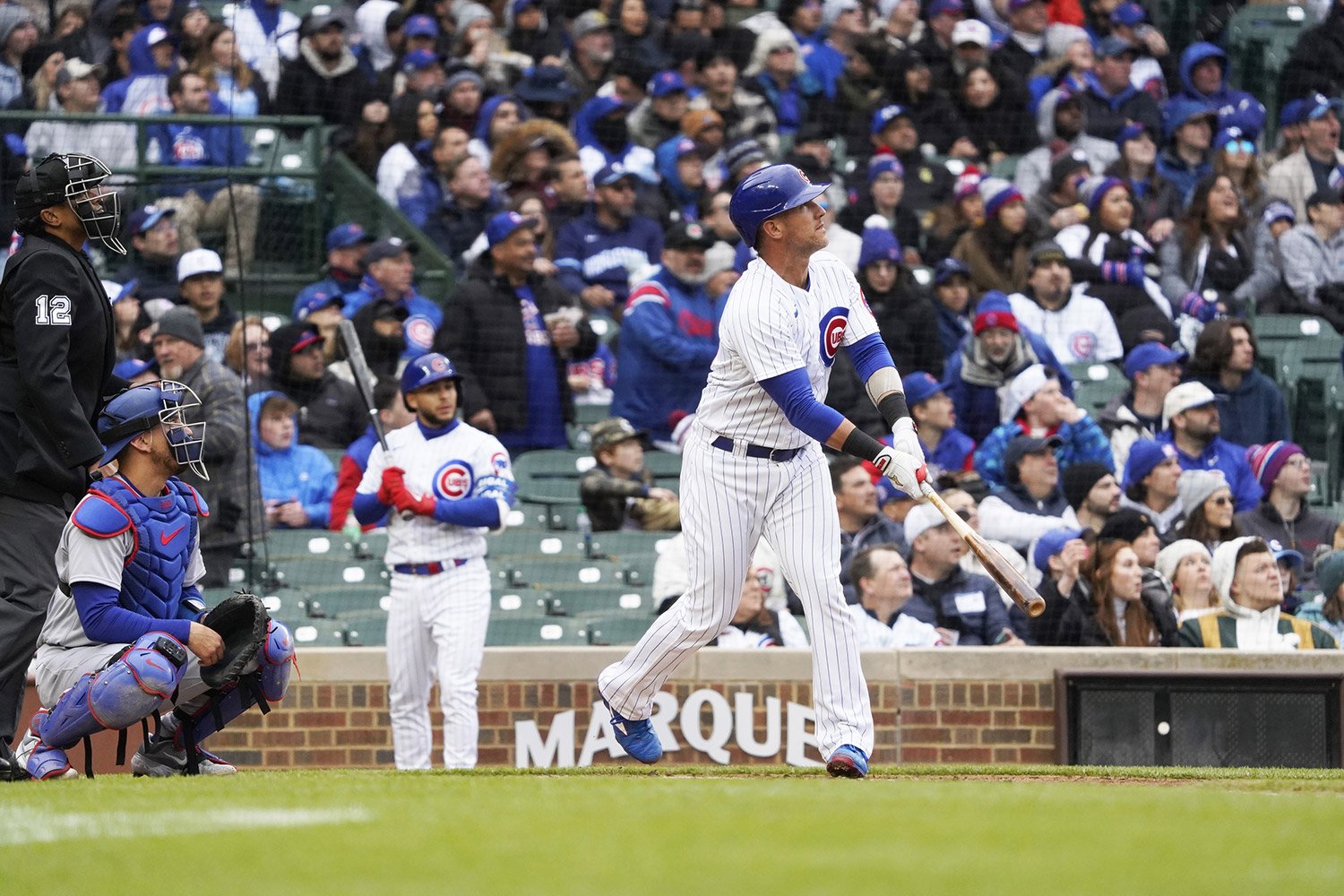 Image courtesy of © David Banks-USA TODAY Sports
It has been a better-than-expected start to the season for the Cubs, who now have a 29.7% chance to make the playoffs, via FanGraphs. The club had an 11.2% chance to make the postseason when the season kicked off.
Numerous variables have contributed to this promising start – great starting pitching, timely relief pitching, and strong starts from Ian Happ, Dansby Swanson, and Patrick Wisdom.
However, with the Dodgers series exposing some potential weaknesses for the Cubs roster, it's time to take a pessimistic view on a promising start. Here are three things that could potentially have Cubs fans worried as we head into late April:
The bullpen rotation, especially the closing spot, is of concern right now. After a solid start to the season, reliever Michael Fulmer has had issues over his last several appearances. In his last 1.1 innings pitched, Fulmer has given up five hits, six earned runs, and blown two saves. Since his appearance against Seattle on 4/10, Fulmer has an ERA of 13.50, with a K/9 rate of 7.50, BB/9 rate of 4.50, and HR/9 rate of 3.00. These marks are well off the standard he has set since moving to the Tigers bullpen in 2021.
The Cubs bullpen has been inconsistent - and just straight-up unimpressive at times - accumulating an ERA of 4.11 thus far, which places them at 18th in the MLB. There have also been less-than-stellar showings from Julian Merryweather, Brad Boxberger, and Javier Assad.
Whether it's David Ross pushing the right buttons, the relievers finding improvement on their own, or needing replacements, the Cubs bullpen is a cause for concern this season. Though there is some promise from Keegan Thompson, Adbert Alzolay, Michael Rucker, and Mark Leiter, not all is negative in this respect.
Patrick Wisdom has had a phenomenal start to the season, which has played a large role in the Cubs' start. He has a slash line of .256/.310/.679. However, his hitting has been too much boom-or-bust to start the season. Of Wisdom's 20 hits this season, nine have been home runs – 14 have been extra-base hits. He currently had an ISO of .423, far ahead of his career high of .287 in 2021 and .220 last year. His Barrel% and HardHit% are well above his career highs, which has led to his .989 OPS is well above his career average.
While this is good news for the Cubs, one has to wonder if a regression is in store for Wisdom. It is still being determined how his season may progress once he stops hitting home runs at such a high rate. Hopefully, the Dodgers series isn't the beginning of this - since the beginning of that series, Wisdom has gone 3-21 (.158) over the five-game stretch, with a K% of 42.9%, .211 ISO, and a slash line of .158/.238/—368 (64 wRC+).
Here we are, continuing to be worried about things promising to start the season, but should the Cubs have a better start, given how strong the starting rotation has been? Is the starting pitching depth good enough?
With an ERA of 3.09, the Cubs starting pitching has the 4th best ERA in the MLB and 2nd best in the NL. Marcus Stroman, Justin Steele, and Drew Smyly have been particularly impressive, giving up only 19 earned runs over 82.1 innings pitched – a combined ERA of 2.08. All three pitchers are off to career-best starts. If a regression is in store for these pitchers, can the rest of the rotation pick up the slack?
This part becomes worrisome, as Jameson Taillon is on the IL with a left groin strain, Kyle Hendricks is still fully recovering, and his effectiveness is unknown. Hayden Wesneski has had a disappointing start to the season. If we see some regression from the top of the starting rotation, there is too much uncertainty with the other starts and the bullpen to feel comfortable with how the Cubs may respond.
After the Padres series, the schedule gets more favorable for the Cubs moving forward. The next couple of weeks may go a long way in determining exactly what type of team the Cubs have this year.