It's been awhile since we've posted an article here at NSBB.  In the meantime, if you haven't heard, the Chicago Cubs won the World Series.  It's true:  The Chicago Cubs are defending World Series champions.  One of the contributing factors to the Cubs' championship run was Javy Baez's stellar play at various times during the post-season.  Most obvious during the playoffs were Baez's athleticism and keen awareness in the field.  He also produced some defining moments with his bat during times of considerable importance.  However, he did strike out 21 times in 71 PA.
Striking out isn't something new to Javy Baez.  He's always struck out.  A lot.  Except, right now, he isn't striking out very much.  To be fair, he's only had 20 PA in Spring Training, during which he's struck out but twice.  But he's also been playing in the World Baseball Classic, in which he's only struck out 3 times in 21 PA.  Before we get any further, I should mention that Spring Training stats really don't matter very much, if at all.  I think you all know that.  But it's important that I inform the reader that I, also, am aware of such.  So, even though I am writing an article about Javier Baez's Spring Training stats, let's all agree to not take much from this article.  I'm merely writing this to bring to attention something that might be worth keeping an eye on.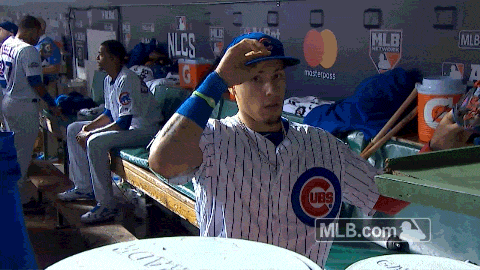 And if Spring Training stats don't matter very much, then a mélange of Spring Training and WBC stats means even less.  But, I think there is an important distinction that makes these pre-season stats at least somewhat intriguing.  Javy Baez never strikes out infrequently.  Like never.  He's piled up strikeouts in abundance at every stop of his professional career since being drafted by the Cubs in 2011.  Here is a list of different stops along the way where Baez produced a K% of at least 20%:  26 Extended Spring Training games in 2012, 57 A-ball games in 2012, 23 high-A games in 2012, 14 Arizona Fall League games in 2012, 17 Spring Training games in 2013, 76 high-A games in 2013, 54 AA games in 2013, 18 Spring Training games in 2014, 104 AAA games in 2014, 52 MLB games in 2014, 11 Puerto Rican Winter League games in 2014, 17 Spring Training games in 2015, 70 AAA games in 2015, 28 MLB games in 2015, 6 MLB Playoff games in 2015, 14 Puerto Rican Winter League games in 2015, 11 Spring Training games in 2016, 4 AAA games in 2016, 142 MLB games in 2016, and those 17 playoff games from last year that I mentioned above.  You get the picture.  In every stop of at least 5 games in Javy Baez's professional baseball career, he's yet to post a K% lower than 20%.  Over the course of the previous three years of Spring Training (years in which Javy played in the big leagues), he struck out 46 times in 145 PA, good for a 31.7% K%.  When Javy goes 12 games between Spring Training and the WBC with a 12.2% K%, it jumps out at you a little more, knowing that he's never done such a thing, even in other small sample sizes.
We can break it down a little more to see if he's ever even had any smaller spurts of sustaining a low K%.  Looking through his career major and minor league splits, these are the five lowest monthly K% I could find:  13.4% in 67 PA in Chicago in May 2016, 19.4% in 36 PA in Iowa in July 2015, 20.4% in 108 PA in Daytona in June 2013, 19.0% in 116 PA in Peoria in July 2012, and 17.8% in 90 PA in Peoria in June 2012.  He hasn't had a K% below 20% in a single month with at least 70 PA since he was in A-ball five years ago.  The months from Iowa and Daytona that found their way on the list were during his second stops at each level, right before being called up to the next level.  Regardless, Javy hasn't shown the ability to even go a full calendar month without striking out a lot since he was at the lowest levels of the minor leagues, save for one month last year.
Still, that doesn't mean that this 41 PA sample between Spring Training and the WBC shows us anything.  It doesn't.  In fact, even last year Javy could be shown to go 12 games with a smaller strikeout rate.  Looking at his 12-game rolling K%, we can see that there was a 3-game stretch in 2016 when his 12-game rolling K% was below the 12.2% he's put up in 12 pre-season games this year.  Sure, this is cherry picked.  It is his best stretch of the season, after all.  And it effectively lies to us, by removing the bookends of this stretch that weren't so kind:  4 K's in 8 PA right after this stretch and 3 K's in 6 PA right before it.  Also, this stretch occurred early in the season, when Javy's playing time was a little more sporadic.  In 6 of those games, he had a total of 6 PA while coming off the bench.  But, for 14 games between May 15 and June 1 last year, Javy Baez had a K% of 8.6% in 35 PA.  And he did it facing only major league pitchers, during the regular season, when pitchers weren't working out the kinks.  So we must remember that not only do Spring Training stats not matter very much, but Javy Baez isn't incapable of going 40 PA without striking out a ton.
As much as Spring Training stats don't matter, there are some Spring Training stats that are a little more predictive than others.  A few years ago Dan Rosenheck studied Spring Training stats for a presentation he made at the MIT Sloan Analytics Conference.  He explained a lot of his methodology and findings in an article for The Economist.  Along with the information in the article about K-rate, he also found that, among other things, isolated power, or ISO (which is SLG% - BA), and SB attempt rate in Spring Training where somewhat predictive of regular season performance.  (This might be good news for Addison Russell, whose power surge in Spring Training is coming off the heels of a swing adjustment and power surge in the second half of last season.)
http://cdn.static-economist.com/sites/default/files/images/2015/03/blogs/game-theory/20150314_woc419.png
As Rosenheck showed, of all Spring Training stats, K% has one of the strongest correlations to regular season performance.  There are a number of reasons for this.  First of all, Spring Training, by its nature, is going to give us small sample sizes.  Most stats need large samples before we can make any sense of the numbers.  K% doesn't, though.  After about 60 PA in the regular season, a batter's K% stabilizes.  For stats like BA, there is just too much noise in small samples to trust them.  Peripheral stats, like K%, BB%, ISO won't lie to us as much, though.  They rely more on what the batter can control, unlike BA which can be influenced by any number of things, like opposing defenses and luck.  A strikeout or walk relies on the batter to do several things:  does he swing or not, does he make contact or not, etc.  It takes multiple pitches to lead to one of those outcomes, also.  The sample is more controlled. So, while Ben Zobrist is only hitting .200 this spring, his peripherals look fine.  His BB- and K-rates are strong.  His ISO looks fine.  We can blame, with some comfort, the rest of it on small sample sizes and the whimsy of Spring Training.
There's still some problems with judging things based off of a batter's Spring Training peripherals, though.  For one, the talent level of the opposition isn't the same.  It fluctuates from game to game and even in-game, as many minor league players are seeing action.  And even when facing an established veteran, you might find that he is working on his repertoire or not thoroughly up-to-speed.  It's just not the same.  It's always better to rely more on a player's past performance.  It's not even close.  We know so much more about a player by looking at what he's done in the past.  Past performance correlates with future performance much, much more than Spring Training performance does.
As David Schoenfield stated in a recent article about Spring Training stats, Jean Segura and Trevor Story continued their domination of Spring Training over into the regular season last year.  But, then again, Maikel Franco and Michael Taylor also tore through Spring Training.  These peripheral stats might mean something.  They could also be poppycock, though.  And the importance of these numbers really gets shredded apart when we start combining a couple dozen Spring Training PA with a couple dozen WBC PA.  If we know a small amount about Spring Training stats and know that they don't mean too much, then we know next to nothing about WBC stats and what they mean.  So this argument becomes really specious when we start combining the two.  Therefore, we shouldn't take Javy Baez's K% to mean much, because it doesn't.  Yet, it might be worth keeping an eye on.
For Javy Baez to be an asset with his bat, he's going to need to hit for a decent average.  He's not going to walk.  He's a free swinger.  I wrote extensively last year about his nascent approach at the plate.  And it doesn't appear to have changed any.  He's still not walking.  He's really never walked very much.  That's probably not ever going to happen.  He does have some pop in his bat, though.  And it's fun to see when that comes out because we get to see cool bat flips or bat placements.  So, if he can hit for a decent average, he can ride that average to an OBP you could live with -- when factoring in everything else he does.  But, to do so, he'll need to make more contact than he has in the past.  We've already seen him make strides in this area, as his K% has dropped every year he's been in the majors, from 41.5% in 2014 to 24.0% last year.  We can only hope that his lowered K-rate this spring is a sign that he isn't done progressing.