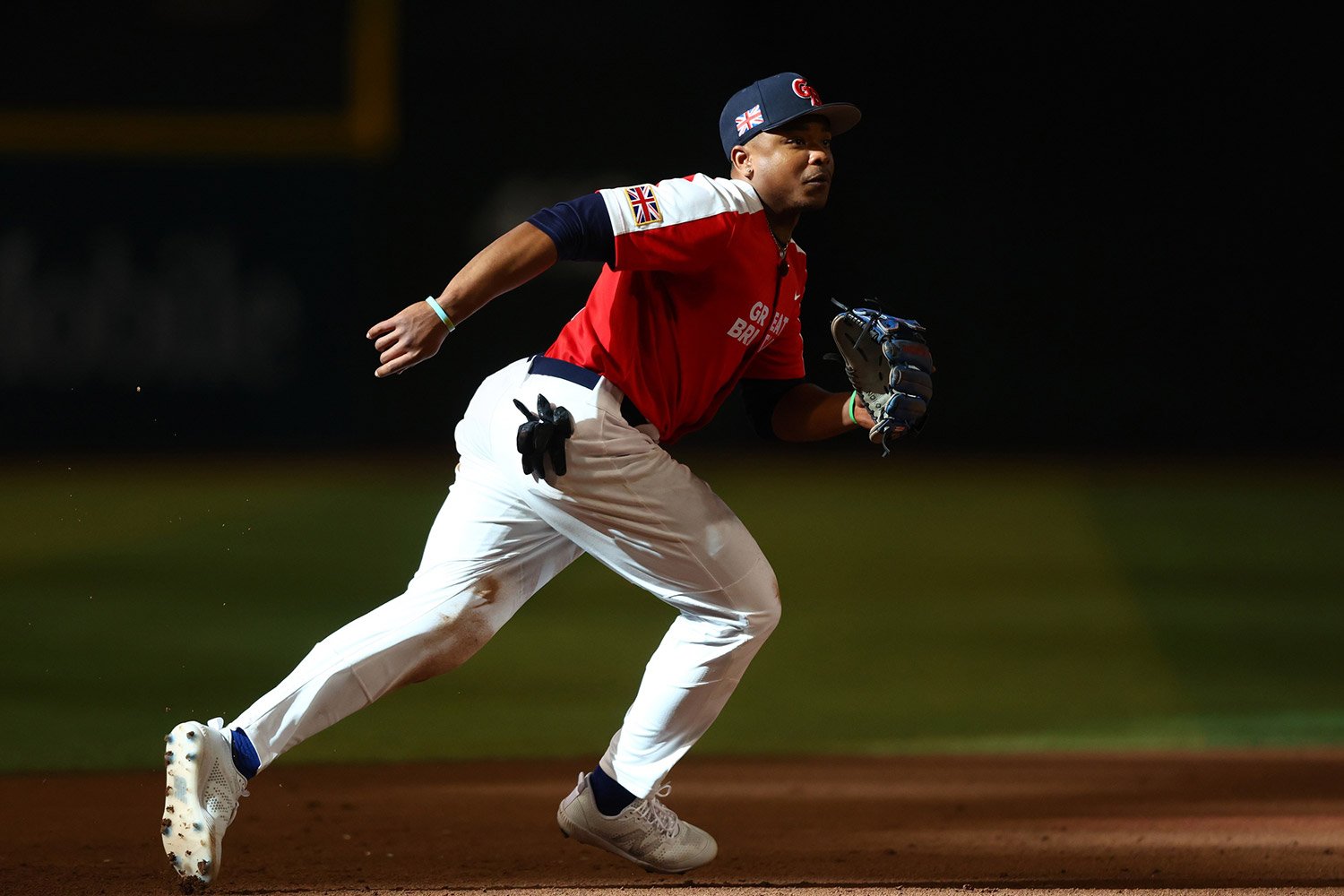 Image courtesy of © Mark J. Rebilas-USA TODAY Sports
The Short
Based on signing for $125K as an unheralded 15th-round pick in the 2021 draft out of Florida Atlantic University at 21, B.J. Murray seemed to be standard mid-to-late draft organizational fodder. He may get some note after floating around for a few years, repeating levels along the way. Jump forward two years, and the switch-hitting infielder has jumped into the upper minors swinging. He has moved up the defensive spectrum, and overall is having perhaps the most complete season among Cubs minor-league position players not named Pete Crow-Armstrong.
Por Que
If I could sum up the weaknesses of the 2021-2022 Cubs vs. the elite teams in the league, those Cubs were bottom ten or worse at hitting fly balls, pitcher velocity, and team defense. Jed Hoyer has said outright that the Cubs need to hit more fly balls to catch up to other teams. They also finished 19th in OBP and 21st in BB% on offense.
Taking this perspective and reading through the numbers below, you might start to see BJ Murray's case as both a prospect within the wider world and a top prospect within the organization. The fly ball rate trails only Crow-Armstrong among Cubs minor leaguers since 2021. Nobody has taken more walks in that same window, and he is playing a solid third base with versatility in the upper minors.
The major PR hump, I imagine, is all of this coming on so fast for a 23-year-old player without fanfare as an amateur and later-round draft status. His relatively unique career path and potentially well-rounded skillset will likely cover this. Murray Jr. had a relatively normal draft prospect high school and college track record but was a much less experienced player than his peers at those levels.
Until he turned 13, he played just 12 games a year and practiced once a week during the season. In the Bahamas there are such limited facilities. Still, he happened to come from a multi-generational family of baseball players. This is a very different youth baseball experience from draft peers that have been going to tournaments and showcases almost like a full-time job since elementary school. From that perspective, Murray's quiet college career reads more like an ascending player enjoying a breakout draft season.
You can see in the 2022 numbers below that he flashed some bat potential early in the pros and earned an AFL experience. In hindsight, a brief 61 plate appearance stop in the ACL after the draft flashed the contact, power/speed, and standout batted ball on offense that highlights this current breakout.
He opened 2023 on the world stage and held his own. He flashed a bit, starting for Great Britain herself, and to his favor, has successfully transitioned to the upper minors in just his second full pro season. Other ways he works around this are with exit velocities that MLB.com described as "solid" in 2022. The juicy jump in fly ball production, the walks, and climbing back up the defensive spectrum as opposed to moving down in pro ball (MLB.com describes him as an "adequate defender with an average arm" at third base in their updated writeup)
Notable Data
(through 8/13/23, 422 PAs in the AA Southern League)
.262/.393/.471, 135 wRC+, .400 wOBA, ~35% ground balls, ~50% fly balls, ~17% BBs, ~24% Ks, 10% Swinging Strike%, five errors in 621 1/3 defensive innings at third base, two GS at 2B vs a 1B, Futures Game rep, WBC starter in 2023.
(League stats: .244/.344/.404, ~26% Ks, ML avg: 42.4% GBs, 37.4% FBs, ~9% BBs)
.286/.410/.429 in the low full season minors including .305/.441/.461 at Myrtle Beach in 2022 with a 20% K rate over 385 plate appearances, mostly at first base, AFL taxi squad.
The Outlook
Murray Jr. becomes Rule 5 eligible-next winter. It is likely that he will be opening the 2024 season as Iowa's starting third baseman with a shot at a 40-man roster spot and even 2024 major-league plate appearances.
The Cubs may pursue a free agent third baseman. Matt Chapman is a pretty serious option, but there is enough risk to focus elsewhere at the top of the free agent market. There may be more in the tank with Murray, and if everything comes together, the Cubs may have drafted a first-division starting infielder in the mold of Max Muncy or Justin Turner. Pretty exciting for a 15th-round pick.