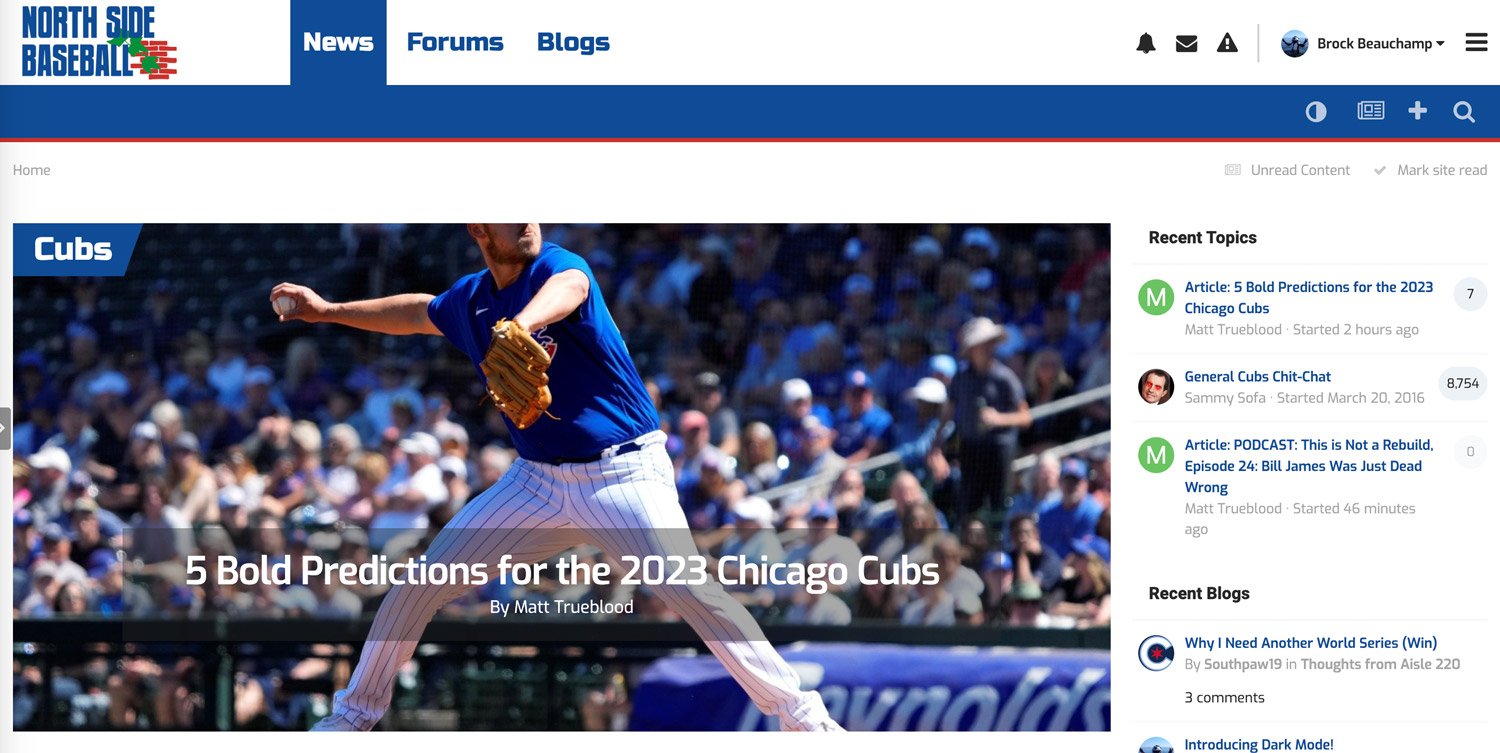 North Side Baseball was re-founded in early 2023 by the people behind Twins Daily (founded in 2012). North Side Baseball was originally founded as a forums website in 2003 by Tim Stuart, who sold the site to DiamondCentric, LLC early in 2023.
In our new incarnation of NSBB, we take a bottom-up approach to content with a focus on community participation. We offer curated, professional front page Cubs news and analysis with user-generated content found elsewhere on the site.
North Side Baseball is more than just daily news about the Cubs. It's a community built on three pillars: read, react and write. You need not participate in all three, but they're available, and if you're willing to reach out, you'll find a far richer experience. So let's talk about them.
Read
Obviously, there are the stories. The site was founded by four bloggers, all of whom understood the value of providing their own unique coverage of the Cubs. Non-traditional voices - whether they are sabermetric, prospect news, mechanical analysis, cynical, hopeful, satirical, whimsical – are the core of what we are. We want to be a place where baseball coverage is expanded in non-traditional ways. And we try to foster that organically by encouraging our readers to….
React
At the end of every story, you'll find a comment area where you can react to our stories, provided you register. But we want you to be in the driver's seat, too, so we also have our forums, where you can ask your own questions, post your own opinions, and explore your own topics. The rules are pretty simple: don't be an ass. Our moderators work hard to keep it civil, and our community works hard to keep them welcoming. We want you to find your voice because we want some of you to…
Write
Our blog area provides a place for those called to write to further develop their writing style. Any member can start their own blogs and post when and how they want. It's a little like playing in the minors – the crowds are smaller, but that also means it's an excellent place to make mistakes or try a writing style that might be out of your comfort zone. The comments are generally encouraging, and when we think you're ready, you'll be invited to contribute regularly to the front page, where we pay for your work.
North Side Baseball goes beyond the traditional publish-only model that corporate media embraces because we're trying to do something different. We're trying to develop a community that can gather, share and ultimately support itself. You, just by reading this, are already part of that community. We hope you'll continue exploring and reaching out to other Minnesota baseball fans. We're glad you've joined us.